It's very hard for me to come up (harder compared to most moms I think) with viand or baon ideas, especially since I don't really cook. That said, anything that makes this task easier is a welcome treat for me! So anyway, I got a whole bunch of Purefoods Chicken Nuggets to try at home… not that I haven't yet. I usually pop 2-3 packs of these in my supermarket cart so we have something in the freezer that doesn't require brainstorming or prepping. So yes, at some point in time we have actually eaten all of these variants, I just wasn't paying too much attention. See, I'm usually on auto-pilot when I'm at the supermarket. I grab all the usual stuff and then go pay. BUT… thanks to something I discovered with this batch (clue: my idea of preparing chicken nuggets is asking our helper to fry them), they have my full undivided attention now.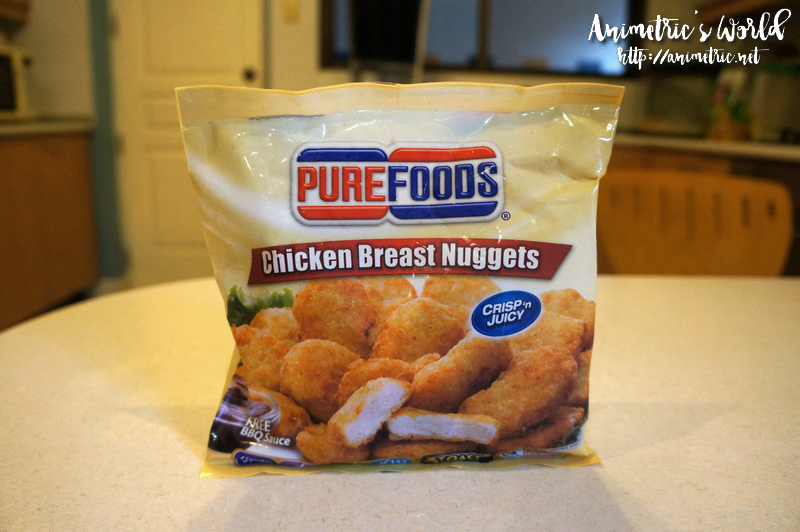 Purefoods Chicken Breast Nuggets
First we have the Purefoods Chicken Breast Nuggets. Did you know that my favorite part of a chicken is the breast? I'm a white meat kind of girl (hubby prefers dark meat parts like the thigh) so I really love this variant. It's got that honest-to-goodness taste and texture of breaded chicken breast (well because this is actually made of chicken breast!) you'd prepare at home, the difference being this goes from the freezer to the oven and is ready to eat in less than 10 minutes, lol!
Purefoods Crisp 'n Juicy Classic Drummets
Then we have the Purefoods Crisp 'n Juicy Drummets. Just looking at the packaging makes me hungry. One 240g pack contains 6 bigger-than-your-usual-nuggets pieces. In fact, a piece actually resembles a mini chicken drumstick. Drummets come with gravy too. These are meant to replicate the good old-fashioned fried chicken experience minus the bones — now that's MY kind of chicken. Seriously, I hate working my way through chicken bones.
Purefoods Fun Stuff Letters & Numbers Nuggets
Purefoods Fun Stuff Crazy Cut Nuggets
These Purefoods Fun Stuff Crazy Cut Nuggets come in a variety of shapes and free sauce or seasoning (BBQ or cheese anyone?). Moms who love making bento boxes as well as kids who like to have fun with their food will surely enjoy these.
Purefoods Fun Stuff Bacon & Cheese Nuggets
Now these are actually stuffed nuggets — loaded with chunky cheese and real bacon bits inside! If you want to try something different, these are for you.
So anyway as I was saying, first of all I can't cook. Secondly, I can prepare a batch of delicious Purefoods Chicken Nuggets in 10 minutes without even using cooking oil. What I do is, I lay out the frozen nuggets (yes these are straight from the freezer, I got a piece from each pack I posted above) on a flat pan that would fit inside my oven (or your oven toaster, that works too!).
I heat the Purefoods Chicken Nuggets inside the oven for about 10 minutes.
After 10 minutes, I take them out and voila! How they've transformed. Well, they are fully cooked to start so all you need to do is heat them up before serving. I love how these nuggets are nice and crunchy outside while at the same time tender and juicy inside. I'm so amazed. I'm so happy with myself. I used to take frozen nuggets to the kitchen and ask our cook to fry them. As it turns out, I don't need to do that anymore! I can just prepare them myself — no oil too so it's a lot healthier and less fatty. Yes, ALL the Purefoods Chicken Nuggets variants go straight from the freezer to your oven or oven toaster!
I tried a Drummet and wow!
The kids loved them too!
Seriously, this is such a breakthrough for me. I didn't know I could just get a pack of Purefoods Chicken Nuggets from the freezer, pop them in the oven, and then eat! It's soooo easy even I can do it without any assistance… and that's saying a lot! 😀
Purefoods Chicken Nuggets are available at all leading supermarkets nationwide. You can also order from the San Miguel Foods Frozen & Chilled Flagship Store on Lazada.
Like this post? Subscribe to this blog by clicking HERE.
Let's stay connected: