I've never been a fan of Argan Oil. I find that it does absolutely nothing for my hair and skin. I've tried several brands — both Western and Asian. Nope, Argan Oil really isn't for me. Thus when I got a bottle of Marula Pure Marula Facial Oil for review, I wasn't too excited. That was until Marj told me that Marula is really big in the United States right now. I checked Sephora.com and true enough, people in the US are raving about it.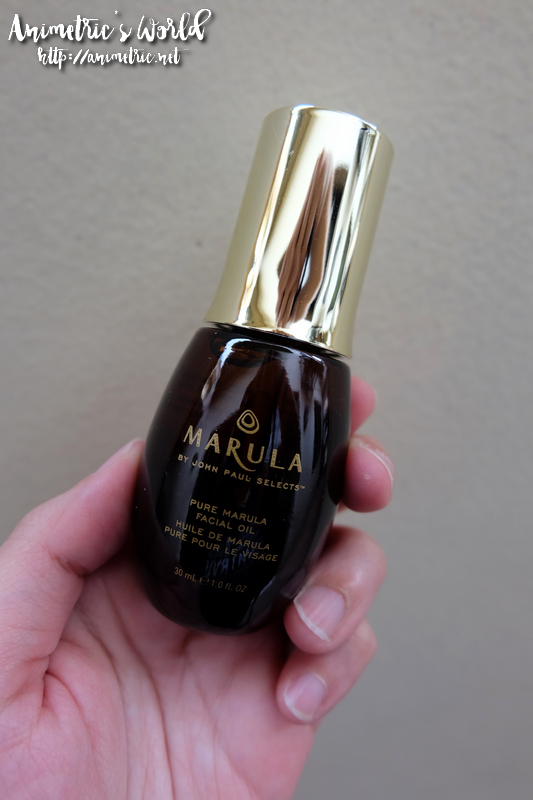 Marula by John Paul Selects Pure Marula Facial Oil 30ml (P2,980)
In doing a bit of research, I read that Marula is derived from wild-harvested and hand-selected Marula nuts from Africa. Pure Marula Oil has 60% more anti-oxidants than Argan Oil. That said, it's more powerful in fighting free radicals that cause premature skin aging. That was enough to convince me to give it a try.
Marula is specially formulated for the face and neck. It's free from Parabens, Sulfates, and Phthalates. It has been hailed as completely hypoallergenic by the numerous online reviews I've come across. There are two ways of using this product:
You can dispense 3-5 drops and apply to the face, neck, and hands.
You can add 2-3 drops to your cleanser, mask, scrub, or even foundation to infuse them with Marula's benefits.
Benefits include skin hydration, sun protection, and rejuvenation to reduce the appearance of fine lines and wrinkles. As I've pointed out above, it can be used on its own or in addition to other facial products to boost their efficacy. It's good that the bottle comes with a dropper because that way I can control precisely how much oil is dispensed.
I love how it's not thick, greasy, or heavy. I find it more lightweight compared to Argan Oil.
It absorbs quickly and dries to a matte finish too.
I tried Marula on my face after seeing its effect on my hand. I found it surprisingly light and pleasant. There's a soothing feeling once you apply it onto the skin. It dried to a matte finish the way it did on my hand so I didn't go out of the house with a shiny face.
What I like about Marula Pure Marula Facial Oil:
It's a multi-functional beauty product because it moisturizes, rejuvenates, and protects your skin from the sun. This is great for those who aren't fond of doing too many steps when it comes to skincare.
As I've mentioned earlier, it's lightweight, non-greasy, and it's quickly absorbed by the skin.
It didn't make me break out.
The price here in the Philippines and Sephora USA are almost the same. It costs US$58 in the US for a 30ml bottle, when you add the US sales tax, it comes out to around US$64 or P3k.
One bottle lasts long since you need to use only 3-5 drops at a time.
I heard that like Argan Oil, Marula can also be used on the hair, but I haven't tried doing so yet.
Downside? Well one bottle is quite pricey at almost P3k but if it does the work of 2-3 skincare products, then we can't really consider it expensive. I think this is good to bring if you're traveling somewhere cold and dry, because you don't need to tote around too many products to maintain good skin.
Marula is available at SM Beauty in SM Aura, SM Makati, SM Megamall, SM North EDSA, and SM Mall of Asia.
Like this post? Subscribe to this blog by clicking HERE.
Let's stay connected: