If you've always wanted to try Korean skincare, the Pure Beauty Pomegranate Urban Shield line might be your best bet. Eight (8) products make up the line. They're all readily available at Watsons stores. Pure Beauty Pomegranate Urban Shield products are especially formulated for women who are exposed to dirt, pollution, and sun damage daily. Sounds like the typical Filipina, right?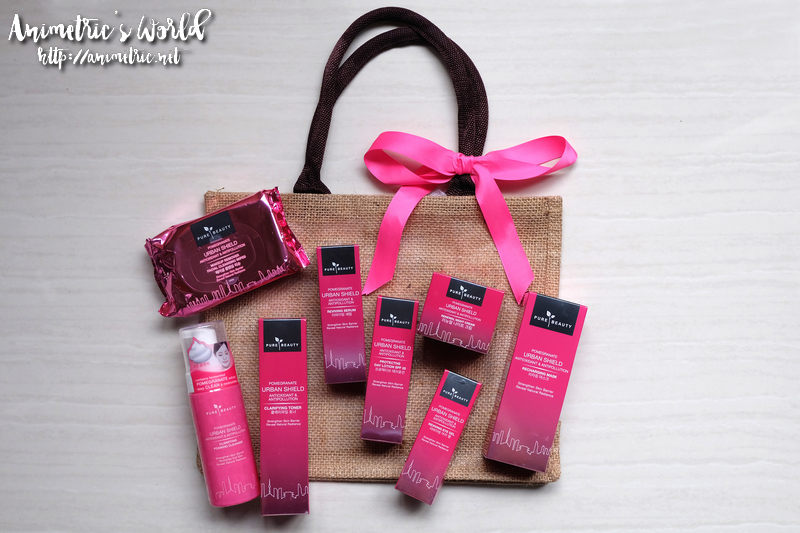 Watsons launched this line recently and I'm quite excited to give the products a test run. The Pure Beauty Pomegranate Urban Shield line is the brainchild of renowned Korean dermatologist Dr. Seong J. Kim. It makes use of fermented pomegranate fruit and other plant extracts with high antioxidant content. In fact, nine (9) out of ten (10) women claimed their skin was more supple and hydrated after switching to this line during panel testing. Let's take a look at each product, shall we?
First we have the Makeup Remover Cleansing Wipes (P299 for 20 wipes). I tried removing my waterproof eye makeup with it and was surprised at how effective it was. Not all wipes are created equal and this is definitely one of the better ones.
I will talk about the rest of the products in order of how they should be used:
1. Clarifying Foaming Cleanser (P899 for 150ml) – In any skincare regimen, cleansing is the first step. This light cleansing foam reminds me of styling mousse, except you don't have to shake the bottle. True to the promise of hydrated skin, this cleanser doesn't leave your face feeling tight.
2. Clarifying Toner (P1,299 for 140ml) – After washing your face, you apply toner to make sure all traces of dirt, grime, makeup, etc are removed. Toner also primes skin, making it more receptive to the next steps of your skincare regimen.
This is where it gets confusing. Some brands will tell you to moisturize next and then apply serum last. With the Pure Beauty Pomegranate Urban Shield line, serum comes after toner and so…
3. Reviving Serum (P1,699 for 35ml) – You smooth this lightweight serum all over your skin. It's formulated to penetrate the deeper layers of your skin to deliver more intense moisture and repair.
4. Reviving Eye Gel (P1,299 for 15ml) – The skin around the eye area is thinner and more sensitive compared to the rest of the face. That said, you need products that are specifically formulated for the eye area. You "tap" the product into the skin so it's absorbed. Eye products like this one help minimize fine lines so you look younger longer.
Now depending if it's day or night you use either:
5. Protective Day Lotion (P1,499 for 50ml) – Their day lotion has SPF 20 so it provides 20x the normal sun protection.
6. Renewal Night Cream (P1,699 for 50ml) – Night creams are designed to rejuvenate your skin while you sleep so they are usually the thickest products in the line. This one is no different.
The last product in the regimen is the Recharging Mask (P1,299 for 100ml). It is recommended that you use this around 2x a week. This particular mask is applied to the skin, left on for 10 minutes, and then rinsed off.
Total cost of this entire line? P9,992. If you don't have P10k to splurge on skincare, I recommend getting the toner, serum, day cream, night cream. This will already halve the cost.
Why those 4 products?
Cleanser is the most replaceable product in any regimen. There is always a nice, not-so-expensive cleanser you can substitute… you can get something like Pond's Age Miracle Cleanser for less than P200 and it would work.
Eye products are also replaceable. They don't have to match the rest of the products because you don't really layer toner and moisturizer on your eye area. The eye area is always treated separately.
Masks are purely optional if you have the time and budget for them.
Wipes are also optional because not everyone likes using wipes to remove makeup.
However, for the basic regimen to work, it's best to use toner, serum, and moisturizer from the same line.
I will be updating this post with my experience of the products… or I might make a separate post depending on how much I like them lol.
Pure Beauty Pomegranate Urban Shield products are available at Watsons stores.
Like this post? Subscribe to this blog by clicking HERE.
Let's stay connected: