Guess what? I met Ollie the Otter from Otterbox (I think all Apple enthusiasts know what Otterbox is)! Otterbox is a brand of super sturdy and durable phone and tablet cases established way back in 1998. I will be the first to admit I'm not really that big on cases. My iPad 3 at home has been caseless all these years as is the Asus Zenfone 2 that I am currently using.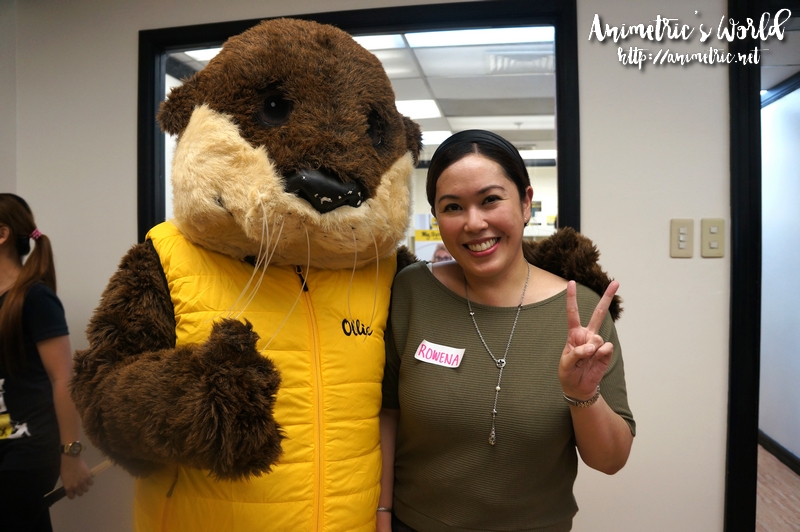 I did however, get a case for my Mi3 and when the time came for me to upgrade, I was able to sell it at a good price because it was in pristine condition thanks to the case. So if you want to keep your phone or tablet in mint condition, getting a case for it is a must.
Otterbox Symmetry Folio for iPad Mini 1/2/3 (P3,250)
So anyway, I was introduced to the wonderful world of Otterbox… starting with the Otterbox Symmetry Folio for iPad Mini 1/2/3. Both of my kids have iPad Minis so this is perfect! It features Certified Drop Protection too.
The Otterbox Symmetry Folio for iPad Mini 1/2/3 comes in 2 colors: Black w/ Black and Glacier w/ Storm. Very executive-looking don't you think?
The polycarbonate and TPE casing completely covers and protects your iPad Mini.
It can rotate a full 360 degrees.
This is how it looks like if you place your iPad Mini inside.
Otterbox MySymmetry for iPhone 6 (P1,750)
If you're the creative type and prefer to have your own unique and customized case, the Otterbox MySymmetry case is for you. It comes in 4 colors: Black Crystal, Royal Crystal, Scarlet Crystal, and Sorbet Crystal.
The case comes with a pre-designed swappable insert but you can easily download a template online and make your own.
Otterbox has even collaborated with Team Manila for an limited edition shirt and a series of Team Manila swappable inserts for the Otterbox MySymmetry.
Here's a sample custom-made swappable insert for the Otterbox MySymmetry. It belongs to the Bull Runner, triathlete Jaymie Pizzaro.
I think the idea of swappable inserts is super cool!
Otterbox Strada for iPhone 6 in Chic Revival (P2,950)
This is the only leather iPhone portfolio case with Certified Drop Protection. If you prefer a more formal and business-like look, this one's for you. It's available in 2 colors: New Minimalism (Black) and Chic Revival (Burgundy, shown above).
It looks and feels very secure. It snaps shut magnetically.
You can put things like maybe several business cards inside along with your phone.
Otterbox Symmetry Leather for iPhone 6, Otterbox Symmetry Leather for iPhone 6 Plus (P3,850)
Available in 4 colors (Antique Tan, Black, Magenta Pink, and Navy Blue), this is Otterbox's slimmest and most protective iPhone 6 case which comes with a free Alpha Glass Fortified Glass Screen Protector.
Otterbox cases are designed to give your gadget the most protection against impact so if you're someone who drops his/her phone or tablet a lot (I actually have a colleague who has successfully dropped all her phones, breaking some in the process), you need this in your life. If not, well, you still need this for the sake of keeping your gadget in mint condition for when the time comes for you to sell it.
For a complete list of stores which carry Otterbox products or to purchase online, log on to https://tenkiebox.ph.
Like this post? Subscribe to this blog by clicking HERE.
Let's stay connected: