I've been looking for a nice wallet ever since I discovered that the Burberry wallet my stepdad gave me had a tear on the side. I had been using it for the last 7 years so I felt I had gotten really great mileage from it.
Prior to that, I had been using a Salvatore Ferragamo leather wallet which I bought when I was 18. I used it for a whopping 16 or 17 years until my bag was stolen. I eventually recovered my bag and wallet. It had been abandoned on a bus. The bus company called our office because my employee ID was there. Of course, it was already devoid of all cash and gadgets. Luckily, my IDs and keys were still there. I bought that Ferragamo wallet for HK$3,500. The exchange rate was HK$1 to P3.5 then so it cost around P12,250. My Ferragamo wallet was intact when I recovered it, but I didn't want anything to do with it anymore. My bag getting stolen at fast food joint was super traumatic. I just wanted to be rid of the bag and everything that reminded me of that day.
Given the long life span of the wallets I use, I have no qualms buying an expensive wallet. Anyway, remember I went to Malaysia for Julie's Biscuits last August? I was so lucky because when we arrived at our hotel, Novotel Kuala Lumpur, there was a Luxury Bag Fair in one of its function halls! We arrived in Kuala Lumpur from Malacca on August 27 so it was perfect! The Luxury Bags Fair was ongoing from 10am to 7pm. It promised 50% to 70% off retail prices. I was able to go at 5:30pm. Our group had to meet up at the lobby by 6pm so I didn't have much time.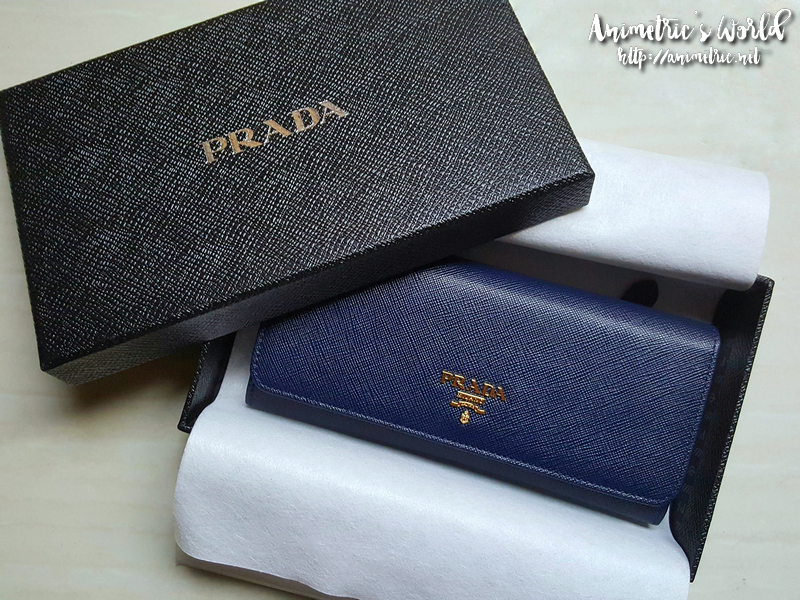 I immediately checked out the wallets on display. Participating brands included Prada, Balenciaga, Celine, Michael Kors, Coach, etc. The Prada Saffiano Continental Wallet caught my eye. It was already 5:45pm then, they were closing at 6pm. I immediately asked how much it costs. It was RM1,500+. I did a quick computation and it came out to around P19k. Baltic Blue was my choice of color. I paid for it right away. I only checked the prices in other countries after the fact lol. Turns out I got a really good deal because it sold for US$680 + Sales Tax (over P35,000) at Neiman Marcus and C$820 + Sales Tax (over P35,000) at the Prada Online Store. When I finally got my credit card bill, it came out to P18,000+. What a steal! It really did come out to 50% off the SRP.
When it comes to wallets I prefer long and slim leather ones with lots of card pockets. I also want one with a zipper-type coin compartment. The Prada Saffiano Continental Wallet fit the bill.
It came with a Prada Authenticity Card.
I would've preferred silver hardware but gold was what they had.
There's a zipper at the back for any extra stuff you want to stash — it's not for coins. There's a separate coin compartment inside the wallet.
This Prada Saffiano Continental Wallet is definitely the best souvenir I brought home from Malaysia lol.
Like this post? Subscribe to this blog by clicking HERE.
Let's stay connected: