Several days ago, I missed an event by Glaxo Smithkline (GSK) for a campaign called No Hope Lost. It's a pneumococcal and rotavirus awareness campaign. I wanted to go since pneumonia is something that is very real to me right now.
My dad's been in the hospital for 6 weeks because of pneumonia and he's still not well. They've already administered all sorts of high-grade antibiotics but it still persists. He's a special case because his lungs are shot to start with, having been a chain smoker for over three decades. He started at 16 years of age and quit in his mid-50s when he started getting sick. In his heyday, he smoked 3 packs a day. The doctors are already at a loss.
I was talking to my friends earlier today and I was surprised when I found out that their knowledge of pneumonia was very very limited. After several family meetings with my dad's doctors, one of which is a pulmonologist, I have learned a lot about pneumonia.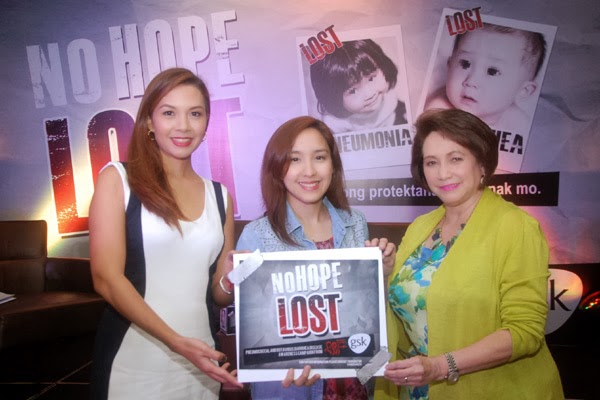 Ria Trillo, Barbie Almalbis-Honasan, and Dr. Sally Gatchalian for GSK's No Hope Lost Campaign.
Although GSK's campaign is focused on kids, pneumonia can infect anyone. According to the Mayo Clinic. pneumonia is an infection that inflames the air sacs in one or both lungs. A variety of organisms, including bacteria, viruses, and fungi, can cause pneumonia. Antibiotics and antiviral medications are used to treat many common forms of pneumonia. Yes, pneumonia IS contagious. I was surprised when most of my friends were shocked when I told them that. When I was a little girl, I would often be told that mapu-pulmon ka kung mabasa ng pawis ang likod mo. I don't know where that came from but I heard it a lot growing up. Apparently, so did my friends, hence the misinformation about pneumonia which in reality is a contagious organism-caused infection.
My dad was having difficulty breathing when he was rushed to the hospital. That's just how serious pneumonia is. He underwent Tracheotomy (a surgical procedure which basically leaves a hole on your neck so you can breathe with a tube attached to a machine) because he pretty much cannot breathe on his own anymore.
Did you know that pneumonia and diarrhea are the top two leading causes of death among Filipino children less than 5 years of age? I am one of those who didn't really know what pneumonia was until my dad got afflicted with it.
Both Pneumonia and Rotavirus are preventable by vaccination. Ask your pediatrician about preventive measures against pneumococcal and rotavirus diseases.

Like this post? Subscribe to this blog by clicking HERE.
Let's stay connected: