One Saturday evening, we were waiting for our son at Shangri-la Plaza Mall. He went to attend his classmate's 15th birthday dinner at EDSA Shangri-la Hotel while hubby, daughter, and I went window shopping.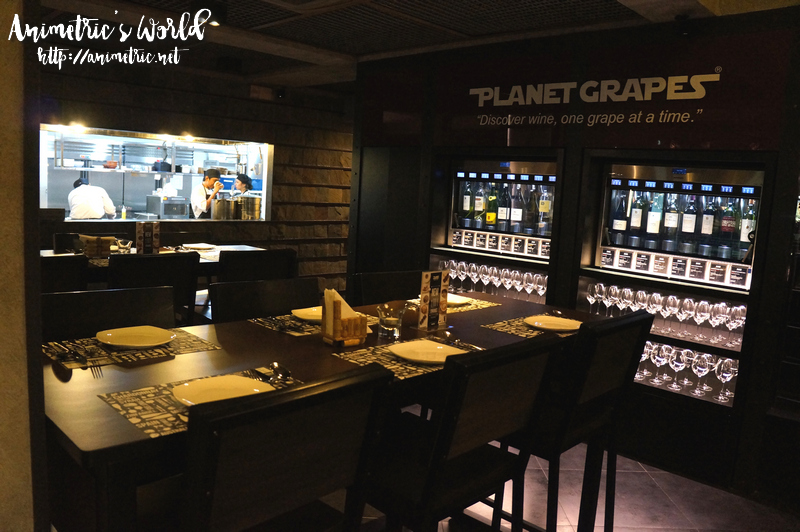 We decided to have dinner at Planet Grapes.
I even asked our 10-year old daughter if she wanted wine lol. She said no, hahahaha! You can order wine by the glass here and it's so high-tech. They have this computerized dispenser which can release 38ml, 75ml, or 125ml of your preferred wine.

Hubby had one 38ml serving of red wine. Don't ask me what kind — I wasn't paying attention. I have zero interest in wines because I'm allergic to alcohol. I develop rashes and I itch all over when I drink any form of alcohol. You can order wine for less than P100 per serving, as they have an entire menu devoted to wine.
Planet Grapes' free wifi is THE BOMB at almost 10MBps.
Look at how cute their paper placemat is.
Potato Chips with Truffle (P125)
Finally, we get to the part I think everyone is waiting for — the food! We ordered Potato Chips with Truffle to start us off. Crunchy and flavorful, it left us craving for even more food!
Beef Tenderloin Tapa (P395)
Our daughter opted for the Beef Tapa. She wolfed it down as soon as it was served and couldn't stop raving about it. Hubby and I were impressed by the quality of the beef — really tender and lean. It tasted a bit like the classic Pinoy Bistek except that it was a lot more garlicky (which is a positive point for me!).
Rib-Eye Steak 250g (P1,195)
Hubby and I shared a Rib-Eye Steak. We got to choose a side dish to go with it and we picked Fresh Mixed Salad. Other alternatives include Plain/Garlic Rice, Grilled Parmesan Corn, Chorizo & Salted Egg Rice, Adobo Rice, and Mashed Potato. We were pretty content with the steak. It wasn't exceptional but it was okay.
Planet Grapes Chorizo Burger (P365)
We also split a Chorizo Burger. Hubby loved this one. It was very tasty albeit I felt the patty was a bit burnt (it was kinda bitter in some parts). It would be even better if the patty was evenly cooked to the correct doneness. There's a whole fried egg in the middle of the burger.
PG Dessert Sampler (P265)
To complete our dining experience, we ordered a PG Dessert Sampler. There was Cheesecake, Leche Flan, Suman, and um… was the last one Biko? Sorry they were not itemized in the menu and although I asked the server what they were I didn't take notes so I don't remember now. What I do recall is, we finished everything, haha!
We enjoyed our relaxing dinner at Planet Grapes. The place looks expensive but the prices are actually quite reasonable. Food is okay, service is good, and it's very peaceful. You can talk to your dinner companions without having to compete with any noise. They have super fast free wifi internet too. It's a really great place to chill — an unpretentious place to have wine. Hubby wants to go back already.
Planet Grapes Shangri-la
Unit GD 103 North Wing,
Shangri-la Plaza Mall,
EDSA cor. Shaw Blvd., Mandaluyong City
531-8207
Like this post? Subscribe to this blog by clicking HERE.
Let's stay connected: