I was invited by my friend to try out her restaurant Pinac in UP Town Center. Pinac serves heirloom Capampangan dishes, the recipes of which were culled from her lola's personal collection. My mom is from Pampanga, and so my lola is actually Capampangan too. My lola is the best cook in the world. When I was a little girl, she would make ube halaya from scratch, her own signature tocino with pineapple juice, hamonado, and lots of other delicious dishes. She migrated to the US so I can't taste her cooking as often as I'd like.
So anyway, I went to Pinac one weekday lunch. Weekends are crazy at UP Town Center and I wasn't up for that.
I was there before noon so the lunch crowd had not arrived yet.
I had a refreshing glass of Cucumber Mint Dalandan Shake (P85). It's citrusy and cooling at the same time. It's so perfect when the weather is warm or hot.
To start our meal, we had Ensaladang Pako with Fried Itik Floss (P125). In English, it's fern salad with fried duck meat floss. The crispy floss adds a tasty crunch to the julienned green mangoes, fresh ferns, onions, and salted egg. It's served with vinaigrette on the side. This salad is a great complement to creamy rich foods like Kare-Kare.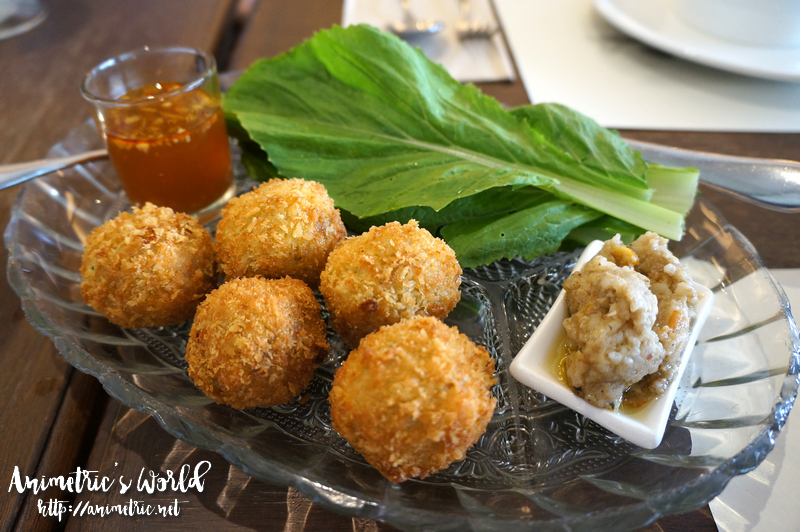 I must confess, I've never eaten catfish (hito) in my entire life so I was iffy when Crispy Hito Balls, Mustasa, and Buro (P235) was served. The recommended way of eating this is to wrap the balls with the leaf, put a bit of buro, and then dip in the vinaigrette. It's soooo good! OMG. I find the hito scary-looking but I don't mind having it in this form.
We also tried the Fried Kesong Puti Ensalada (P145). It's a dish of mixed greens, tomatoes, and cucumber with fried balls of kesong puti drizzled with vinaigrette.
Then we had Bringhe (P345) which is the Capampangan version of the paella. Glutinous rice is cooked with gata and chicken. It's served on a skillet topped with hard-boiled egg wedges and crunchy chicharon-like chicken skin. The rice had a slight sweetness and a kakanin-like texture. I really enjoyed munching on the crunchy chicken skin!
Lumpiang Ubod Taquitos (P185) is a modern twist on the classic Lumpiang Ubod. Julienned heart of palm is mixed with shrimp, shitake, and beans then placed on a bed of fried crispy wontons instead of wrapped. It's drizzled with a light peanut sauce and wow, it's just perfect as an appetizer! Ready-to-eat, no-frills, and totally delicious!
Prawn Thermidor (P395) is actually ulang (freshwater lobster) thermidor. The fresh lobster meat and mushrooms are chopped with mushrooms and served with cream sauce plus side salad.
I was also served Pinac's lunch special, Beef Salpicao (P200+ per serving). It's a complete meal on a plate with sweet crisp fresh veggies (french beans and carrots), garlic rice, and super tender cubes of beef topped with lots of garlic. So yummy, with all the food on the table I didn't know where to stuff it anymore but I somehow found space… hahaha! Good thing there was several of us so I got to taste a lot of Pinac's dishes.
For the grand finale, Pinac's Crispy Pata (P645) was served. Tender fall-off-the-bone meat with crunchy pork rind/skin is served with ampalaya atchara. OMG. They cook this for six hours. It was all gone in minutes, lol!
Then it was time for dessert. We had a full slice of Dulce De Leche Cheesecake (P195) and a sampler cup of Calamansi Panna Cotta. My hubby really enjoyed the cheesecake. It's creamy but not overly sweet.
Then we had Brazo De Mais at Salabat (P185). The traditional meringue is taken to another level with a creamy sweet corn custard filling. It goes so well with the hot cup of salabat (ginger tea) that it's served with.
This is the salabat along with a sampler cup of Pinac's Buco Pandan.
No Filipino restaurant is complete without Halo-Halo (P125) and Pinac has that too!
To be honest I'm not that fond of Filipino food but I was totally wowed by the dishes I tried at Pinac (and I'm not just saying it because it's my friend's resto, lol). Imagine I had hito, ulang, and ampalaya all for the first time and I liked them! I will definitely take my mom and stepdad and all my balikbayan friends and relatives to Pinac for some traditional Filipino cooking — some with very much welcome modern twists. Prices are very reasonable and the menu is very extensive! Kare-kare, sinigang, sisig… they have everything! I had a preview of their kare-kare and wow, the aroma alone is enough to send you to the high heavens. There are no shortcuts (no bottled peanut butter for their kare-kare sauce, they actually grind the peanuts themselves!) and pretty much everything is made the old-fashioned way.
Pinac Heirloom Capampangan Cuisine
2/F UP Town Center, Katipunan Ave.,
Loyola Heights, Quezon City
775-9450
Like this post? Subscribe to this blog by clicking HERE.
Let's stay connected: