Last March 17, I went on a trip to Pico de Loro Cove with my family and friends. One of our friends is a member so we can use the facilities as his guests. We just need to pay a guest fee… I forgot how much it was per person but for four of us (two adults and two kids) I remember paying P900. I've been to Pico de Loro several times in the past but this is the first time I'm blogging about it. 🙂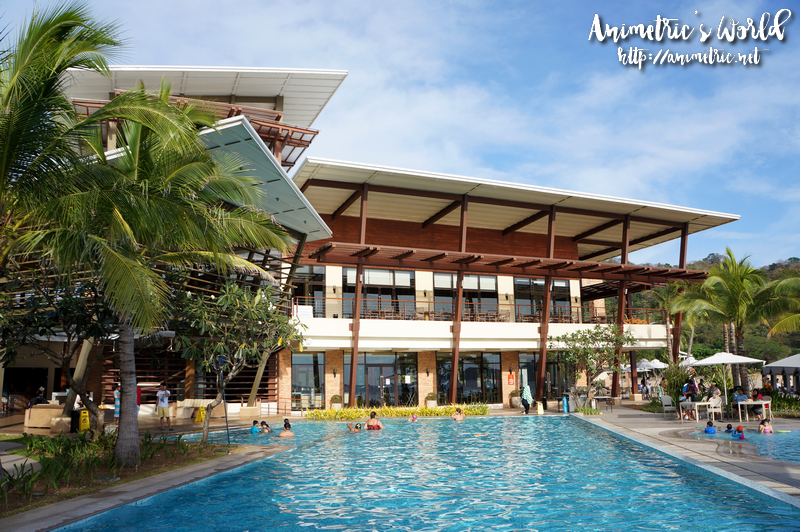 This blog entry will be divided into three separate posts starting with Pico de Loro Beach Club (pictured above). I'd like to show you the three main areas of Pico de Loro you can enjoy when you stay overnight. I'm timing this right before Holy Week and summer vacation just in case any of you are planning a trip… or maybe you got a voucher from Deal Grocer like we did!
The Deal Grocer voucher provides guest access (even if you don't go with a member) to all the beach and country club facilities, an overnight stay at Pico Sands Hotel, a P500 GC which you can use either at the spa or the restaurant, and breakfast buffet for two. It was sold for P6,500 which is a good deal considering you normally can't get in without a member.
Anyhow, here's another view of the swimming pool at the Pico de Loro Beach Club. There's a kiddie pool beside it too in case you have babies and toddlers in tow. A lifeguard always keeps watch over this pool. There's also a locker area equipped with towels, toilets, and showers nearby.
Just walk a bit from the pool area and you will actually find yourself on the beach. You can relax under the beach umbrellas, snooze on the hammocks, play in the sand, or even rent boats to go snorkeling. Be careful when wading in the sea though as jellyfish abound.
Our daughter really liked building sand castles on the beach.
The Sun Coral Cafe can also be found at the Pico de Loro Beach Club. Lunch and dinner buffets as well as ala carte meals are available here.
We had the buffet dinner that night. It costs around P750+ per person, half price for kids. There's bread, soup, salad…
There were also carbs like pancit bihon, garlic rice, plain steamed rice…
There's fish (grilled blue marlin in this case), pork, beef, chicken, and vegetables…
For dessert, there's a halo-halo bar where you can concoct your own halo-halo.
There was also chocolate chip banana cake, cheesecake, and fresh fruits. On my next two posts, I'll tour you around the Pico de Loro Country Club and the Pico Sands Hotel.
For more information, you may want to check out the Pico de Loro FB Page or the Pico de Loro official website at http://hamilocoast.com/hamilo/index.php?p=1109.
Pico de Loro Beach Club
Pico de Loro Cove, Hamilo Coast,
Nasugbu, Batangas
214-7888
Like this post? Subscribe to this blog by clicking HERE.
Let's stay connected: