I can't say it enough but ever since 2012 started I've been plagued by dry skin. I don't know if it's because of the cooler, less humid Jan-Feb climate or if it's because I'm getting old, but what I do know is I don't have the skin care products to address this problem. I've had oily skin all my life so I have all forms of oil control. But heavy duty moisturizing products? Zilch.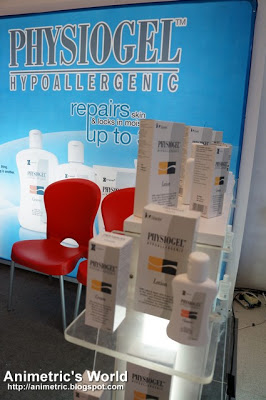 I was only too thrilled when I got invited to attend Physiogel's launch. I'm familiar with the product because I use Physiogel cleanser alternately with Cetaphil cleanser to well… cleanse my children's faces. I want something that won't irritate their young skin and both cleansers are hypoallergenic, fragrance-free, and highly recommended by pediatricians. At the back of my mind I knew that Physiogel also makes really good moisturizing products — I just hadn't had the need for them until now.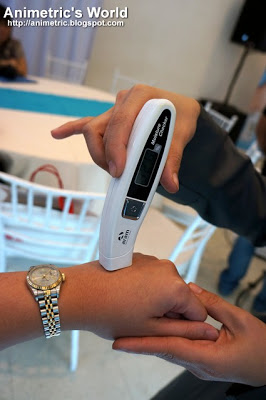 I took the Skin Moisture Test while waiting for the event to start. The Physiogel lady took my hand and used a device that measures your skin moisture level.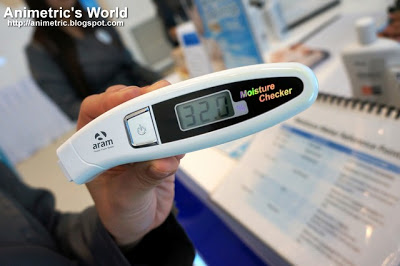 I got a 32.0 reading which is considered Mid-Normal. The levels are as follows:
45.1 and up – Very High
39.1 – 45.0 – High Normal
27.1 – 39.0 – Mid Normal
22.1 – 27.0 – Low Normal
12.1 – 22.0 – Low
Below 12.1 – Very Low
A Mid-Normal reading is okay provided I can keep it that way. I was advised to use moisturizer to raise my levels so I can have smoother and younger looking skin.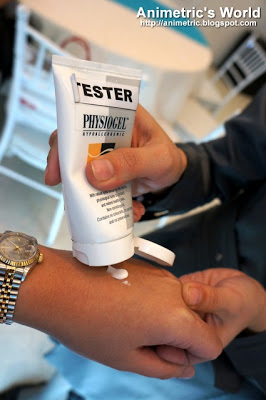 To demonstrate, Physiogel Cream was applied to my hand.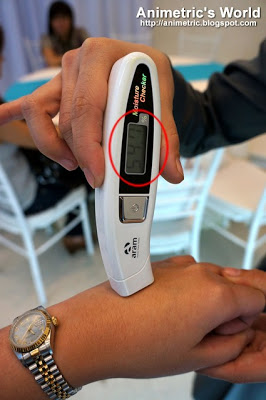 After the product was massaged into my skin, my skin moisture level was measured again. It yielded a result of 54.7, which is considered Very High.
At the event I also found out that:
Physiogel not only moisturizes but also repairs the skin barrier.
Physiogel does not contain SLS (Sodium Lauryl Sulfate) and SLES (Sodium Laureth Sulfate) which are both chemicals commonly used in soaps, shampoos, and detergents to make them foam up and form suds. The bad part is, both SLS and SLES are absorbed by the skin. Harmful effects include increasing cancer risk.
Physiogel can lock in moisture for up to 3 days even with washing.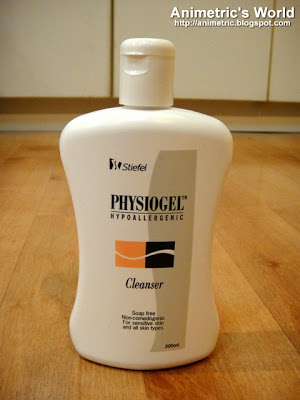 Armed with this knowledge, I set aside all my existing cleansers when I got home. Most of them are formulated for oily skin anyway and my skin hasn't been oily since 2012 started. I took out the bottle of Physiogel Cleanser which I got from the event. My children have actually used this but it's only now that I'm trying it myself.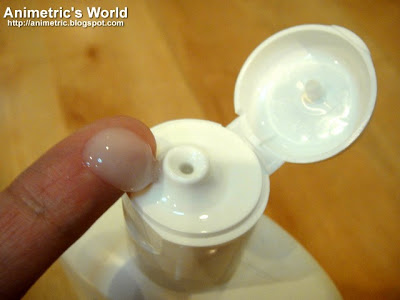 The consistency is smooth and watery. You can actually use this to cleanse your face without water, just apply and then wipe off. I prefer rinsing with water and patting dry with a towel though.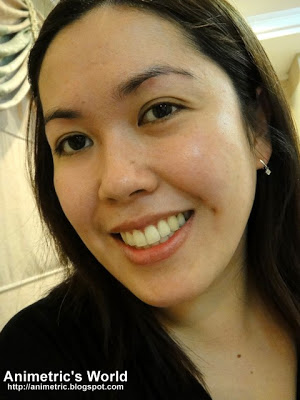 I really love how Physiogel Cleanser feels on my face. It's free from perfume so there's no overpowering scent. It glides on your face like a watery lotion and there are no suds or bubbles. Your skin feels clean, soft, and smooth all at the same time after use. There's no dry or taut feeling and even my hubby who has super oily skin is very happy with it. I was told Physiogel Cleanser can also be used to remove make-up but it can only actually take off face make-up like powder or foundation. It can't remove eye make-up so I still needed to use a separate product to take off eyeliner, mascara, etc.
A 300ml bottle of Physiogel Hypoallergenic Cleanser like the one I used above costs P325. The Physiogel regimen is really very simple: cleanse and moisturize. In order to moisturize, you can use either Physiogel Hypoallergenic Lotion (P649 for 200ml) or Physiogel Hypoallergenic Cream (P549.50 for 75ml) for the face and body. Use lotion if you want or need light moisturization, and cream if you need more intense requirements.
Physiogel is available at all leading drugstores nationwide. I think I will be using Physiogel Hypoallergenic Cleanser for a long time.

Like this post? Subscribe to this blog by clicking HERE.
Become a Facebook Fan for more updates from Animetric's World.