I'm not particularly scared of rats. In fact, I know more than a few people who keep them as pets. There is a difference — there are wild rats and there are domesticated rats. Domesticated rats are cared for by their owners from day one. They're usually acquired from breeders. Wild rats are the problem. You don't know where they've been and what diseases they carry. They're pretty destructive too — munching and chewing pretty much anything and everything they can sink their teeth into. It's these types of rats that you need to get rid of.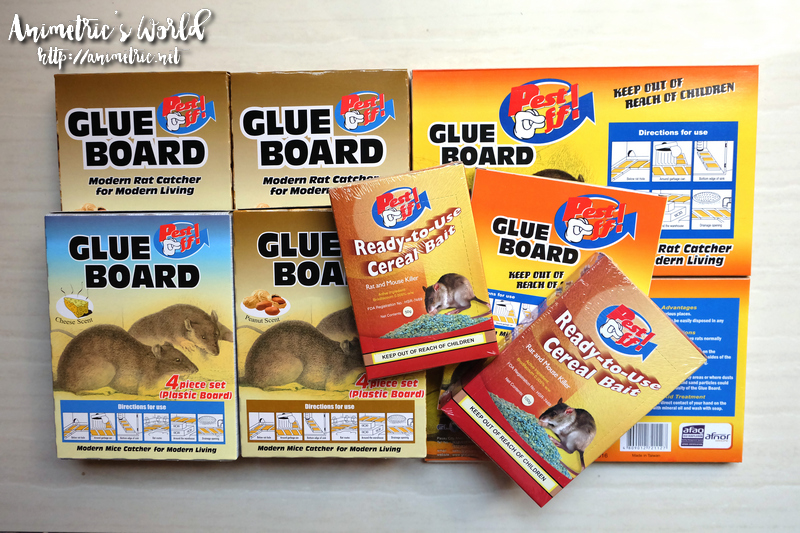 Anyhow, I got some rat control products from Pest Off a while back. While we don't really have rats at home (we do have pet hamsters lol), the office space we are renting have a lot of really wild rats and mice running around. They eat everything, including stuff like hand soap and sponges.
So what do we have here? Pest Off has a wide array of glue boards designed to catch both mice and rats. These small plastic glue boards are for mice. They come in 3 variants: Peanut Scent (P96.25 for 4 pcs), Cheese Scent (P96.25 for 4 pcs), and Regular Scent (P90.25 for 4 pcs). I could smell the peanut scent even if the box was still sealed! It makes sense because according to online sources, peanut butter is a good bait for mice and rats.
One pack contains four (4) plastic glue boards. The glue boards are filled with a really strong adhesive which holds the mice/rats even as they try to escape. Once caught, all you need to do is pick up the board with the mouse/rat and then place in a sealed plastic bag to dispose.
One plastic glue board can probably trap one (1) mouse. I remember how we used sticky fly paper to catch mice at my grandmother's house when I was a little girl. Sometimes the fly paper would get blown away by the electric fan so the helpers would mount them on a board. Pest Off solves that problem by using glue boards.
The glue boards are supposed to be placed side by side along areas where mice or rat like to run around.
For rats, which are bigger and stronger than mice, there are 3 kinds of bigger glue boards: Cardboard (P142.75 for 2 pcs), Wood Board (P148.75 for 2 pcs), and Plastic Board (P157.25 for 2 pcs, Peanut or Cheese scennted).
If you prefer to use bait, there's Pest Off Ready To Use Cereal Bait (P44.75 for 50g / P69.25 for 100g). This effectively and efficiently eliminates rats and mice as it needs only a single feed to take effect.
We tried using Pest Off in the office and we've succeeded in catching a couple of mice. What I really want to try though is Pest Off Complete Insect Killer which eliminates roaches, mosquitoes, and flies. It's dengue season now and some of my kids' classmates have been getting hospitalized.
Do you want to try the Pest Off products I featured above? I'm giving away 2 sets of Pest Off Modern Mice and Rat Catcher. The giveaway is open to ALL Philippine residents — I will ship the prizes to the winners. Just follow the simple Rafflecopter mechanics below.
a Rafflecopter giveaway
Congratulations Emiliana Limlengco Sison and Ina Libao for winning my Pest Off giveaway! Will message you to get your shipping details! 😀
Like this post? Subscribe to this blog by clicking HERE.
Let's stay connected: