Hubby and I have been going to work since MECQ. However, we've shortened the hours and lessened the days. We usually have water delivered to the office but since the pandemic broke out, we've ceased availing of services which require outsiders to go inside the premises. Thus we decided to just install a water purifier at our workplace. We went with the Pentair Sunstream Water Purifier (P5,195).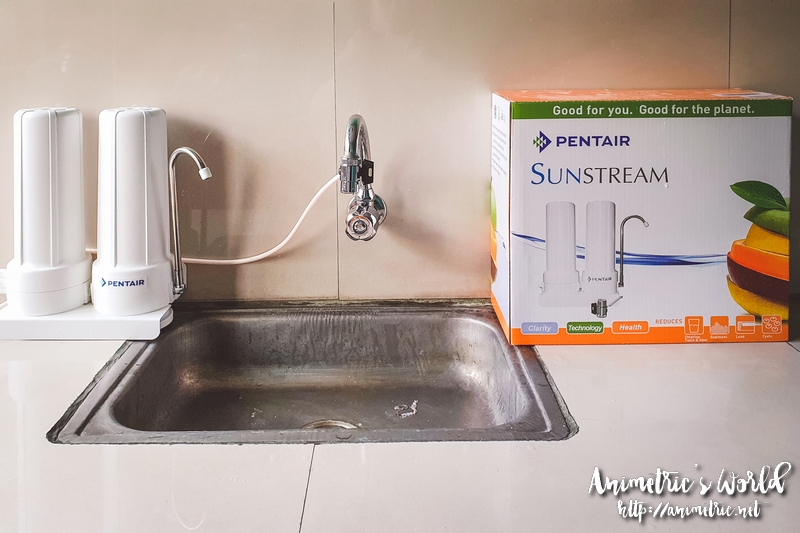 The Pentair Sunstream Water Purifier is a countertop water purifying system which requires no special tools for installation. We just opened the box and hubby finished installing it in something like 10-15 minutes. Calling for a technician or service person to install anything at home or in the office is not something we want to do right now.
There's a lever by the faucet which you switch back and forth to determine where the water will flow through. The lever is up when we're washing our hands. We push it down when we want to drink water.
When the lever is down, clean drinking water comes out of this spout. The Pentair Sunstream Water Purifier makes water safe to drink in 2 stages:
1st Stage: Pre-filtration – Chlorine taste and odor as well as sediments larger than or equal to 0.5 micron in size are removed.
2nd Stage: Post-filtration – Fibredyne Carbon Block Technology is used to thoroughly purify the water. This is 2x more effective compared to traditional blocks.
The water the comes out is so clean and clear. There's totally no scent too. When we got a Unilever Pureit Excella before, we had to cycle the water so many times to make the plastic scent go away. This one has absolutely no downtime. Water is ready to drink right after you install it.
I've had to lug around heavy water jugs from home for a couple of weeks before we decided to install the Pentair Sunstream Water Purifier here in the office. I'm so glad I don't have to do that anymore.
See how clear the water is? 😀
We've been drinking from this for several days now and we're doing great. No tummy troubles whatsoever. Love how easy it was to install this right out of the box. One filter can purify about 2,500 gallons / 9,450 liters of water. I estimate a filter can last us about a year here in the office. Replacement filters sell for P995 a piece. If we change filters once a year, that's less than P100 a month.
You can purchase a unit and a filter at http://bit.ly/DOSPentairWaterSystems. Or you can visit the following showrooms:
GE Monogram / Häcker Kitchen Showroom
L4 Main Wing, Shangri-La Plaza, Mandaluyong City
+63 2 8631-8282 / (02) 8910-4924
Häcker Kitchen Showroom
L3 Fort Pointe Bldg., Fort Strip, 7th Ave. corner 28th St., Bonifacio Global City, Taguig City
+63 2 8821-2275
Like this post? Subscribe to this blog by clicking HERE.
Let's stay connected: