Pears Soap. My grandmother used to buy this during her trips abroad. It's iconic really, having originated from London way back in 1789. It's a brand that's over 200 years old.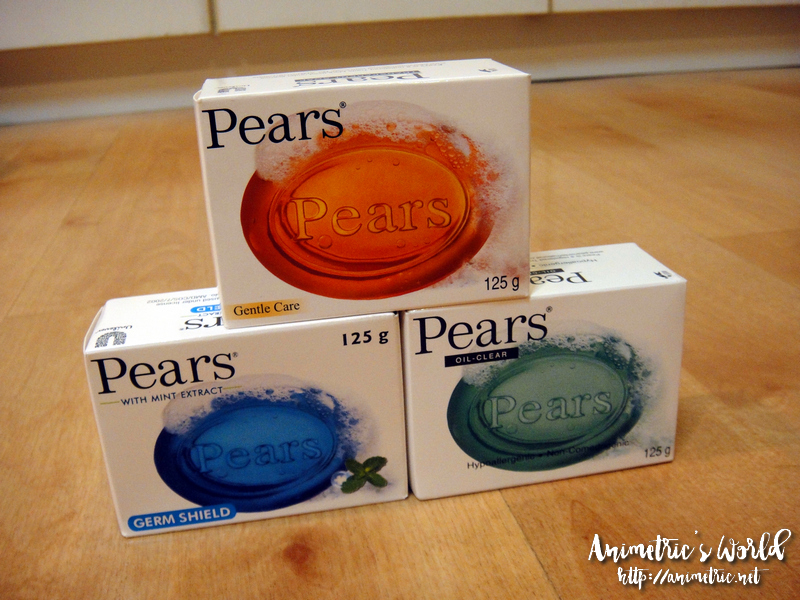 Although I've seen Pears Soap around when I was a little girl, I don't remember using it. I was so surprised when I came home to several bars of it! So yes, I'm finally going to get to Pears Soap. It's available in three variants: Pears Gentle Care, Pears Germ Shield, and Pears Oil Clear.
Pears Soap comes in two sizes: 75g and 125g.
Since it's sooo hot these days, I decided to try the Pears Soap Germ Shield variant first. According to the box it has mint extract and mint = cold, lol.
This is how big the 125g bar is.
I lathered up and pretty much washed my entire arm for with it. I used it to take a bath a short while later too. Wow, it does have a cool minty sensation when you lather up with it! This soap is perfect for bathing during the summer!
What I like about Pears Soap Germ Shield:
I like the minty cooling sensation! It makes you feel really fresh and clean after bathing.
The soap doesn't get deformed while you bathe.
It doesn't have scary ingredients for the germ-fighting effect, just mint extract.
It doesn't dry out the skin the way other anti-bacterial soaps do.
It's now available pretty much everywhere! You used to have to buy from abroad.
Downside? The scent of this variant is kind of masculine, strong, and lasting, as in our entire bathroom smells like Pears Soap for several hours after bathing. I also noticed that it shrinks quite fast.
Pears Soap is available at Watsons and all leading supermarkets and department stores nationwide. It costs P60 per 125g bar.
Like this post? Subscribe to this blog by clicking HERE.
Let's stay connected: