Premiere cashless payment system PayMaya launched PayMaya Mall last Feb. 11, 2021. With more people opting to shop online these days, this is a welcome addition to the e-commerce scene. I for one do not go out unless absolutely necessary… and the last place I'd choose to be in is an enclosed air-conditioned space with a lot of other people. It's just too risky with the pandemic still raging on.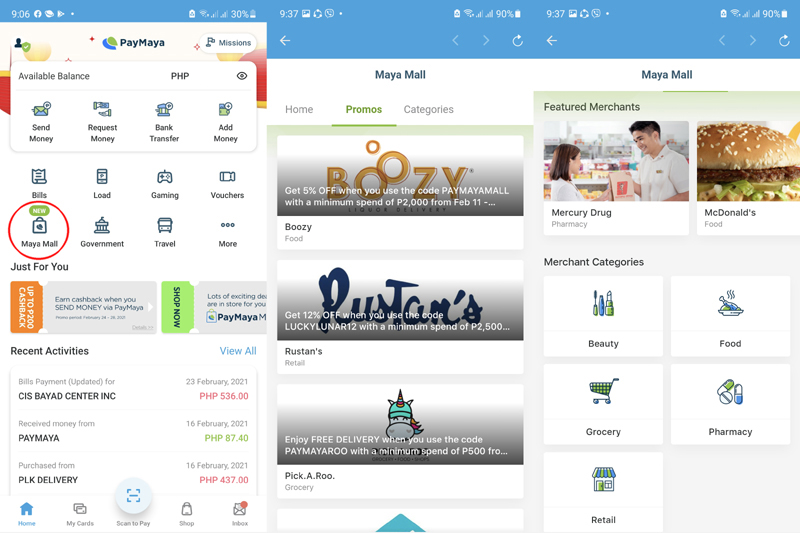 You can access PayMaya Mall by clicking on the Maya Mall icon in the PayMaya app. You'll have to get the latest update though. Clicking on the icon will take you inside the mall where many different merchants await.
I was impressed at how many merchants PayMaya Mall had on its initial launch. This isn't even all of it, there are a lot more.
Clicking on the merchant logo will take you to the shopping page. Of course, PayMaya is the default mode of payment. There are over 100 partner brands and merchants so there's surely something for everyone. So what sets PayMaya Mall apart from other online shopping sites? The perks and rewards! To kickstart your PayMaya Mall shopping experience, PayMaya is offering a 20% cashback of up to P88 per transaction. I personally experienced this when I ordered P437 worth of food from Popeyes. Got an P87.40 cashback right after ordering (you can see on my first screenshot above)!  I love it. You can enjoy this cashback up to 10x until March 15, 2021… or up to a total of P880 in balikbayad savings.
Don't have PayMaya? Download the app for free from the App Store and/or Google Play. Don't forget to use my code ROWENAPAYMAYA to instantly get an extra P100 for your PayMaya Mall shopping trip! Visit https://www.paymaya.com/deals for more of their promos.
Basta shopping, don't pay cash. PayMaya!
Like this post? Subscribe to this blog by clicking HERE.
Let's stay connected: