When I first saw Paul at SM Aura, I thought it was a bakery similar to Bread Talk but French in origin. It turns out that Paul Restaurant is actually a full-service dining place complete with soups, salads, sandwiches, and even rice meals.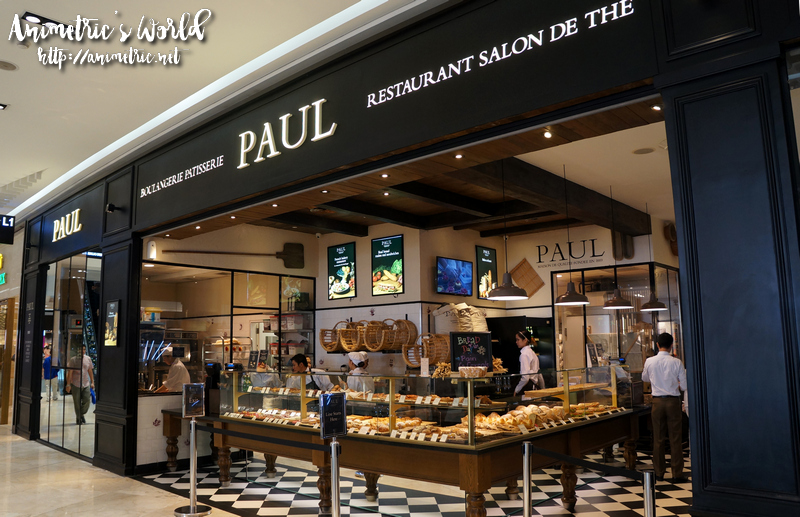 Everything about Paul screamed expensive, lol.
But I wanted to try it. It still beats the cost of flying to France where Paul originated.
Anyhow, I finally had a meal at Paul Restaurant sometime last year. While trying to decide what to order, we were served some complimentary bread. There was butter and jam too — I was unable to include them in the photo.
I ordered Green Celery Apple Juice (P180) which seemed to be the most unique freshly squeezed juice on the menu. Errr… it was kind of tart and grassy, I didn't like it. Almost P200 for a small-ish glass too.
I had Soupe de Jour a.k.a. Soup of the Day (P95), which turned out to be… Tomato! The word "Paul" is written in cream. It tasted really fresh and nice, I enjoyed it to the last drop. It's served with a slice of bread which I forgot to include in the photo. I was quite the scatterbrain that day, sorry.
For my main course, I had Saumon Sauce Vierge (P630). It's a nice piece of pan-fried salmon fillet with olive sauce and vegetables (tomatoes, red and green peppers, onions cooked with herbs and spices). It was served with a lemon wedge which I squeezed all over the fish. The vegetables reminded me a bit of ratatouille. It was nice and filling although the salmon was a bit dry — overcooked maybe? If I'm paying over P500 for a piece of fish it better be cooked perfectly.
For dessert, I ordered The Surprise (P280). It's a set — your choice of tea with a mini creme brulee, 1/2 moellux chocolat slice, and 2 mini macaroons. I chose to have green tea.
The macarons were delicious! Nice and crisp outside, chewy inside with a bit of creamy filling. Yum! The chocolate cake had a deep rich chocolate taste. The creme brulee was just okay… nothing special.
But the best dessert for me was this Millefeuille Fraises (P170). Millefeuille, a layered puff pastry made with eggs, milk, and sugar (also known as a Napoleon). It's actually one of the things Paul is famous for and the reputation is well-deserved. The Millefeuille Fraises is sooooo divine. It's filled with delicate strawberry cream that's just so indescribably light and dreamy… not overly sweet. It's super perfect with a cup of hot coffee or tea!
Overall my Paul Restaurant experience was okay, I guess. The soup and desserts were to die for but my main course was so-so at best. I want to go back and try a sandwich next time because I kind of doubt they have rice meals in France. It's a great place for coffee and dessert though, or perhaps even high tea. They have decent free wifi connection and the interiors are nice, classy, and cozy. I'm pretty sure it's cheaper to eat at Paul here vs. Paul in France so I'd still recommend visiting this place at least once.
Paul Restaurant
G/F SM Aura Premier
26th cor. McKinley Parkway,
Bonifacio Global City, Taguig City
808-5324
Like this post? Subscribe to this blog by clicking HERE.
Let's stay connected: