I got acquainted with Watsons' complete bath and body care line last July 10 at the Neo Day Spa in Bonifacio Global City. We use Watsons Anti-Bacterial Hand Soap here at home because I love pretty much all the available scents and they're always buy one take one so it's very practical. That said, I was only too happy to check out the rest of the Watsons bath products. There are so many — shower gels, body scrubs, hair treatments, etc. There's something for every part of bath time.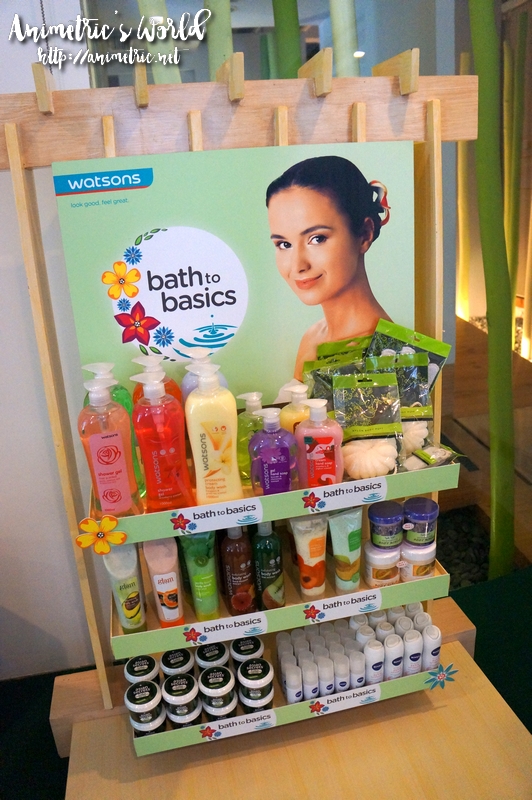 This standee doesn't even represent half of the Watsons bath products! There's so much more at the store as I would later discover.
We had some delicious light snacks while waiting for the event to begin.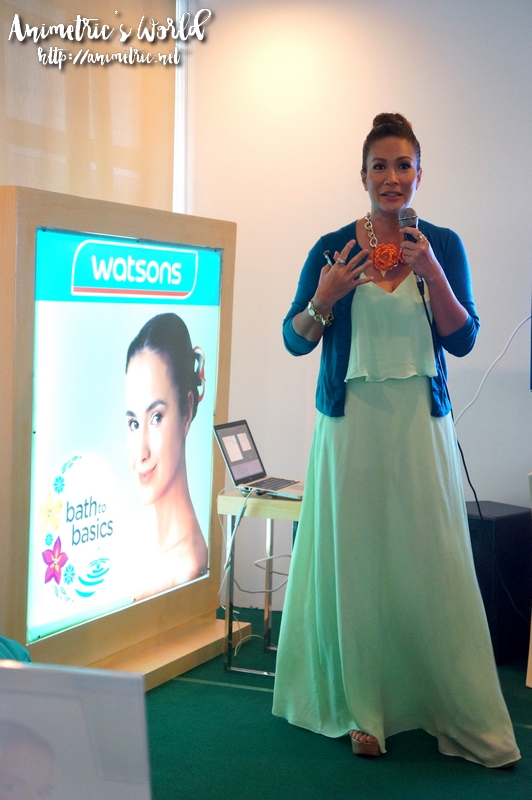 The guest speaker of the day was Ms. Olen Juarez-Lim, a certified professional image consultant from the London Image Institute and Imageworks Asia. She gave a very interesting talk about the bath regimen and how it does more than wash and clean. She gave us tips on how to organize our bathroom and debunked bath myths passed on from who knows where, lol! (For example, ever heard of the saying you shouldn't take a bath after a meal?)
Anyhow, taking a bath is an important part of the day because it's your instant 15-30 minute me-time. You can use your favorite shampoo, soap, shower gel, and/or body scrub and just immerse yourself in the fragrant scent of fruits, flowers, or even chocolate! The possibilities are endless. You not only wash and clean, you moisturize your skin, condition your hair… it's really a personal ritual. Your shower is your sanctuary… ever notice how you can clear your head when you're taking a shower? Ms. Olen pointed out that if you notice, your best ideas pop up when you're in the shower.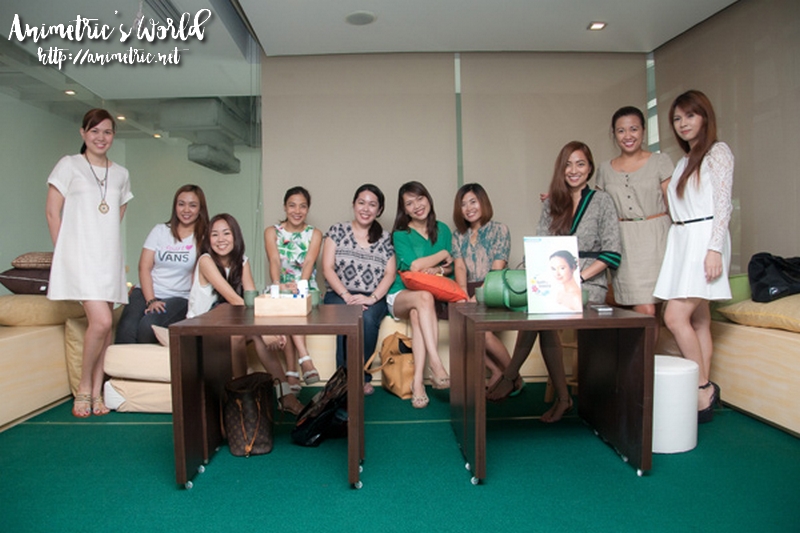 We learned a lot from Ms. Olen! After the talk, we were divided into groups for the afternoon's activities. I was paired with fellow blogger Jackie Go. We were informed that we were to go across the street to the Watsons store to participate in a shopping challenge! We were given P1k Watsons GCs and the one who would be able to buy the most Watsons products with that P1k would win. We were competing with all the other bloggers at the event.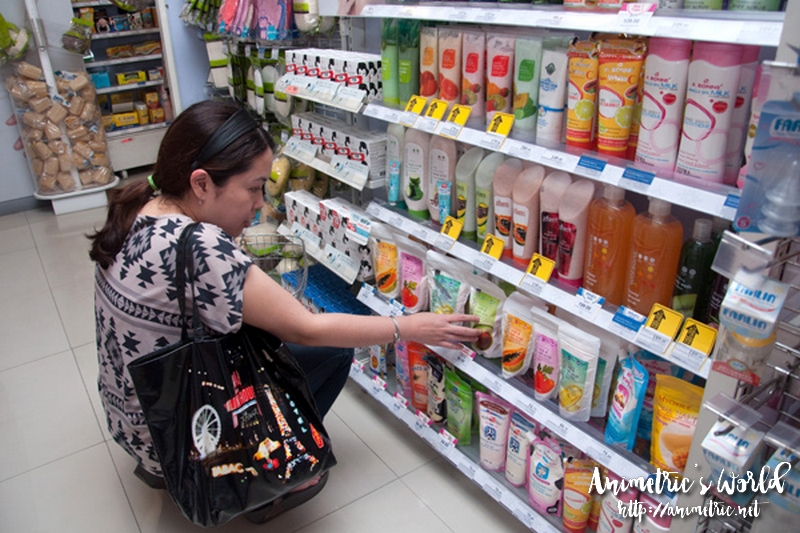 So off we went to Watsons. We were given 15 minutes to complete the task. It was so hard to decide which products to get! Your P1k goes a loooong way at Watsons. I was able to buy several bottles of hand soap, packs of bath scrubs, even things like cotton buds, baby wipes, floss picks, etc. Everything's so affordable and most of what I got were buy 1 take 1!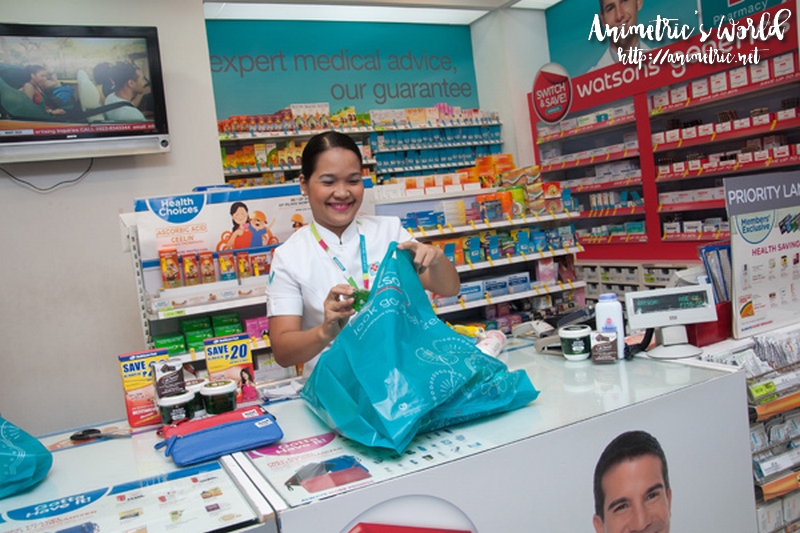 As if a big bag packed with Watsons stuff wasn't enough, the cashier cheerily informed us that we were entitled to a freebie after buying so many Watsons products.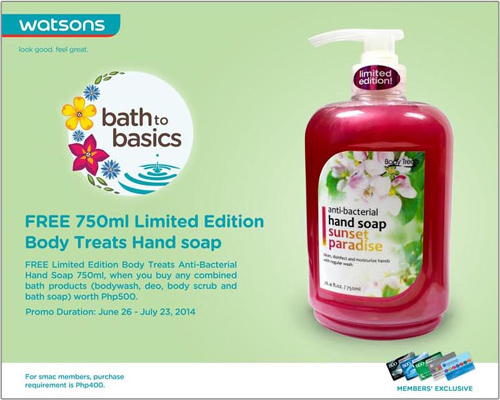 FREE 750ml Limited Edition Body Treats Hand Soap extended to Aug. 31!
That's right, I got a free 750ml Limited Edition Body Treats Hand Soap when I bought combined bath products worth P500. Since I'm an SM Advantage Card holder, the minimum purchase amount went down to P400. So yes, in addition to everything I bought, I got an extra 750ml bottle of our favorite Body Treats Anti-Bacterial Hand Soap in a limited edition scent variant — Sunset Paradise! It has a lovely scent, much like a bouquet of fresh flowers. Watsons has promos like this a lot of the time so it's really great shopping there!
Shopping at Watsons was definitely a great way to spend 15 minutes of our day! I got to replenish our bath supplies with products that will last us months. I especially love their Buy 1 Take 1 deals.
Like this post? Subscribe to this blog by clicking HERE.
Let's stay connected: