Last weekend, our whole family stayed at Seda Nuvali Hotel in Sta. Rosa, Laguna. I was delighted at the invitation because it was really for the four of us.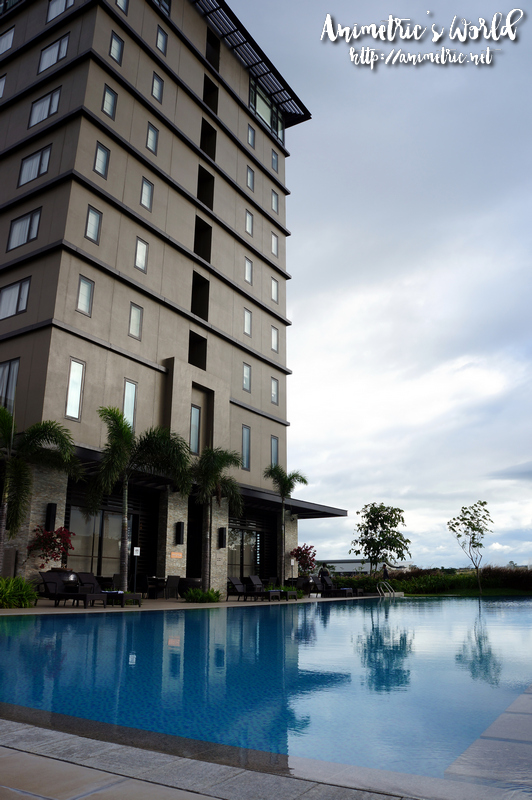 Check-in time was 2pm. We left Quezon City around 1:45pm because we had to work in the morning. Anyhow we got to Seda Nuvali before 3:30pm. It was a cool and kind of cloudy day.
Like almost all hotels there was a Christmas tree at the lobby.
We rode the elevator all the way up to the 9th floor after checking in.
For our stay, we were allocated a Premiere Room connected to a Deluxe Room so we could all sleep comfortably. The problem was when we got there, I was told the Premiere Room was not yet available and we were told we would have to wait for it. Anyhow we got a Club Room instead (in terms of ranking Premiere is the highest while Deluxe is the most basic, Club Room is the middle option — it's a Deluxe Room with Club Lounge access). Our Club Room was furnished with a king-sized bed.
We had a study table and a wall-mounted LCD TV too.
Hubby insisted that I take a photo of the room phone because according to him it had the unique feature of having all kinds of connectors so you could connect your cellphone, laptop, music player, etc. directly to it.
He also told me to take a photo of this panel at the study area. He said you can connect your computer to the TV with this, so you can watch whatever it is in your computer on the LCD TV. I'm guessing you can probably play with a video game console too?
Both rooms (Club and Deluxe) had complimentary bottles of water and Dilmah tea bags for our consumption. There's an electric kettle too in case you need hot water.
There's a mini ref with drinks too, but since we had access to the Club Lounge (Club Room and Premiere Room guests have access), we could just go there and get drinks whenever we felt like it (as long as they're open).
We had a great view of Nuvali Lake from our window.
Both the Club Room and the Deluxe Rooms have the same bathroom equipped with a toilet and shower. The Premiere Room has a bath tub.
Amenities include a complete set of toiletries, toothbrushes, shower caps, vanity kits…
This is the Deluxe Room our kids occupied. It had two spacious single beds.
It was quite identical to the Club Room really.
Anyhow, the 9th floor is where the Club Lounge is located and it's actually just a few steps away from our rooms. We decided to go pay a visit.
The Club Lounge has couches, a shelf with books and periodicals you can read, as well as an Apple MAC you can play with. I love that there's good quality free wifi internet in all the public spaces and rooms of this hotel.
The Club Lounge serves high tea and cocktails from 5pm to 7pm. They do however offer all-day refreshments if you have access so there are always some pastries and drinks there whatever time you choose to visit.
By 5pm, there was quite a merienda spread already — Pandan Chicken, Tempura, Fried Dumplings, Lumpiang Shanghai, etc… prior to this I had cupcakes and hot coffee!
Merienda with a view for me and Jackie who also stayed there the same weekend with her family!
Our Seda Nuvali family staycation experience continues in the next post. Still a lot to see and do and this post has over 20 pics already! To check out the food at Seda Nuvali's Misto Restaurant, click HERE. 😀
Seda Nuvali Hotel
Lakeside Evozone, Nuvali,
Sta. Rosa City, Laguna
http://web.sedanuvali.com/
Like this post? Subscribe to this blog by clicking HERE.
Let's stay connected: