Ever since we went into quarantine and our helper left, I've been in charge of cooking at home. But I still work so it gets challenging. There are times I'm just too tired to prep and cook food. To help me out, I turn to food delivery services. Yesterday, we tried GoodAh. They opened a branch along Granada which is near us. Prices are quite reasonable too so I thought we'd give it a try. I don't remember the last time I ate at GoodAh, it was a long time ago at their Greenhills branch.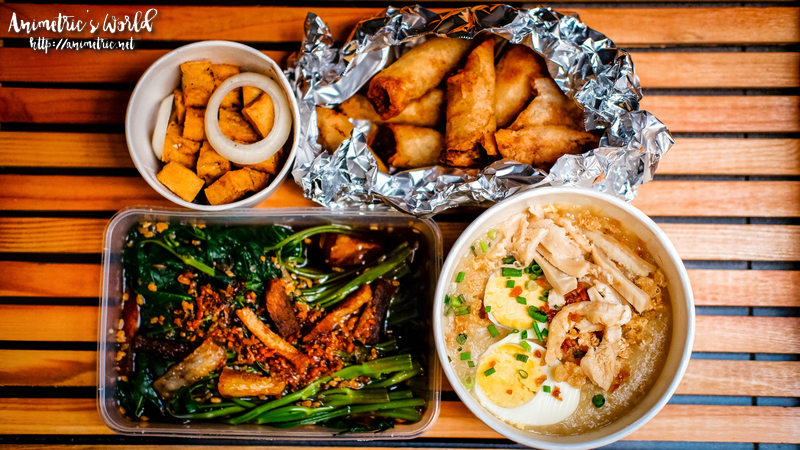 I ordered more than enough food for lunch. We had Fried Tokwa (P38.50), Lumpiang Shanghai (P132), Garlic Kangkong (P132), and Goto Classic (P97.90). From what I recall, GoodAh is popular for Goto.
Garlic Kangkong is really really good value for money. It can easily serve 4 people as a viand and it's even topped with strips of crispy pork. They're really generous with the garlic too. Very tasty and goes well with garlic rice.
This is the Lumpiang Shanghai. It's my first time to order this. It's crunchy and flavorful. They ran out of sauce though which was not a problem since I have sweet chili sauce at home. We all liked it but I should've ordered 2-3 servings since my son said he can easily finish one order lol.
We each had some form of silog. Hubby had Longsilog (P119.90). I noticed Goodah doesn't skimp on rice. They defnitely serve way more rice compared to popular food chains.
The kids and I opted for Tapsilog (P147.50). Wow, their beef tapa is surprisingly very good! We all finished every single piece of meat. Medyo bitin pa kami, so next time I'll order Tapsimax for us.
Here's our Arroz Caldo (P92.40), Goto Classic (P97.90), and Fried Tokwa (P38.50). Arroz Caldo had a whole drumstick in the porridge, to my surprise. I was just expecting bits of chicken meat. Fried Tokwa is Tokwa't Baboy without the Baboy.
Goto isn't something I'd normally order because I'm scared of it but I tried GoodAh's Goto Classic and it's pretty good! It has lots of crunchy chicharon and garlic bits plus a whole hard-boiled egg. Yum!
For GoodAh delivery, just call 84-707070. You can also order via Grab Food or Food Panda. There are still a lot of menu items I want to try like Beef Nilaga, Sizzling Sisig, and Pork Sinigang so we'll order again for sure.
Like this post? Subscribe to this blog by clicking HERE.
Let's stay connected: