Osaka Ohsho is a gyoza place franchised from Japan that opened in the SM Megamall Fashion Hall last year.
We've been here several times in the past few months, more often when our cook takes the weekend off. Gyoza is always good for the kids, and their favorite is the Bacon and Cheese Gyoza.
Hubby and I were invited back a few days ago. Osaka Ohsho just added several new teppanyaki dishes to their ever-expanding menu. We ordered a couple of drinks, namely the Fresh Mango Yakult (P125) and Strawberry Passionfruit Fizz (P110). I therefore conclude I like the Fresh Mango Yakult best of all the beverages that I've tried at Osaka Ohsho. It's light, slightly milky-creamy, sweet, and tart all at the same time.
We started off with some Salmon Bacon (P370), salmon pieces wrapped in bacon and drizzled with sweet savory teriyaki sauce. It's served with a lemon wedge on the side and I find that sprinkling lemon juice all over this dish makes it more delicious.
This is the Bacon Cut Pork Belly Asparagus (P250). It's pork belly wrapped asparagus drizzled in teriyaki sauce. I find it reminiscent of the kind of appetizers you'd see in buffets.
The Prawn Teppanyaki (P450) is five big prawns cooked in garlic butter and served with wasabi mayo on the side! This dish is so good I had some even if I'm allergic to prawns, lol.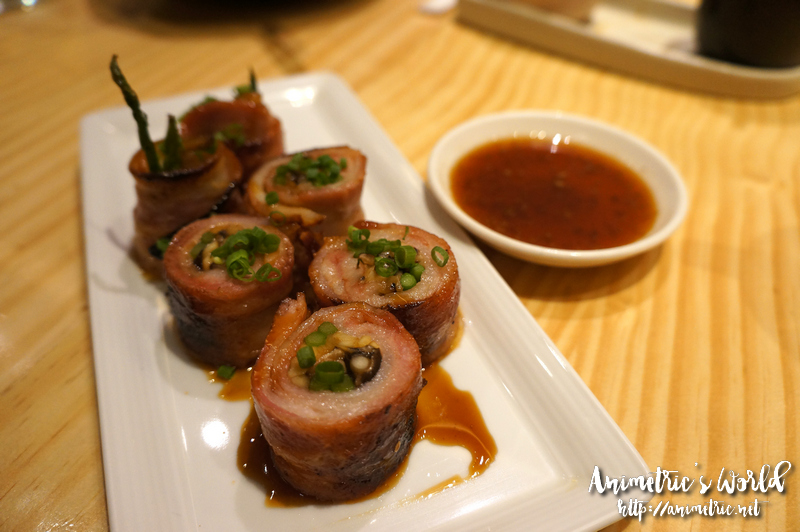 Mixed Mushroom and Bacon (P310) Three kinds of Japanese mushroom (Shitake, Shimeji Brown, and Eringi) with asparagus are wrapped in bacon and served with Urinchi sauce. Pretty good! I love mushrooms and this is a nice combination. I liked the sauce so much I dipped all the other dishes in it, lol.
Sakana Matsuri or Fish Festival (P420) is a dish with 3 kinds of fish (Salmon, Blue Marlin, and Tuna) sauteed with mixed vegetables (specifically julienned potataoes and carrots with french beans). It's a dish that goes well with steamed rice (well all of Osaka Ohsho's teppanyaki dishes actually do).
Next up was Mixed Shellfish (P325). This dish is comprised of seasoned scallops, mussels, and clams sauteed in onion sauce with mixed vegetables. I'm not big on shellfish so I just liked the scallops. Flavor-wise, this dish is very much like the Sakana Matsuri.
Ika Sugataki (P250) is fresh squid with vegetables sauteed in spicy sauce is how the menu describes this dish but I didn't find it spicy. The dish is tastey though and the squid pieces are super soft and tender.
Last but not least is Sake Beef (P330). It's the dish I liked best among all eight (Prawn Teppanyaki is a close second). Tender and juicy beef slices are sauteed in sake, garlic, and butter. It's served with coleslaw on the side too. I could have just this with plain rice and I'd be all set.
For dessert we were served the Banana Tempura Ice Cream (P330). I was really super full even if I had just a piece from each dish but I had room for one banana piece and a couple of spoonfuls of black sesame ice cream from the Banana Tempura Ice Cream we all shared.
We like how kid-friendly Osaka Ohsho's menu is. It's a nice place for weekend lunches with the family, although I recommend going in early because there tends to be a queue on weekends.
Osaka Ohsho
3rd Level SM Megamall Fashion Hall
EDSA cor. J Vargas Ave., Mandaluyong City
0917-8285011
Like this post? Subscribe to this blog by clicking HERE.
Let's stay connected: