Last February 22, I visited the LifeScience Center for Health and Wellness at Bonifacio Global City. I had agreed to take the Organic Acids Test. Simply put, I was there to have my gut checked. Organic acids are products of metabolism secreted by mammals (us humans included). Now metabolism means so much more than just the speed by which you digest food. It's the sum of all the chemical reactions in our body. It pretty much determines how we eliminate waste products and produce energy. The more efficient your metabolism, the healthier you are. Taking the Organic Acids Test will give you a clear picture of your gut's health and how efficient your metabolism is.
So how do you prepare for the Organic Acids Test? You fast for 8 hours — that means no food and drink, not even water. Then you collect your urine the first time you pee after 8 hours. What I did was sleep at 10am. When I woke up at 7am, I collected my urine using a sterile cup I bought from Mercury Drugstore. Then I brought it to the LifeScience Center for analysis.
There was a brief orientation with other bloggers and personalities after I had submitted my sample. The LifeScience Center uses Functional Medicine to develop personalized programs to help you meet your health goals. They believe that everything starts at the gut.
When was the last time I felt at my healthiest? I honestly cannot remember. I've been feeling heavy and I know exactly why. I lead a sedentary lifestyle and I need to adjust my food choices. Although I'm trying my best to ensure that we eat healthy meals at home, there is still room for improvement.
We were served a healthy vegan lunch. We all underwent Body Composition Analysis as well. No surprise that I have the metabolism of a 50-year old and I'm overweight, lol.
The LifeScience Center believes that more than medication, food should be used as a tool for healing the body. It all starts with being more aware of the things you put in your mouth.
They have nutritionists to help you adjust your diet based on what your body needs. It's not all about weight loss.
This is where we got the Body Composition Analysis done. They measured our height, weight, body mass index, metabolic rate, and a whole lot more.
This is the Kinesis Studio. Kinesis combines cardio, flexibility, and strength training to help achieve a specific health goal. Health goals can include weight loss, rehabilitation of strength and function after injuries, regaining ease of movement, etc.
There are tips and reminders of how you can live a healthier life all throughout the facility.
I was told it would take a few weeks before I could get the results of the Organic Acids Test. This is because analysis was going to be done by The Great Plains Laboratory in the US. They are the world leader in providing testing for metabolic, genetic, mitochondrial, and environmental factors in chronic illnesses.
I received a text last April 3 that my Organic Acids Test results were in. I visited LifeScience Center again on April 4 to go over them with Dr. Denise Marie Herrara-Lavilles. Testing to release of results took approximately a little over a month.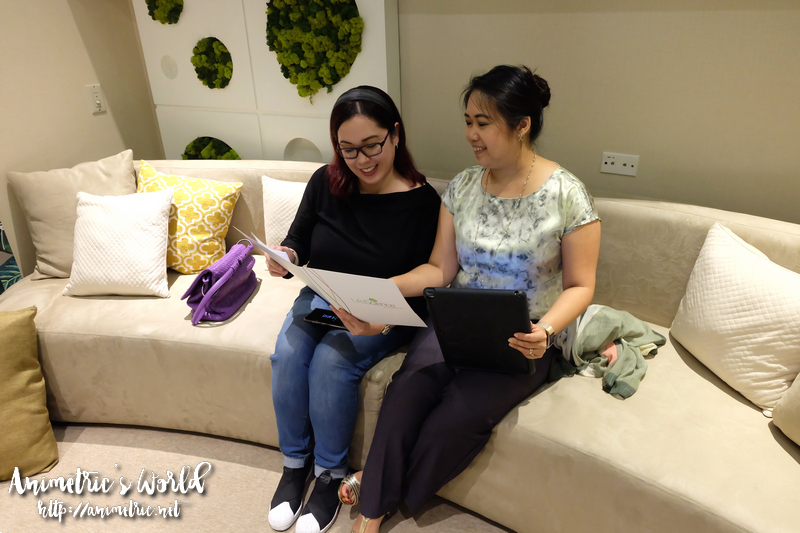 Reading the results, I understood nothing. It was all very technical. This is why a doctor needs to sit down with you when going through them.
The verdict?
While there was nothing alarming with my results, I had markers for:
Arabinose – I had a high level, which indicates an overgrowth of intestinal yeast. It was recommended that I take more probiotics.
Oxalic Acid – I had a high level, which indicates I'm not getting enough water. It's true though because for my height and weight I should be drinking at least 9 glasses, I drink maybe a little more than half of that. They recommended cutting down on oxalate-rich food like Spinach, Fries, Nuts, etc. Oxalate-rich foods also raise your risk for getting kidney stones.
Lactic Acid and Pyruvic Acid – I had high levels of these too, which indicates I'm taking in too much carbs. Increasing Vitamin B and Magnesium intake can help this.
Quinolinic / 5-HIAA Ratio – I'm borderline high when it comes to this, which indicates I'm not getting enough sleep. I should sleep more if I want to live longer, at least 8 hours a day. She also recommended that I unplug from gadgets more because the blue light from gadgets affects this too. XD
Ascorbic Acid – Surprisingly I had very low levels of Vitamin C. The doctor said I need more antioxidants, so I need to eat more colored foods. I'm guilty because I don't eat fruits much.
There are 75 organic acids on the list of results and the above are what I have markers for. After the doctor explained what health risks these present, I had a better understanding of what I should do to become more healthy.
The Organic Acids Test is a good way to take charge of your health in a preventive way. You can stop potential diseases from developing by addressing imbalances indicated by your markers. The LifeScience Center can facilitate this test as well as host of others (Food Intolerance Test, Gene Tests, etc) to help you stop sickness from setting in. Prevention is always better than cure, because you stop potential damage to your body even before it starts.
For more information, log on to http://lifescience.ph.
LifeScience Center for Health and Wellness
8/F ACCRA Law Tower
2nd Ave. cor. 30th Street,
Bonifacio Global City, Taguig City
828-LIFE (5433)
Like this post? Subscribe to this blog by clicking HERE.
Let's stay connected: