I recently got acquainted with Orbik, a UK brand of LED bulbs and lighting products. Here in our house, it's my hubby who is into these things. I'm usually okay with whatever is there. But my friend and fellow blogger Rina, got SO EXCITED over Orbik LED bulbs. She told me that she wants to replace all the bulbs at home with LED bulbs because they're more energy efficient. I did some research and found out the LED bulbs consume only around 1/3 of the power required by other kinds of bulbs (CFL and incandescent). Okay, sold!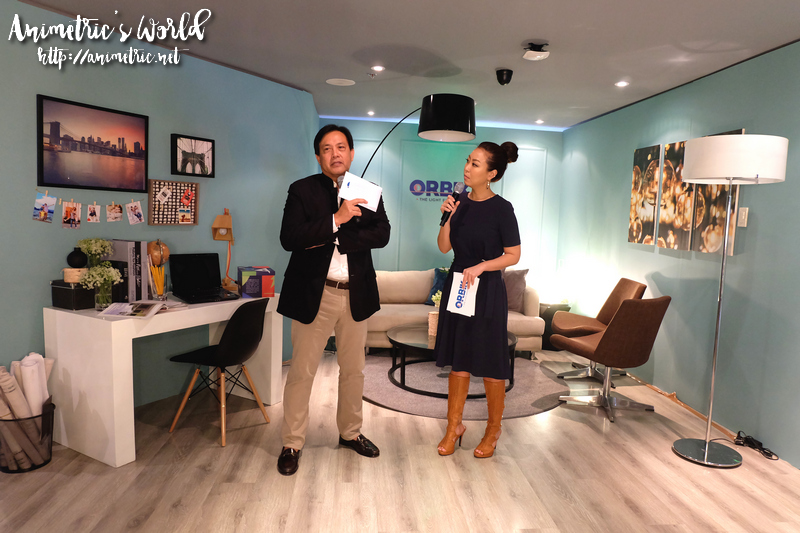 The Orbik launch event was hosted by Sam Oh. The man of the hour was architect Conrad Onglao (yes, Zsa Zsa Padilla's current flame). For Conrad Onglao, lighting serves different purposes. Accent lighting highlights artwork, indirect lighting creates moods, and then there's task lighting on desks or above kitchen counters where clear light is needed. He applies lighting so that function and design complement one another. Most Orbik LED bulbs have both warm white (yellowish feature) and daylight (crisp white color) options.
They told me to try holding a lit Orbik LED bulb in my hand so I could feel for myself how literally cool it was. Yes, these Orbik LED bulbs don't heat up and become untouchable.
Orbik LED bulbs also consume a lot less electricity compared to other bulbs. That means lower electric bills!
According to Orbik Marketing Director Jam Chan, Orbik has a full range of LED bulbs that assure energy efficiency.
This is a shelf without any lighting.
See what a difference lighting makes?
Orbik LED bulbs can light up virtually any space in your home or office.
For more information or inquiries, log on to http://www.orbik.com.ph/. Orbik is currently available in Metro Manila, Cebu, and Davao.
Like this post? Subscribe to this blog by clicking HERE.
Let's stay connected: