Although my kids are no longer interested in Halloween activities, a lot of younger ones are. I've come across a lot of moms on FB looking for online Halloween events they can participate in. This is a compilation of virtual Halloween events which do not require kids to leave their homes. They still get to wear costumes and score loot bags too. Anyway, I hope this list is helpful!
1. Diamond Hotel Spooky Kooky Virtual Halloween Event on Oct. 25, 2020 – For P950, your child gets a special Halloween lunch box, a cookie decorating kit, a contestant number tag, zoom access to Puppet & Magic Show, and a chance to win prizes at the costume contest and raffle. Tickets are available at https://onlineshopping.diamondhotel.com/.
2. Crimson Hotel Spooked: Caught in a web of Halloween Horrors Event on Oct. 30, 2020 – The price isn't indicated on the order form but it's inclusive of a Kiddie Snack Box with your choice of food and access to the Zoom activity. There will also be costume contests. You can get a slot HERE.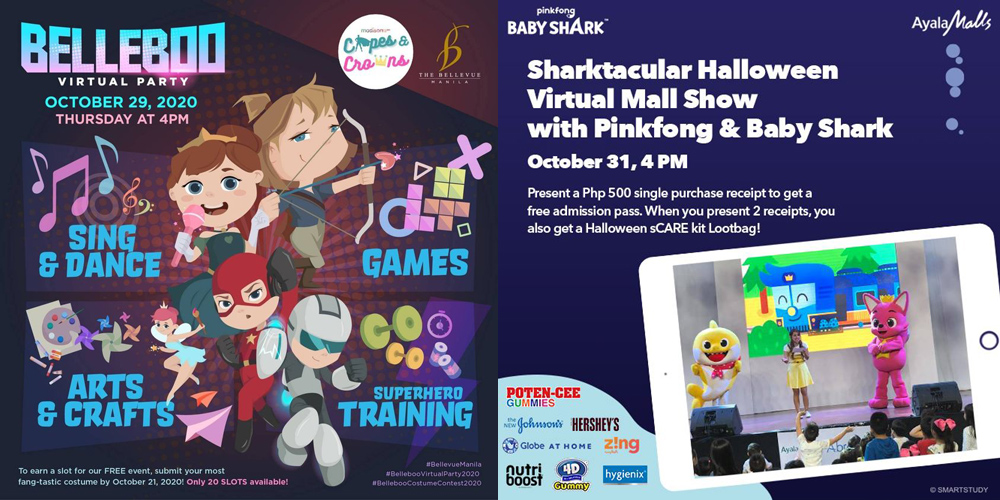 3. The Bellevue Manila Belleboo Virtual Party on Oct. 29, 2020 – This is a FREE event provided you win a slot by winning their Halloween costume contest. You have until Oct. 25, 2020 12nn to submit your most boo-tiful costume by e-mailing a photo to jgay@thebellevue.com or ydeclaro@thebellevue.com. There are 20 slots up for grabs and winners will be given Zoom access to the party. Call 0917-5803648 or 0917-6243436 for inquiries.
4. Ayala Malls Sharktacular Virtual Mall Show on Oct. 31, 2020 – Just present a P500 single purchase receipt to score an admission pass to the virtual event. Present two (2) P500 receipts and get a sCARE kit loot bag. Show them over P1,500 worth of receipts and get 2 sCARE kit loot bags! Details HERE.
5. Serenitea Online Costume Contest – Everyone can join… it's fun and it's free… plus you can win awesome prizes from Serenitea! There will be a whopping 23 winners and prizes at stake include GCs and Serenitea Mystery Bags! Complete mechanics and details can be found HERE.
6. Eurotel Hotel Spooktacular Halloween Twinning Costume Contest – Deadline for submission is Oct. 30, 2020. Winner announcement will be on Oct. 31, 2020. Complete mechanics and details HERE.
7. Edamama.ph FREE Halloween events this October – Just log on to https://www.facebook.com/edamama.ph to access these events — happening every Saturday this October.
Do you know of any other online Halloween events happening this month? I actually found a few others but the deadlines for registration had already passed so I only included the ongoing ones in this list.
Happy Halloween!
Like this post? Subscribe to this blog by clicking HERE.
Let's stay connected: