With all the milk tea places popping up all over the metro, you begin to wonder what else is left to try? Well, there's the hand-crafted flavored pearls from One Zo Tapioca. One Zo Tapioca is a Taiwanese milk tea brand established back in 2015. The owner, Mr. Chen Yong-Hui, wanted to use only the freshest ingredients which led to learning how to make pearls in-house everyday. He then decided to take it up a notch by infusing flavors into the pearls.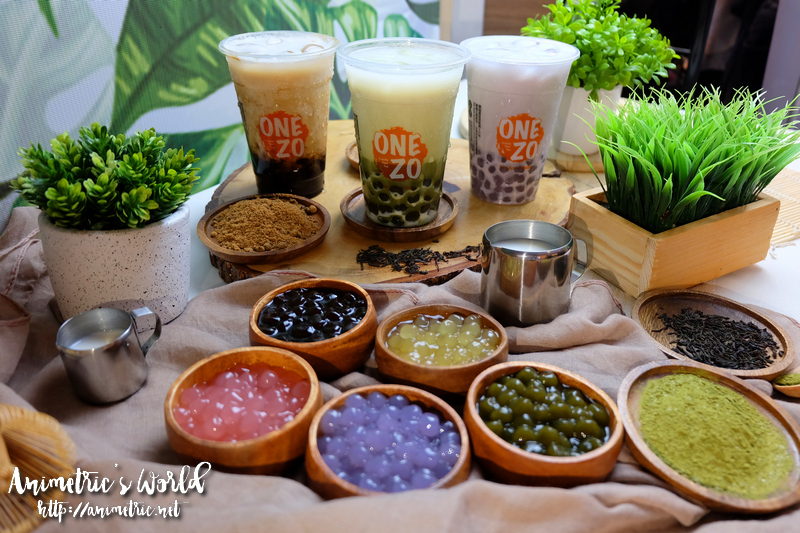 Curious? One Zo Philippines has opened shop at the ground floor of Greenhills Promenade near the food court. Prices start at P75 per medium-sized cup and P95 per large-sized cup for regular drinks. Meanwhile specialty drinks (One Zo House Specials) start at P110 per medium-sized cup and P130 per large-sized cup. Extra sinkers cost P20 to P30 each. There are 3 sugar levels: 0%, 50%, and 100%. You can also have Normal Ice, Less Ice, and No Ice.
There are currently five (5) available pearl flavors: Brown Sugar, Mango, Matcha, Strawberry, and Taro. If you want to really taste the flavored pearls, I suggest ordering just one type. I mixed 3 kinds of pearls in my drink which included Brown Sugar and everything ended up tasting like Brown Sugar pearls.
Anyhow since I can only manage one drink, I went for the 3-in-1 (P120 M / P140 L). It's black tea latte with 3 types of pearls. Since you can pick 3 pearl flavors, I thought it was the most efficient way to taste several things at once — their One Zo Milk Tea + 3 pearl flavors. I opted for Brown Sugar, Taro, and Matcha. Anyhow, the milk tea was way too milky for me and the brown sugar pearls sort of drowned out the flavors of the matcha and taro pearls. Next time I think I'll opt for their all matcha drink.
One Zo currently has one store at the ground floor of Greenhills Promenade. Soon to open are stores at the 2nd floor of Estancia Mall and upper ground level of Cyberpark 2 Araneta Center.
Like this post? Subscribe to this blog by clicking HERE.
Let's stay connected: