It's hard to believe that I lost a parent one year ago. It's not the kind of thing we'd like to think of. I remember being 5 years old and at the time my parents were my whole world. Had I lost one of them back then, it would have been like having my world crumble all around me.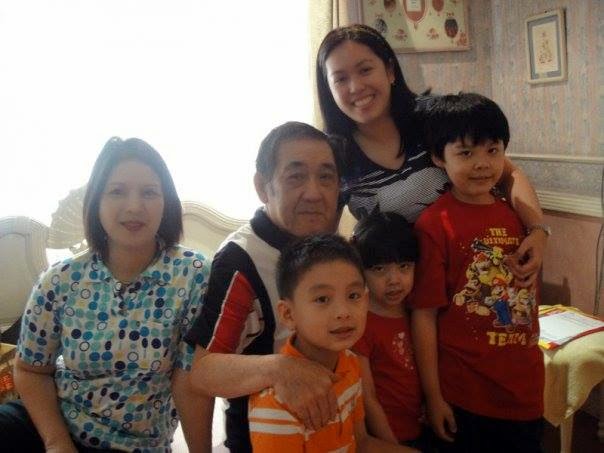 Pic with Dad in December 2010
My stepmom, siblings, and I had lunch together yesterday to celebrate my brother's birthday. Dad passed away one day after his birthday. My brothers said they're not used to the silence. Dad's usually calling out for either my stepmom, brothers, or helpers. Now there's no one calling for anyone. It's been quiet.
It's not a secret that I didn't really get to spend that much time with my dad who was always out gallivanting about town during his heydays. When I would wake up for school he'd be asleep because he usually goes home in the wee hours. When I'd come home, he'd be out already. Rinse and repeat. I'd only usually see him on weekends. We'd have lunch out and go to a mall. When I got married, I saw him even less.
During my dad's last days in the hospital, he looked really really sick. He was very thin and gaunt. He couldn't talk anymore since they had to put a breathing tube through his neck and throat. He would only look at us and nod. I could see the flicker of recognition in his eyes. It was very hard to visit and see him that way. When he passed on, it was different. He was magically transformed into his 40-year-old self (he was 64) — the one I remember more clearly. The one who always up and about with his clutch bag. He wasn't gaunt and he didn't look sick. He looked like he was in the best health and it was as if he was just sleeping. His face was very peaceful and he had the most serene expression I had ever seen on him in years. He was again the dad I knew from my childhood and that is how I'd like to remember him.
Time passes so quickly. It's been a whole year already. I take comfort in the certainty that he is happy where he is now. I saw it in his face.

Like this post? Subscribe to this blog by clicking HERE.
Let's stay connected: