Don't let the title put you off. I'm not posting negative things about contest joiners or anything of the sort. I have nothing against people who want to win. I used to be hopelessly addicted to contests myself. From late 2007 to early 2009, I would spend ALL my free time scouring newspapers, magazines, and the internet for contests I could join. For a time, it was an obsession with me. That said, I really have no right to tell off, discourage, or abhor avid contest joiners. Believe me, I completely understand where they're coming from.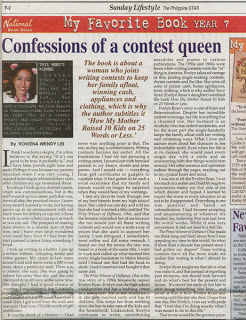 I even wrote about it on the Philippine Star back in 2008, and the resulting article actually won P5,000 GCs from National Bookstore. You can read the full article
HERE
.

Contests are serious business. The biggest prize I've ever won was an all-expense paid trip to Singapore for 4 care of the Discovery Channel and the Singapore Tourism Board. We flew via Singapore Airlines, stayed at the luxurious Mandarin Oriental Marina Bay, got a free VIP tour of most of Singapore's top tourist spots, shot a TVC, and got pocket money worth US$1000. I was watching TV one boring Saturday and I saw the commercial on the Discovery Channel (where I'm always tuned in). It said that I could win if I logged on to their website. I did and well, it turned out to be a writing + photo contest. I joined and some weeks later I got an overseas call from the Discovery Channel that I was short-listed. They conducted a phone interview and by the end of the week I got the winning notification via email. A week later we were all on a plane bound for Singapore!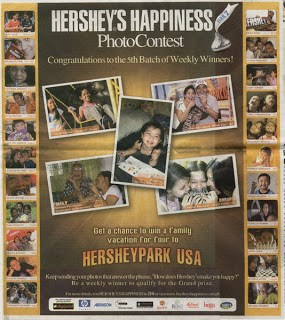 I would go on to win more contests. Photo contests, writing contests, raffles… I was joining contests left and right after all. I had managed to win all the models of the iPod from iPod Mini to iPod Touch. I also won cellphones, gift certificates, products, merchandise, hotel accommodations, trips… I actually recorded all the prizes in an Excel file along with the corresponding estimated worth. In the year 2008, I had managed to win P400,000+ worth of prizes (the Singapore trip comprised half of it). I was heavily into contests pre-Facebook and I joined most of them the old fashioned way which was either via e-mail, online submission, or snail mail. So yes, I of all people, would really best understand that burning desire to join and win.

Anyhow, what prompted this post was a request I got via PM the other day. Someone asked if she could grab my photo with a product in one of my blog posts and submit it as her entry in Facebook contest. The contest requires people to take a photo of themselves with the product. If one can't see how wrong this is, let me point out why:
If you submit a photo of me as your contest entry and you're not me, you're committing fraud. Fraud is defined as an intentional act of deception made for personal gain. Fraudulent activities are not tolerated by law, what more contest organizers, brands, and companies?
The fact that I have that photo in my blog means hundreds of people already saw it, maybe thousands even if I would go with the post statistics. These people may include the PR company, the brand people, readers, friends, relatives… if someone submits it in a contest don't you think someone would be able to identify it?
The biggest size of the product in question costs less than P200 while the small size costs less than P100. If you cannot even invest that amount to join the contest then you might as well forget about it because one of the reasons the brand is holding the contest is to BOOST SALES. Getting other people's photos and passing them off as your own defeats this purpose.
I have nothing against die-hard contest joiners but please play by the rules and play it fair! It's one thing to be an avid contest joiner and quite another to be desperate enough to resort to underhanded means. I will not stand for any form of cheating or fraud. Contest mechanics are there to be followed and I'm pretty sure they do not include fraud and impersonation. A blogger friend of mine actually got her nail art photo stolen AND entered in a contest where it won. People found out eventually and action was taken against the erring contestant.
I comfort myself with the fact that she did ask for my permission before pushing through with her plan of using my photo, so she can't be all that bad.
These days, I seldom join contests. I think I burned myself out in 2008, that and I'm doing so much more now compared to before so I don't have as much time to do so. I choose which battles to fight, and that means I only join if I really like the prize or if the mechanics are so easy that it'd only take a minute or two to earn an entry.

Like this post? Subscribe to this blog by clicking HERE.
Let's stay connected: