The Club was invited to dine at Oliva Bistro Cafe along Visayas Ave. last May 4, 2012. To be honest I really had no idea what to expect. I was told to look for Chef Kannan when I got there.
So this is how Oliva Bistro Cafe looks if you're on Visayas Avenue.
While waiting for our companions to arrive, hubby and I had Roti Prata with Curry Sauce (P80). It's really one of the best we've had since it was soft, fluffy, and not at all greasy. The curry sauce had just the right level combination of spicy, savory, and sweet. It's such a far cry from the roti we had at Orchard Road in SM Megamall which was flat, tough, and very oily.
We also had Vietnamese Style Fresh Spring Rolls (P145). The rolls are filled with glass noodles and vegetables then topped with some sweet chili sauce. The taste is very fresh and light, perfect for this hot summer climate.
Hubby and I shared a glass of Iced Milk Tea (P70). It had a rich taste reminiscent of bottled milk teas I'd drink in Japan.
Hubby ordered Hainanese Steamed Chicken Rice (P190). Steamed chicken, tomato and cucumber slices, a bowl of chicken broth, and tasty rice that was boiled in broth came with three different sauces (ginger, chili, and peanut-based soy sauce). Chef Kannan makes the chili and ginger sauces from scratch.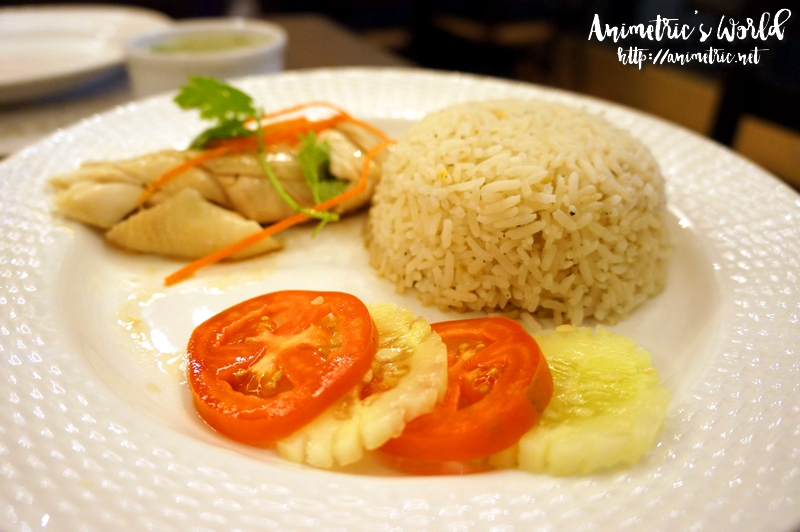 The chicken is boneless, tender, and juicy. It was such a pleasure to eat. I normally refrain from ordering Hainanese Chicken Rice because I don't want to contend with the bones but Chef Kannan makes it all so convenient. This is one of the best Hainanese Chicken Rice I've ever tasted… it's probably because Chef Kannan lived and worked in Singapore for five years. 😀
Meanwhile I settled for Surf and Turf (P345). Grilled tiger prawns, beef shish kebabs, butter parsley rice are served with a roasted tomato and yogurt-based sauce. Yummy, albeit a tad pricey for the serving size. The taste and quality are top notch though.
The group also shared Buffalo Wings with Blue Cheese Dip (P180). I like that the chicken had just the right level of spicy-ness.
Tandoori Chicken Tikka (P195), skewered boneless chicken breast with coriander chutney and yogurt raita on the side is yummy too.
Butter Chicken Masala (P230) was too hard to resist. Chicken cooked in rich butter tomato sauce… wow.
Baked Prawns with Cheese and Garlic Cream (P345) is another sinful indulgence. It can be served with either Pasta Oliva or Butter Parsley Rice. Our companions opted for pasta. The prawns are really good but I could feel the pounds packing in, haha, so I just had one bite.
For dessert, I decided on Vanilla Panna Cotta with Candied Orange Peel and Honey (P80). Rich, creamy, and extremely milky in taste, even my hubby who's not so fond of desserts could not help but dig in. It's sooooo good.
Our thanks to the amiable Chef Kannan for a wonderful dinner! With Oliva Bistro Cafe's good food, reasonable prices, mixture of cuisines, and wholesome family atmosphere we will surely be back. 😀
Oliva Bistro Cafe
77 Visayas Ave., Quezon City
990-5342
http://www.facebook.com/olivabistrocafe
Like this post? Subscribe to this blog by clicking HERE.
Let's stay connected: