I'm the type of person who likes trying out beauty products. You see, I'm on a neverending quest to look forever young. To find which products are the most effective in helping me achieve this, I must try and try. Based on my experience, products lose their efficacy if I don't give them a rest. It's kind of like my skin becomes immune to their effects. What I do is, after a cycle, I change to a new set of products… then I go back to my favorites.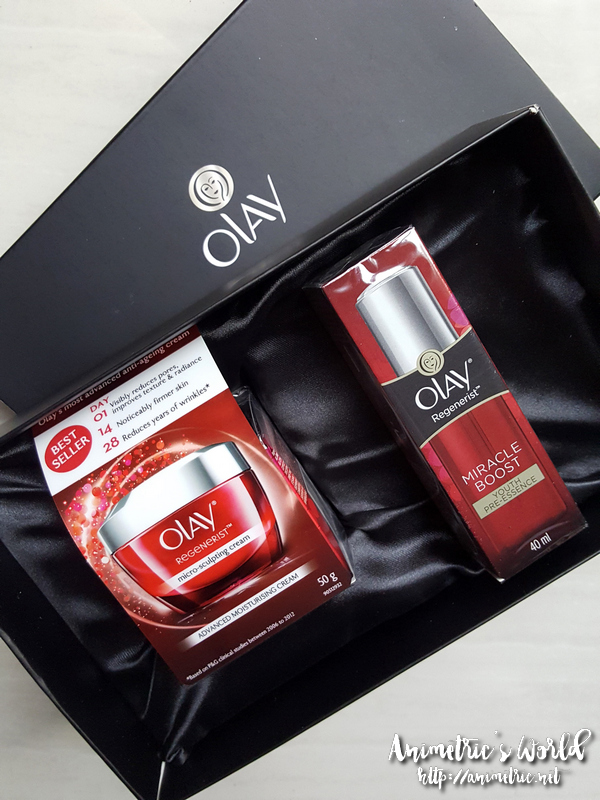 So anyway, I'm back to using the Olay Regenerist Miracle Duo I got from Sample Room for now which consists of Olay Regenerist Miracle Boost Pre-Essence and Olay Regenerist Micro-Sculpting Cream. Using these two products before you sleep at night makes up the Olay Night Ritual. They work on your skin during night time to boost skin renewal.
I've actually blogged about the Olay Regenerist Miracle Boost Youth Pre-Essence (P1,399) in the past. I'm all for using pre-serums or boosters. They're products you apply after washing your face, before everything else. They amplify the effect of all the other products you apply afterwards. As I've mentioned in my skin care regimen post, Olay Regenerist Miracle Boost Youth Pre-Essence is actually one of my favorite boosters. I love how my face feels right after I apply it. Sometimes I'm tempted to just stop there, that's just how good it is.
The Pre-Essence comes with a dropper. It's very hygienic since I don't have to handle the product itself. You're supposed to apply two drops of this to a clean face.
The water-like consistency is perfect for our hot and humid weather. There's an instant smoothing and firming effect right after application too.
After the Pre-Essence is absorbed into the skin, you follow up with the Olay Regenerist Micro-Sculpting Cream (P1,699).
It's actually a night cream which firms, lifts, and moisturizes the skin. You apply it after the Pre-Essence. It penetrates deep into the skin to help reduce lines and wrinkles.
I love how lightweight the cream is. It's absorbed quickly into the skin just like the Pre-Essence.
These two products are best used together at night, when skin's DNA is more active. Olay's breakthrough MDE (Multi-Decade and Ethnicity) research has discovered that this natural repair decreases as we age. During the day, skin is preoccupied with fighting stressors such as UV rays and pollution. During the Night when these stressors are taken away, Skin's DNA repair increases, making night the perfect time for skin repair. Thus aging skin (like mine) requires a boost in skin renewal at night.
I've been doing the Olay Night Ritual for the last 5 nights and I'm pretty happy with the results! My skin is more smooth, firm, and moisturized.
Guess what? You can try out the Olay Night Ritual for a super discounted rate of P999 for the two products if you buy from Lazada!
Like this post? Subscribe to this blog by clicking HERE.
Let's stay connected: