I got a surprise gift from Olay some time ago. It came in this cute handcrafted bag with my name on it.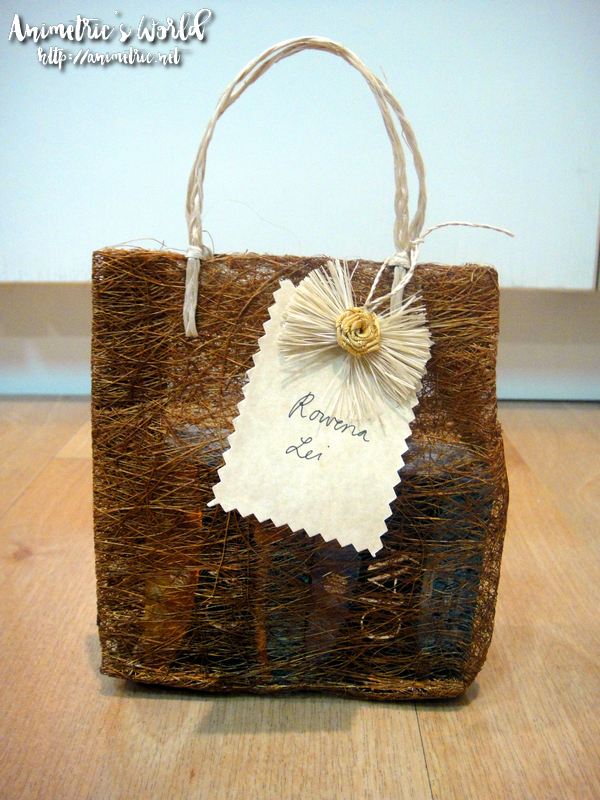 I knew it was from Olay because I could see the brand logo peeking out.
I got samples of Olay Natural White Soap bars. I haven't tried these yet but one look at the packaging was enough to get me excited to do so! I've seen the ad featuring Kim Chiu and wow, it just makes me want to try the product even more!
Truth be told, Olay is probably one of the first beauty brands I got to know because when I was a little girl, there was always this pink bottle on my mom's dresser which said Oil of Olay. I still remember how she would use it every night. I also remember its scent. That was way back in the early 80's. Olay has been a household name for decades.
Anyhow, back to the present. Although my skin is already light in tone, I'm still very much into whitening products because I get exposed to the sun a lot and my arms alone have like 2-3 different tones. The part of my arm hidden by my shirt sleeve is so much fairer than the exposed parts and there's a white mark where I always wear my watch! I so desperately want to even out my skin tone! I opened both boxes and was immediately attracted to the scent of Olay Natural White Soap with Papaya Extract. One whiff and I was reminded of creamy orange popsicles, lol!
I also checked the second variant, Olay Natural White Soap with Vitamin C. There isn't much fragrance to this variant, it just smells nice and clean like well… soap.
I wasted no time taking the papaya variant with me to the bathroom. I've been using it for the last few days. I noticed that the lather is creamier compared to regular soaps. I read that Olay Natural White soaps have a triple whitening system which exfoliates, brightens, and evens out skin tone. Perfect! It's just what I need.
Since I am already 40, it's a must for me to give the same amount of attention and care I devote to my face to to my body. I'm a skin care addict but all my efforts are usually concentrated neck up. My body regimen usually just involves cleaning up with soap, hahaha! At least with Olay Natural White I get to exfoliate, brighten, and even out my skin tone while cleansing.
What I like about Olay Natural White Soap:
The papaya extract variant smells soooo good!
Both soaps form a creamy lather that makes bath time a luxurious and indulgent experience. These really make me look forward to bath time!
They leave my skin feeling soft and smooth after bathing as a result of the skin cream ingredients from Olay. Remember mom's Oil of Olay? These soaps are just as moisturizing.
There's no stinging sensation unlike other whitening soaps I've tried.
Prices are reasonable at P45 per bar.
Downside? Well, as with most whitening products, you won't see results immediately after one use. You'll need maybe at least a couple of weeks (or more) to see if it's lightening your skin. With me, it's kind of hard to tell because my skin color is already on the light side. I'm just happy that my arms aren't getting any darker despite daily drives under the sun.
Olay Natural White Soap is available at all leading supermarkets, drugstores, and department stores nationwide starting at P15 (the smaller size soap compared to the size I reviewed).
Olay products are available at the Olay Flagship Store on Lazada.
Like this post? Subscribe to this blog by clicking HERE.
Let's stay connected: