It's that time of year again — it's time for the Oishi Snacktacular 2016! It's 3 whole days of fun, games, and loads of yummy snacks! Did I mention celebrity sightings too?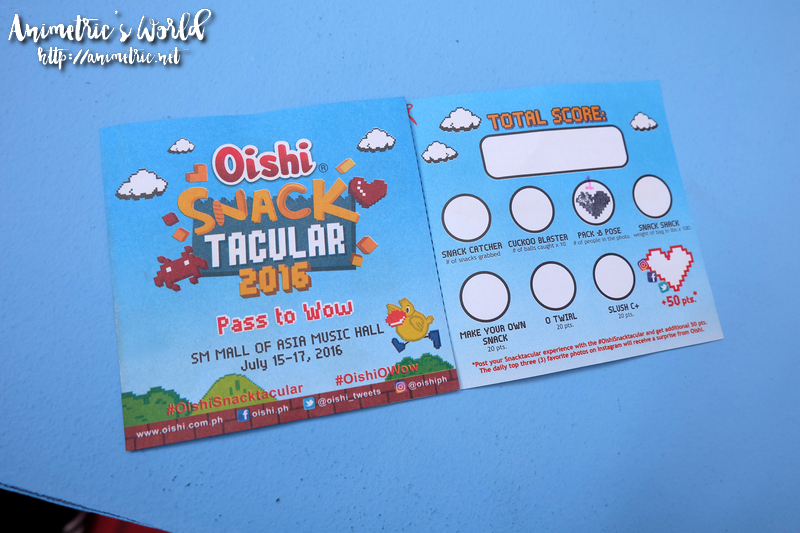 I went to SM Mall of Asia earlier today to get my game on at the Oishi Snacktacular 2016. Entrance is free, they'll give you an Oishi Snacktacular 2016 stamp card to complete so you can get a cute Oishi T-shirt and game points.
The first thing I did was have my photo taken at the Pack & Pose photo booth. The more people in the photo, the more points you gain. I was there early and so it was just me.
Then I proceeded to the Make Your Own Snack booth. You pick 2 kinds of chips and 2 flavors. I went for Ridges Potato Chips and Tortilla Chips. For flavors, I chose Salt & Vinegar and White Cheddar.
It costs P20 to make your own Oishi snack. The combinations are endless.
Then I went for some Oishi Choco Chug ice cream at the O-Twirl booth. It's so cute! Your soft-serve ice cream goes down via a Tetris-style game piece in line with Oishi Snacktacular 2016's video game theme.
I'm so excited! I had this last year and I thought it was super yummy!
For P20, you can get a cup of soft serve Oishi Choco Chug ice cream and 2 toppings. You can choose from the following: Mobser's Popcorn, Wafu Creamy Leche Flan, Pillows Choco, O-Puff Marshmallow, Sponge Crunch Choco, and Gourmet Picks Natural Sea Salt. Guess what I got?
I got Mobsters Popcorn and Gourmet Picks Natural Sea Salt Potato Chips!
Here's something new: The Oishi Cuckoo Blaster! For P100, you put on an Oishi cuckoo bird costume and try to catch balls in the bowl-like tummy area of the costume. It's harder than it looks lol!
I tried to use my flappy wings to catch balls. In the end I got 9 balls. You get an equal number of snacks based on how many balls you catch so I got 9 snacks. Thank you Orange Magazine for taking my photos!
I had a cold refreshing cup of Oishi Smart C calamansi-flavored slushie. I'm so obsessed with calamansi.
And the Oishi Snack Catcher is back! Look at Slater Young go! For P200, you can become a human crane and scoop out as many Oishi snacks as you can! Slater held the record at 157 snacks last year.
My favorite booth is the Snack Shack. For P295, you get to stuff a 2 foot Oishi bag with snacks in 60 seconds. You have to be able to close the velcro bag afterwards or else they will keep removing packs. I filled mine with lots of Oheya, Veggie Reggie, and Potato Chips.
There were also appearances by Oishi Team O members Kathryn Bernardo, Daniel Padilla, Mon Bautista, Slater Young, and Alex Gonzaga. I didn't feel like elbowing my way through the crowd so I don't have any photos. This Sunday noon, there will be a meet and greet with the newest Oishi Team O member — Maine Mendoza!
Entrance to the Oishi Snacktacular 2016 is free but booths are pay per play. Do drop by over the weekend for a super fun and snack-filled experience!
Like this post? Subscribe to this blog by clicking HERE.
Let's stay connected: