Oishi Snacktacular 2015 kicked off yesterday and I got to check out everything! I missed the Oishi Snacktacular 2014 held in Glorietta last year so this is my first time to attend.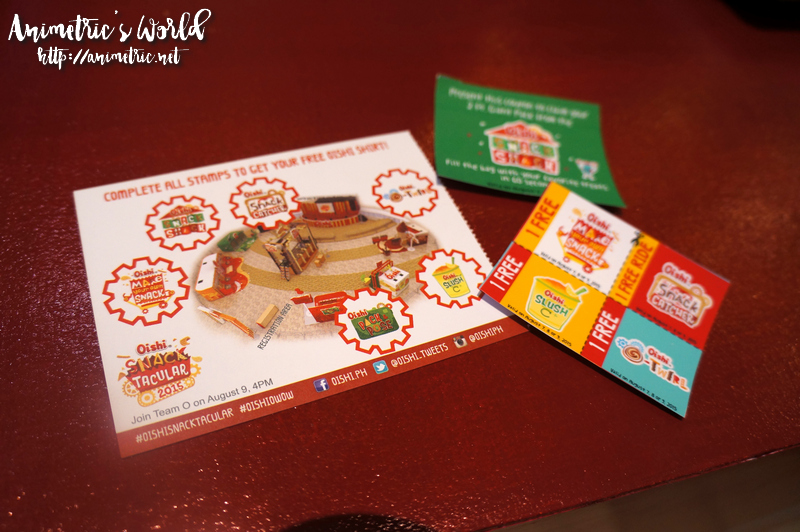 I was given a stamp card and some tickets after registering. If you complete the stamps (meaning visit all the booths and do all the activities), you will get a free Oishi shirt and there are 2 designs to choose from!
My first stop at the Oishi Snacktacular 2015 was the Oishi Make Your Own Snack booth. For only P20, you get a bag of chips (which you pick) and you get to mix 2 flavors. You can customize your own Oishi snack in 3 easy steps:
Pick a paper bag — there's red, blue, and orange
Choose two (2) kinds of Oishi chips — Ridges Potato Chips, Oishi Prawn Crackers, Corn Clubs, Marty's Veggie Chicharon, Rinbee Sticks, Potato Fries
Choose two (2) flavors — Barbecue, Nori, Beef, Pizza, Cheese, Salt & Vinegar, Garlic & Salt, Sweet & Spicy, Ketchup, Wasabi, Kimchi, White Cheddar
I chose Ridges Potato Chips and Potato Fries with Ketchup and White Cheddar! They'll put everything in your selected bag and tell you to shake it. I love my creation! You can go straight to the movies after getting this.
Next stop was the Oishi shopping booth. For P295, you get a giant 2 ft. Oishi bag and fill it up with all the Oishi products you want (drinks included!).
This is the shopping area, whoa!
I filled my bag with bottles of Oishi Smart C+ and Oishi Choco Chug tetra packs hahaha! Oh there is one rule to this shopping challenge — you must be able to SEAL the bag (it's velcro!) or else they will keep removing items until your bag closes. I had a hard time carrying this when it was time to go home XD.
The most challenging activity is the Human Crane Game. For P120, you get to become a human crane and grab all the Oishi snacks you can hold. Look at twinnie Marj Sia go! She got to take home 65 pcs of snacks! If one pack is P5, that's worth P390 already — more than triple the participation fee! Slater Young holds the record, having bagged 157 pcs.
I loved the O-Twirl booth. For P20, you get to try Oishi Choco Chug ice cream! Yummy!
You have to turn the crank on the side to get your ice cream!
Then you get to choose two (2) toppings — Baconette Strips, Gourmet Picks Natural Sea Salt Chips, Wafu with Leche Flan Filling, Sponge Crunch Choco, Pillows Ube, and Pillows Choco.
Okay so I had more than two toppings. I was surprised by how good the ice cream was and I normally don't even like ice cream hahahaha. XD
If you love Smart C+, stop by the Smart C+ booth and get an icy cold Smart C+ slushie for P20.
Don't forget to take a souvenir shot at the Oishi Prawn Crackers photo booth! 😀
The Oishi Snacktacular 2015 is happening this entire weekend at the Trinoma Activity Center. Entrance is free, booths (except the photo booth) are pay per play. There will be surprise visits from the Oishi celebrity endorsers throughout. Want to know a little secret? #Kathniel will be there Sunday afternoon!
I had loads of fun at the Oishi Snacktacular 2015 and I took home lots of goodies for my family to enjoy!
Like this post? Subscribe to this blog by clicking HERE.
Let's stay connected: