My kids, both of who are teenagers, haven't been out for a year. We don't think it's a good idea to visit enclosed spaces and we're really not beach people. Then we got wind of Off Road Premium ATV Tours. It's an ATV rental facility with guided outdoor tours in Antipolo. We checked the location on Google Maps and it's something like 37km from our home in Quezon City. The drive would take approximately 1.5 hours, which wasn't bad at all. Heck it takes me an hour to drive to SM Mall of Asia on a normal day pre-COVID.
So anyway, we indeed got to the place in less than 2 hours. Our slot was for 10:30am but we got there an hour earlier so they asked us if we wanted to ride earlier. We said yes. ATV Tour packages start at P1,000 per head depending on the route you choose. We got the Exhilarating River & Falls Route for P3,800 per head. They told us this would be 3-4 hours long.
Each person in the group will be asked to sign a 2-page waiver. Then you'll all be given a set of sanitized gear — helmet, knee pads, elbow pads, and goggles. Since our eyeglasses would not fit under the goggles, those with glasses (me, hubby, and son) didn't use them.
After putting on the gear, you'll be assigned ATVs to drive. They'll teach you how to operate the ATV and then have you go one round around the training track. Then you're off to the real ride.
Our 16-year old daughter gave up driving the ATV. It requires a certain degree of arm / hand strength which she thought she didn't have enough of. She chose to backride with her dad. We had 2 guides assigned to our group. You'll all follow the guides and in case you get stuck anywhere, they'll help you maneuver the ATV out. You only use your hands to drive the ATV and your arms to steer. You press a lever for the gas and then squeeze for brakes. There are only 3 gears: Forward, Neutral, and Reverse.
We drove through solid ground, soft mud, rocks, and rivers. Sometimes even a combination of all lol. It can get kind of scary and you have to have some sense of steering (which my hubby, son, and I all had since we all drive). I wanted to snap photos while crossing rivers but we were all too busy trying to cross and not get swept away lol.
It was our first time to drive / ride ATVs.
We were supposed to go to the waterfall but there were too many people there. Our guides took us somewhere secluded instead. We parked our ATVs and went to the river.
Wow, the place is beautiful. Hubby and I haven't really gone anywhere except the office, supermarket, bank, and mall once in a while. The kids haven't been anywhere at all. This was truly a refreshing change of scenery.
We waded in the river and decided to just go up to where to water reached our knees.
The water is incredibly clear, cold, and refreshing. I wanted to just sit there all day lol.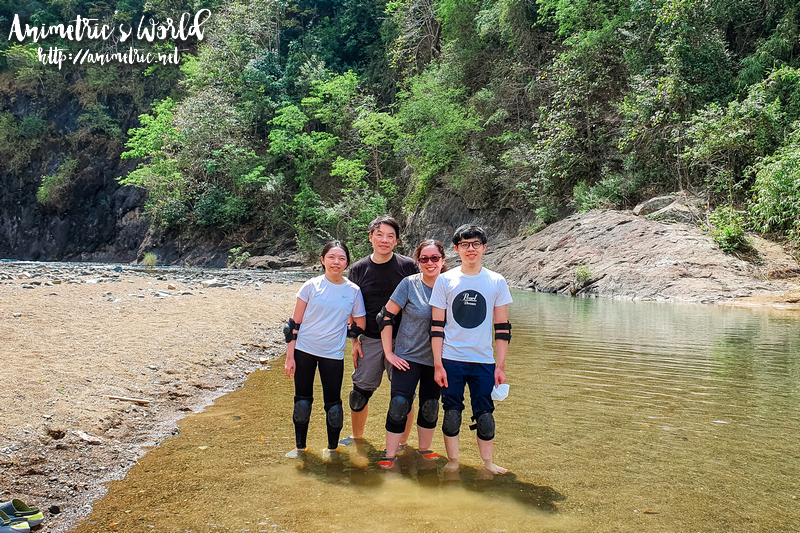 We stayed for a bit. Hubby flew his drone, the kids and I walked in the water, and we really just took in the scenery. Then we headed back. We were finished with the tour around 12nn.
Here are the basics and some tips:
Only those who are 14 years old and above can drive ATVs. Kids 7 to 13 years old can only backride. Kids below 7 are not allowed.
There's no COVID test required since there is no indoor facility. Everything is completely outdoors.
You only go with your own group with guides. There's no other party with you during the tour.
There are simple refreshments at the waiting area like infused water, juice, and crackers.
They have a decent rest room you can use.
Wear comfortable clothes you can move freely in. Best if you wear something that covers as much skin as possible because the sun is brutal on the skin.
They'll tell you that rubber shoes or aqua/water shoes are best. I went in Melissa waterproof sandals. Hubby and the kids went in Crocs. We were all fine. The rationale is we didn't want to potentially destroy our rubber shoes and we wanted footwear that were easy to clean. Plus, we didn't want to wear socks because they'd get soggy and muddy.
Bring a complete change of clothes (including underwear) for in case you get wet or muddy.
There's no telco signal in the area. We had both Globe and Sun/Smart, zilch.
I don't recommend this activity for seniors because quite frankly it's rough. You navigate through rocks, water, mud… it's not a smooth ride.
I also don't recommend bringing a big camera. If you place it at the back of the ATV it will surely get either wet or muddy or both. Plus it will definitely get more than shaken up on the ride.
The road going to the site (Calawis Road) has some rough areas so taking an SUV is best.
Apply sunscreen on all exposed areas BEFORE you put on the elbow pads and knee pads. I didn't. I applied after I put them on so the parts I missed have some really red and angry marks from the straps' gaps.
It's probably best to go on a weekday if you can so the waterfall won't be crowded. 🙂
All in all, we all had a great experience at Off Road Premium ATV Tours. The rates are very reasonable given what the tour entails. It was the perfect family activity for us since both our kids are already teens.
For bookings, you can contact 0968-2138891 or 0916-3630858. Off Road Premium ATV Tours is located at Gewang Road, Sitio Paikulan, Purok 6, Barangay Calawis, Antipolo City. You can find it in Google Maps and Waze.
Like this post? Subscribe to this blog by clicking HERE.
Let's stay connected: