When I went to Malaysia for the Julie's Biscuits Factory Tour last August, I got to stay in both Malacca and Kuala Lumpur. We were billeted at Novotel Kuala Lumpur for the last leg of the trip. Prior to the trip, I checked the hotel reviews. Everything was positive for most part. Anyhow we arrived at Novotel Kuala Lumpur around mid-afternoon. I forgot to take a photo of the lobby but it's a lot simpler compared to Holiday Inn Melaka.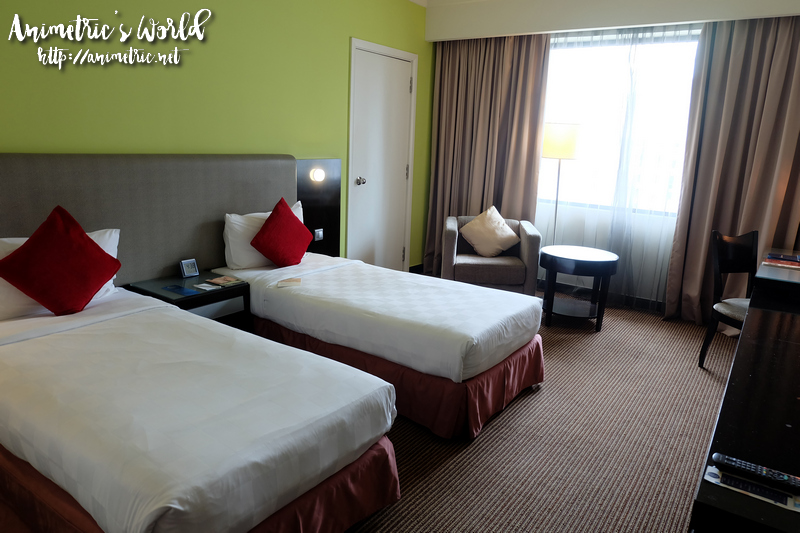 We were booked in an Executive Twin Room. It's around US$85 per night. The room is clean and comfortable.
The Executive Twin Room a study area, an LCD TV, and unlimited wifi internet access. There's a hair dryer but it was kind of weak and near useless.
It would be nice if there was a mirror here. We had to use the mirror on the bathroom door to put on makeup and fix ourselves up.
This is our bathroom.
There's a window beside the bath tub which has a view of the bedroom. You can choose to pull down the roller blinds to cover it.
Novotel Kuala Lumpur had a complete set of toiletries for us. They reminded me of The Body Shop's products somehow.
We had closets and a digital safe. There were extra pillows in the closet too.
There was free bottled water, tea, and coffee. Julie's Biscuits provided some snacks for us too.
Our room came with free breakfast at the lobby level of the hotel.
There was a good variety of food. You can even make your own Nasi Lemak.
They have all kinds of carbs like bread, fried rice, and noodles.
Check out the Singaporean Fried Noodles.
I decided to go for congee. They have a complete set of condiments. I love eating congee with boiled peanuts and pickled lettuce.
They have Sausages, Potato Wedges, Sauteed Cherry Tomatoes, and a lot of other food items. There was a selection of drinks that included juices, milk, tea, and coffee too.
Novotel Kuala Lumpur is within walking distance of several malls like Star Hill, Pavilion, and Suria KLCC. There was also a Luxury Bag Fair in the hotel while we were there. I was able to score a Prada wallet for a really good price. If you walk to Suria KLCC, you'll pass by KLCC Park which is pretty nice. I played Pokemon Go at KLCC Park and caught a lot of Pokemon.
Overall we had a nice comfortable stay at Novotel Kuala Lumpur. Love that an Executive Twin Room with breakfast buffet costs below US$100 per night.
Novotel Kuala Lumpur
2, Jalan Kia Peng, 50450 Kuala Lumpur,
Wilayah Persekutuan Kuala Lumpur, Malaysia
+(60)3-2147-0888
Like this post? Subscribe to this blog by clicking HERE.
Let's stay connected: