Can't say I'm surprised that the Vikings group (yes, everyone's fave buffet place!) finally put up a bakery. They bake all kinds of breads, pastries, and cakes for their buffet spread after all. In keeping with the Nordic theme, the bakery was named Nord's Bread Hub. We paid a visit a little over a week ago.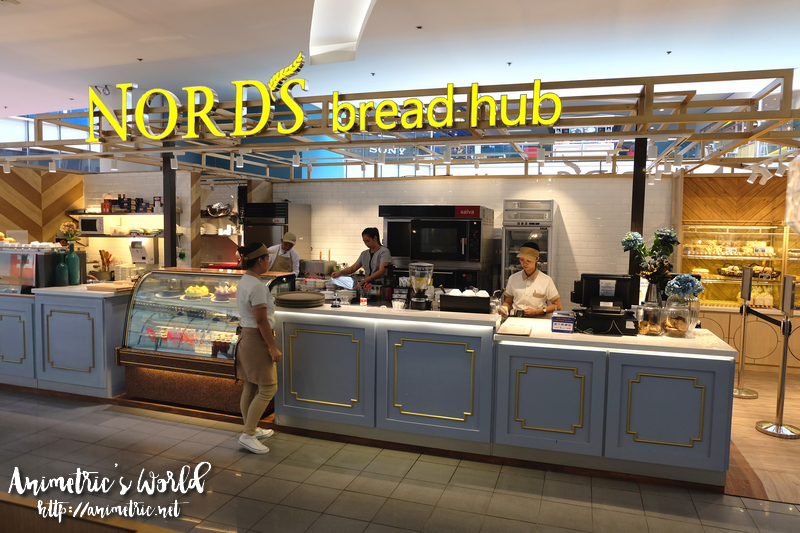 Nord's Bread Hub is located on the 3rd floor of SM The Block. It's a bit reminiscent of Bread Talk but it has so much more to offer. I was surprised to find the place quite full, especially considering it just opened a few weeks ago. What's more, there's hardly any advertising or promotional effort on their part.
So like most places, breads are lined up on shelves. You take a tray and pick out what you want.
There's a wide assortment of Danish pastries like Oreo Boat Danish and Red Velvet Danish. They're priced at P68 each. The bread is amazingly soft, buttery, and flaky. The custard filling is not overly sweet to. These go so well with a piping hot cup of coffee.
Nord's Bread Hub serves suprisingly good coffee. I had their Flat White and wow, it had a deep rich taste that was just the right level of milky. I forgot how much a cup costs but I assure you it's cheaper than Starbucks. It's a huge cup too.
They have a good selection of savory bread and pastries too. If you're hankering for merienda, Nord's Pizza Grande (P68) would make for a filling snack. I had one for breakfast and I felt so full afterwards. They also have floss breads (chicken and pork) which sell for P58 a piece.
Okay the most memorable one of this bunch is the Pain'A Chocolat (P68) which is chocolate croissant. Really lovely and crusty, again not overly sweet.
They sell whole cakes which they can serve by the slice too. The cakes are very reasonably priced. This Ube Leche Flan Cake retails for P820 whole / P135 per slice.
Nord's Bread Hub serves full meals too. I had the Don Malutong (P295) which is pork belly fried to a crisp so it's like bacon. It's served with salad, veggies, scrambled egg, and fried rice. Yum!
Hubby had the Beef Pares Supreme (P390). The beef was incredibly tender and tasty, albeit I feel that almost P400 for this particular dish is kind of steep.
Will definitely be back to buy some more breads! I wonder if I can have their coffee to go lol.
Nord's Bread Hub
3/F SM The Block
SM North EDSA, Quezon City
845-4647
Like this post? Subscribe to this blog by clicking HERE.
Let's stay connected: