A few days before Mothers Day, we had an early celebration at Nono's UP Town Center. It was our first time there. When the kids asked me what type of food they served, I said I had the impression it was something like Conti's which they were familiar with. Anyhow, Nono's is a full service restaurant by Chef Baba Ibazeta Benedicto of Classic Confections fame. Who hasn't tasted cakes from Classic Confections? The first time I encountered one was when our Ninang gave us a Classic Confections Banana Cream Pie several years back.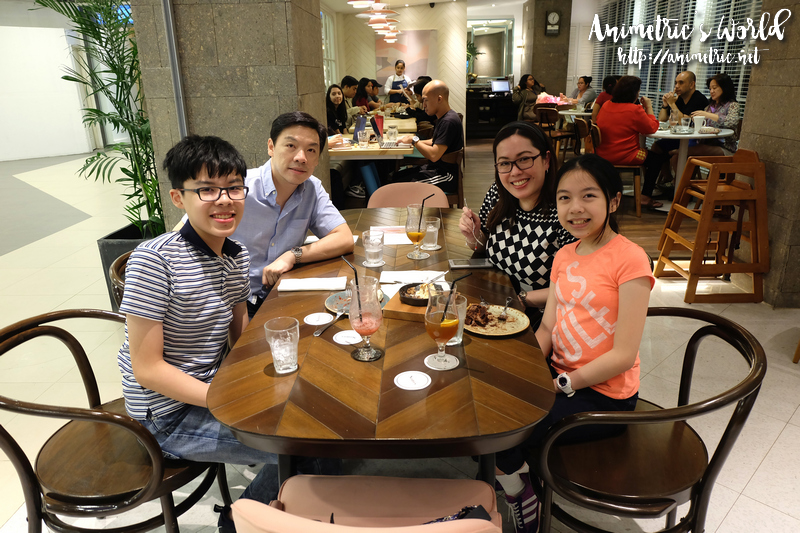 We arrived at around 7:30pm. It was pretty chill. We reserved a table just to be sure we'd be seated. I liked Nono's bright and welcoming vibe.
Without further ado, we ordered Fried Truffle Cheese Wontons (P155) to start us off. They're crunchy fried wontons filled with mozzarella and cheddar cheeses. Then they're drizzled with truffle oil and honey. Yummy!
My daughter and I had Nono's Iced Tea (P105). It's brewed and I could tell that they mixed in some fresh orange juice. Lovely and thirst-quenching, it wasn't overly sweet too. Perfect.
Hubby and son had Grape Shakes (P155 per glass). I saw these being made in the bar area and wow, they use a handful of grapes per serving. You can actually chew on the sweet-tart grape bits while sipping.
We also tried the Fried Kesong Puti with Walnuts (P325). Pan-fried carabao cheese is drizzled with honey and topped with candied walnuts. You slice some of the cheese to place on top of the toasted baguette slices. I loved the cheese's chewy texture.
We shared an order of Pepito's Steak Sliders (P325) which people were raving about online. USDA top blade steak and garlic chips are served in between sliced pan de sal. Nice, but the steak reminded me a bit of Pinoy Style Beef Steak (Bistek Tagalog). I say but because I don't really fancy Bistek lol.
Hubby had the Pinoy Style Beef Steak (P375) as his main course. I thought it was too salty, which is normal for Bistek (disclaimer: I hate Bistek). The onion rings however, are to die for. They're incredibly crunchy so it's like eating chips.
My son opted for Parmesan Crusted Sole with Tomato and Basil Spaghettini (P495). It was listed as a light and healthy dish. He said it was okay.
I decided to have French Onion Soup (P225). After the mind-blowingly awesome French Onion Soup at La Tienda, I was expecting something similar. The menu photo looked incredible after all. But this proved to be disappointing because it was too salty. The soup tasted like it was made from a tad too many chicken cubes.
My daughter and I had Roast Beef Belly (P495). It was served with horseradish cream, gravy, mashed potatoes, and mixed greens on the side. The entire dish is drizzled with a nice balsamic glaze which complements the meat and veggies perfectly.
The beef belly was melt-in-your-mouth tender and flavorful.
For dessert, we had a slice of Nono's Chocolate Oblivion (P135) which we had heard so much about. Oh yes it lives up to the hype. It's by far one of the richest chocolate cakes I've had the pleasure of tasting. The dark chocolate taste is so deep it's enough to make you swoon. The walnut and praline crust on the side gives it that distinct crunch. OMG. This is arguably one of the best chocolate cakes around. It's best paired with a cup of piping hot coffee or tea.
We also shared the Cookie Skillet a la Mode (P195). A giant freshly baked brownie cookie is topped with a scoop of vanilla ice cream and a drizzle of chocolate and salted caramel. It certainly looked the part but alas I found the brownie cookie way too sweet. I couldn't really have more than a spoonful.
All in all we had a pretty amazing family dinner at Nono's. I highly recommend the Fried Truffle Cheese Wontons, Fried Kesong Puti with Walnuts, Roast Beef Belly, and Nono's Chocolate Oblivion. Try their fruit shakes too — they certainly don't skimp on the fruits from what I've seen of their shake-making process. You can have a look to if you go near the bar area where they prep drinks. Service is good. The staff members are attentive and quite knowledgeable when asked about the menu items.
Nono's
G/F UP Town Center,
Katipunan Ave., Diliman, Quezon City
958-5713
Like this post? Subscribe to this blog by clicking 
HERE
.