I can never express my displeasure over receiving flowers as gifts enough. Why do people assume that all women like getting flowers? Flowers are beautiful. I like looking at them and taking photos even. What I don't like is flowers being picked and packaged to be given as gifts. They are living things hence THEY WILL DIE. No matter how you keep them, picking each blossom is KILLING it. And for what? Are we going to eat them? Is it for the sake of survival? Not at all. But I'm veering away from my topic lol.
Before I go on, I'd like to greet all you awesome moms out there Happy Mothers Day! I've come to appreciate my own kids a whole lot more now that I can talk to them about almost anything.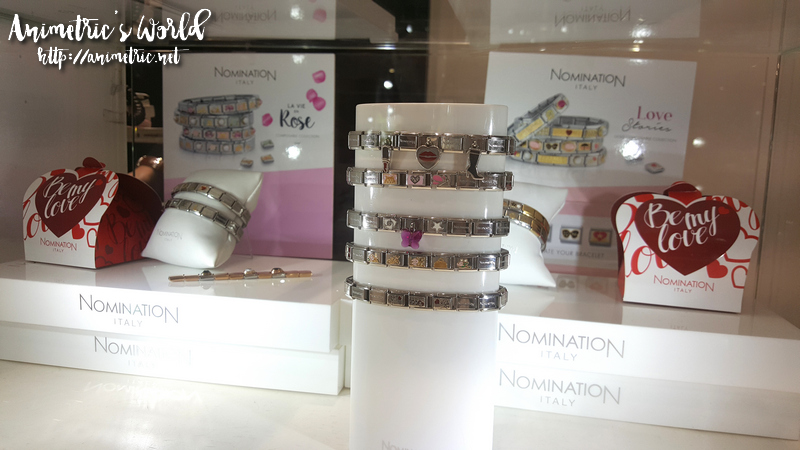 One of the best gifts I've received this Mothers Day is this quaint Composable Bracelet from Nomination Italy. Nomination Italy is an Italian jewelry brand established back in the 1980s. They are known for coming up with the Composable Bracelet, a modular bracelet you can personalize.
Composable bracelet? Yup, you read right. First you start off with a basic Nomination Composable Bracelet like the ones above. You can choose from stainless steel, rose gold, or gold. A stainless steel bracelet sets you back P700+. I could hardly believe my ears! The usual charm bracelet costs anywhere from P2+k to P4+k without any charms! If the standard size doesn't fit your wrist, you can add links for P150 each (for stainless steel).
Then you personalize your Composable Bracelet by choosing charms. Nomination Italy has charms to suit just about every personality type. There are even dangling charms!
Engravings, colorful enamel, swarovski crystals, gold, and semi-precious stones all add to the uniqueness of each charm.
Choosing charms can be quite challenging due to the huge selection. Charm prices start at P1,290. Dangling charms cost around P1,590 while jeweled charms start at P2,090.
For an advanced Mothers Day treat, I brought my childhood-high school-college BFF Jeosen (pronounced as Joe-sen) to the Nomination Italy store in Glorietta. We've known each other for over 3 decades lol! I chose 3 charms for her and she chose 3 charms for me.
It's funny how even if we don't spend as much time together like we used to she's still one of the people who know me best. At the counter she immediately asked for Halloween-themed charms wahahaha. In my mind I was looking for a ghost charm, the type that looks like Boo in the Super Mario Brothers universe. Since there weren't any along these lines she me golden fish bones which I was actually eyeing from the get go.
It was quite easy choosing for her. I knew she was learning how to ride motorcycles these days so I picked out the closest thing there was — a scooter with crystal wheels. She also loves sewing for her kids so a sewing machine charm. We're opposites when it comes to going outdoors and the beach. She loves the beach. So her centerpiece was a starfish.
I got golden fishbones, a dangling Yin Yang charm, and a cubic zirconia studded heart. I can't explain it fully but yes, these are very much me.
Our Nomination Italy Composable Bracelets came in nice boxes. 🙂
We loved them so much we wore them right away! Each bracelet cost around P6k. If you're on a budget, you can get a stainless steel bracelet P700+ and one charm for P1,290 for an impressive Mothers Day gift that's only around P2k! You can build your charm collection as you go along. These Composable Bracelets stretch-to-fit so you there are no complicated clasps or locks. Easy does it! 🙂
Thank you Nomination Italy for making this Mothers Day special!
Love it! This is something I can definitely wear everyday. 😀
The Nomination Italy store in Glorietta 4 is located on the 2nd floor, above National Bookstore and across Roy & Biv.
Like this post? Subscribe to this blog by clicking HERE.
Let's stay connected: