I swear summer time in the Philippines is so hot I feel like I'm going to melt. When I go out to walk anywhere I can actually feel the sting of the sun's rays on my skin. On normal days I already pile on the sunscreen, so what more now when the heat is at its peak? We're really lucky that we have so many types of sunscreen to choose from. When I was a little girl, I remember that it was always Coppertone lotion by default. I can still remember the smell, which I somehow relate to chlorine in a swimming pool. There was simply no other alternative here in the Philippines back in the 80's.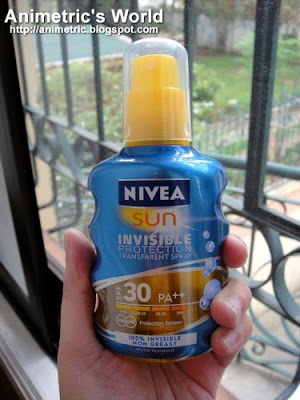 I admit, most of the sunscreens I use are still in lotion form. They all have their pros and cons. Honestly though, when it's really really hot the last thing you want to do is slather on something thick and creamy all over your body right? That said, I was really excited to try Nivea Sun Invisible Protection Transparent Spray SPF30.
It comes in a handy easy-grip non-aerosol spritzer that fits perfectly in my hand. I just love the blue and yellow packaging. 😀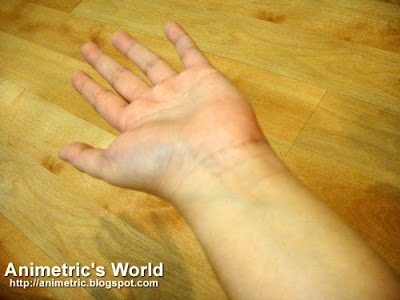 The sunscreen is dispensed in a fine mist when sprayed on the skin. You cover all exposed areas and wait for it to be absorbed. It just takes a few moments really. After the sunscreen is "dry" you're good to go.
Some application tips:
Shake well before using.
Spray from about 8-12 inches away from the skin surface. Spraying too close will result in really wet skin. You're supposed to be evenly covered in fine mist that will dry off by itself, not dripping wet with the product.
Reapply after swimming or engaging in water sports. Although the product is water-resistant, it's can be washed off during extended exposure to water.
Do not spray on your face. It's not a facial sunscreen so it can sting your eyes and such.
I also like the fact that the product is lightly scented as I'm not fond of heavy perfumes. There's no greasy or sticky feeling after application too.
Overall, Nivea Sun Invisible Protection Spray SPF30 is a great daily sunscreen which feels light yet gives ample protection for when you're driving, commuting, walking outdoors, or sitting near windows where the sun's rays can come in. In other words, it's perfect for your everyday routine. If you are using it for swimming I suggest keeping it nearby so you can reapply as needed. 😀
Nivea Sun Invisible Protection Spray SPF 30 retails for P510. It's available at all Watson's, Robinson's and SM department stores + supermarkets, and Mercury Drug Stores nationwide.

Like this post? Subscribe to this blog by clicking HERE.
Let's stay connected: