Last December, I held a Christmas Giveaway for Nikon Home Appliances on my blog. One of the things they gave me in exchange for hosting it was a Nikon Tough Mama Bread Toaster. Can I just say that prior to this we didn't have a bread toaster?
We would do all our toasting in an oven toaster.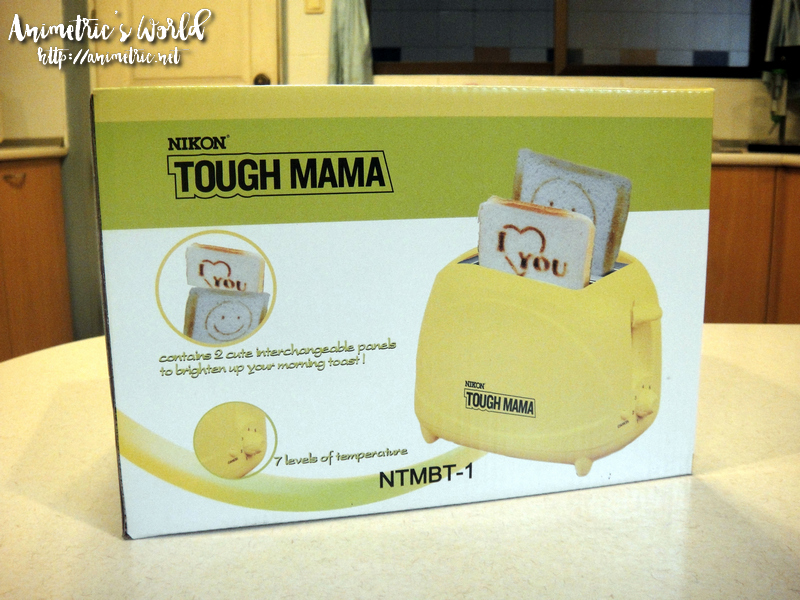 Hubby and I have always wanted something like this but felt it was unnecessary to buy one since we already have an oven toaster.
Tadaa! I love the bright yellow color. It goes with our kitchen and living room's blue and yellow motif. I didn't bother reading the instructions that came with it because how hard can it be to use right?
The Nikon Tough Mama Bread Toaster comes with two interchangeable design panels so you can have fun patterns on your toast.
There are slots inside the toaster for them to go into.
I plugged it in and popped in two slices of white bread pronto.
This sums up all of the controls — I presume the 1-7 dial is the timer because I noticed when I set it at 1 the bread popped up in less than a minute but when I set it to 4 I had to wait longer. You can cancel toasting at any time.
Even while I'm toasting bread inside, the Nikon Tough Mama Bread Toaster's surface doesn't get hot. In fact you can even hold it.
This is the kind of toast you get if you set the timer at 1 or 2. The bread is still white but the surface is hot and crisp. The bread itself remains soft. Hubby and daughter both like this kind of toasting.
Oh but I wanted to see designs on my toast. I set it at 4. Yes! I saw designs.
The problem was, the back sides were burnt, lol! Hubby gave it one more try at setting 3. He was able to get lightly browned bread with design, so that's the setting you use if you want patterned toasted breads that aren't burnt.
The toaster also has a pull-out crumb tray at the bottom for easy cleaning.
We did the entire product testing during merienda time and so daughter proceeded to get the white toasts and then spread her favorite McCormick Pesto Bread Spread all over them.
What I like about Nikon Tough Mama Bread Toaster:
I love the modern, ergonomic look.
It's user-friendly, no complicated functions just straight out bread toasting.
It toasts bread really fast. You get warm, soft, and crisp bread in less than a minute.
It's lightweight so it's easy to move around.
The surface doesn't get hot so I can worry less about anyone burning themselves when near the toaster.
It's reasonably priced at P999.
The Nikon Tough Mama Bread Toaster is available at leading department stores and appliance stores nationwide for P999.
Like this post? Subscribe to this blog by clicking HERE.
Let's stay connected: