Nigella Lawson. She cooks, she eats, and she's so beautiful at 56! I've only started to really appreciate her when I myself started cooking. When I heard that she was coming to Manila and I would have the chance to meet her, I was just flabbergasted. I mean this is the domestic goddess herself!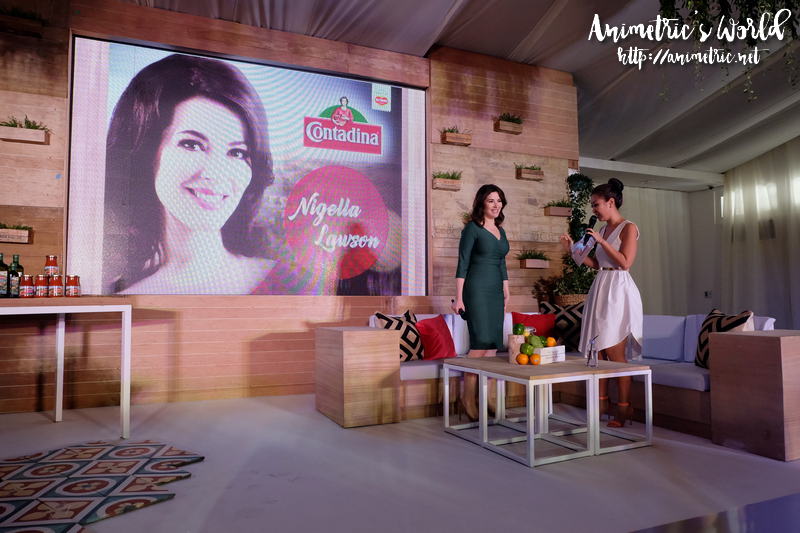 To be honest, I never thought I'd see Nigella in person in this lifetime. She's the brand ambassador for Contadina, Del Monte's higher end line of pasta, olive oil, and sauces. Contadina is Italian for "woman of the fields".
Nigella has sold over 10 million copies of her cookbooks worldwide. She doesn't like being addressed as a chef. "I am not a chef," she said, "I am not even a trained or professional cook. My qualification is as an eater." In fact, Nigella's recipes and cooking style is characterized by simplicity.
Nigella said she went to a weekend market here in Manila and she was just so fascinated by all the offerings. She said she'll be taking home coconut sugar and pandan essence. She'll also be making her own version of adobo — I'd like to see how that's going to turn out!
I never thought I'd be excited about olive oil but I am. I've pretty much ditched canola oil for olive oil in our kitchen so yeah, I can never have enough olive oil these days.
After discovering that my kids don't like sweet style pasta sauces, I've been trying out those bottled sauces with tomato chunks. I'm glad Contadina has several kinds.
Contadina has a variety of pastas and canned tomatoes too.
To fully showcase the Contadina line, renowned cooking personalities Chef JP Anglo, Daphne Osena-Paez, and Chef Stephanie Zubiri were invited to participate in a cooking challenge. Guests were divided into teams.
I ended up with Team Steph. Nigella went to each team's station to check what was cooking.
Chef Steph came up with this lovely pasta dish with a Mediterranean twist.
Nigella and the Contadina team from Del Monte Philippines were tasked to pick the best dish among the three teams and Chef JP Anglo's dish took the top honors.
I may not have a photo with Nigella but at least she signed my copy of her "Nigellisima" cookbook, widely lauded as her love letter to Italy. She once lived and worked in Italy. It was also in that country that she learned how to cook. She's such an inspiration and like I said earlier, I've come to appreciate her more now that I'm cooking at home.
Contadina products will be available at all leading supermarkets nationwide by the second week of October. So far I've tried cooking with the spaghetti, penne, diced tomatoes, and olive oil… I love it!
Like this post? Subscribe to this blog by clicking HERE.
Let's stay connected: