We were invited to check out several new dishes by Chef Ken at Lung Hin in Marco Polo Ortigas around a month ago. This isn't my first time at Lung Hin, my uncle celebrated his 50th birthday there a while back and I remember being quite impressed with the food. It's no wonder that Lung Hin was recently awarded the China Hotel Industry Golden Horse Award. They really shine when it comes to Chinese food!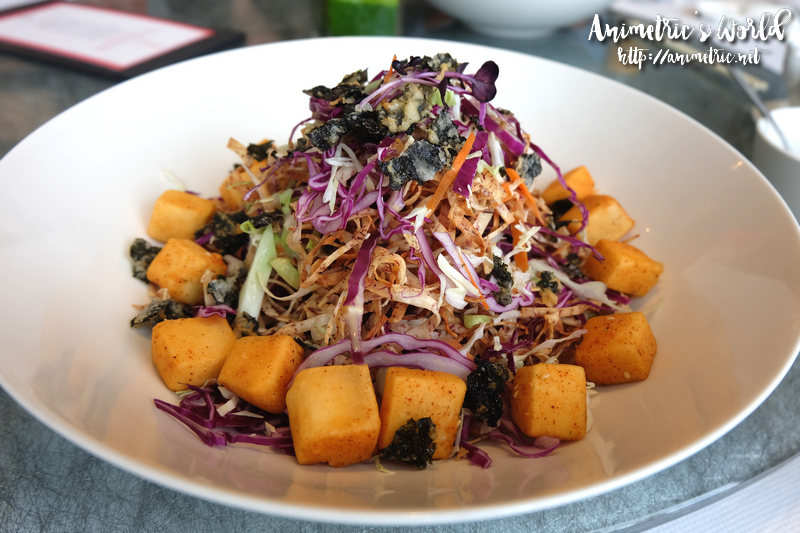 First thing on the menu was Deep Fried Crispy Tofu with Seaweed Salad. An appetizing combo of julienned vegetables (including crunchy taro strips) tossed in a light sesame vinaigrette dressing. It's flanked by crispy cubes of silken tofu. I love this dish so much I would be perfectly happy having just this salad for breakfast, lunch, and dinner.
Next up was Deep Fried Beancurd Leek Rolls with XO Chili Sauce. Crunchy outside and generously filled with beancurd and leeks inside, it was really delicious!
Each of us had a bowl of hearty Spinach Seafood Soup.
Meanwhile we were all amazed by the sheer size of the prawns in Stir-fried Crystal Prawns. They were really juicy and flavorful.
The Poached Live Garoupa with Mushroom tasted like it was cooked in coconut milk but Chef Ken told us it wasn't.
Another favorite dish of mine is the Deep Fried Spareribs with Black Vinegar Sauce. OMG. The pork is soooo juicy and despite being drizzled with sauce it still has crunch. The tart yet sort of sweet sauce complements the meat perfectly.
Ham and Vegetables in Superior Broth may seem like just ham topped veggies but wow, that broth really is SUPERIOR in every way. I've never had broth that had such a clean taste and an inexplicable depth in terms of flavor. Chef Ken told us they boil it for several hours. I honestly wanted to pour it all into a bowl and drink it!
Fookian Misua is reminiscent of the misua Chinese families usually serve during birthdays, although this one was markedly milder in terms of flavor. Chef Ken said he ate this misua at a friend's house. It was cooked by his friend's mom and he asked her to teach him how to make it.
Our friend The Hungry Chef really enjoyed the misua, haha!
For dessert we had Chilled Mixed Jelly with Grass Jelly, a combination of almond jelly, tapioca, and grass jelly. It was light and refreshing, a fitting finale for our rather heavy lunch.
I had one of Marco Polo Ortigas' signature drinks, the Davao Punch, to wash down all the yummy food. You can have it with or without alcohol. Since I'm allergic to alcohol, I had mine sans alcohol. It's a fruity drink reminiscent of the Sherry Temple and it works well to counter the all the oil in the fried food.
If you're hankering for some authentic Chinese food, Lung Hin at Marco Polo Ortigas is sure to satisfy even the most discriminating palate.
Lung Hin Restaurant
44/F Marco Polo Ortigas
Sapphire Road, Pasig City
720-7777
Like this post? Subscribe to this blog by clicking HERE.
Let's stay connected: