I was invited to try out the new CPK menu for 2017 a few days ago. CPK (or California Pizza Kitchen) is one of our family's go-to places. We love everything from the salads to the pastas and the pizzas. I first tried CPK back in the '90s during my first trip to the US.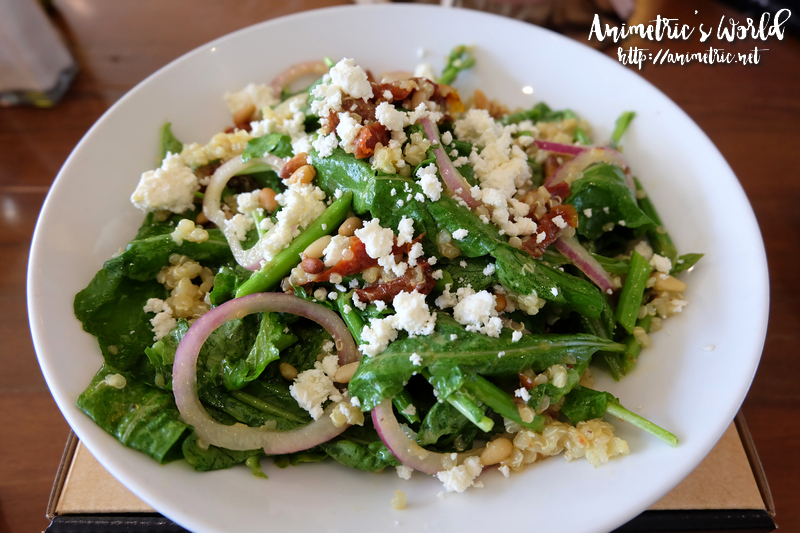 One of my favorites from the new CPK menu is the Quinoa + Arugula Salad (P475), one of our starter dishes. I find arugula very tricky to work with because of its bitter aftertaste. In this case, the honey dijon dressing complemented it perfectly. Asparagus, red onions, sundried tomatoes, feta cheese, and toasted pine nuts all add a bit of sweet, tart, and texture to the mix. Yum! If all veggie dishes were this good I would gladly become a vegetarian.
The other salad was the Fruit Salsa and Tortilla Tzatziki (P375). It's served with blue corn tortilla and cucumber yogurt dip. I thought it was okay. While I would normally go for the fruity salad, in this case the Quinoa + Arugula Salad still wins.
Two new pizza flavors were introduced. First is the Surf and Turf Trio (P650 Regular / P325 Personal). It combines the best of land and sea with shrimp, salami, bacon, cheese, tomato, and asparagus. The sauce is a seafood-based cream sauce which has a unique flavor. Delicious!
I also loved the Foriana Roasted Walnuts + Cauliflower Pizza (P575). Candied walnuts, toasted cauliflower, red onions, and sweet bell peppers on top a perfectly crisp thin crust make me want to convert to vegetarianism.
Chicken and Sausage Fajita Pasta (P495) is what happens when you try to turn fajitas into a pasta dish. Tasty chicken and sausage pieces, garlic cream sauce, and tri-colore bell peppers all combine to create an explosion of flavors.
CPK also came out with two rice meals. The first one out was the Sweet Flame Shrimp (P385). Sweet spicy shrimp, mango salsa, and rice make this a very balanced dish in terms of taste.
Chicken + Asparagus in Lemon Cream Sauce (P345) was what really hit the spot though. I have no love for chicken but this was really really good. Crunchy, tasty, and juicy — the perfect chicken for me! The veggies in lemon cream sauce complement it perfectly. I just wanted to eat everything lol.
My daughter and I washed everything down with an Avocado Banana Smoothie and a Watermelon Lemonade. It was my daughter's first time to have anything with avocado in it and she loved it. It was exceptionally smooth and not overly sweet. Watermelon Lemonade was very refreshing — the perfect summer drink.
For dessert we tried the Hazelnut Brownie Ala Mode. After our disappointing experience with Denny's Lava Cake and some other chocolate desserts in other restos that followed, we were almost praying for this one to be good. I'm happy to say that it didn't disappoint. Chewy, moist, and fudgy, the rich chocolate hazelnut brownie went well with the vanilla ice cream and whipped cream.
Want to try these fresh new CPK menu items? Log on to http://www.cpk.com.ph for a complete list of stores.
Like this post? Subscribe to this blog by clicking HERE.
Let's stay connected: