One of the first Netflix Original Series we watched was Santa Clarita Diet. Hubby, our two teens, and I all finished season 1 in was it 2 or 3 days…? We love zombie movies so this comedy series about Sheila (Drew Barrymore) turning into a zombie and living the undead life was just what we needed. Sheila's husband Joel (Timothy Olyphant) is endearingly supportive and funny all throughout, giving the series rom com vibes which Drew is known for.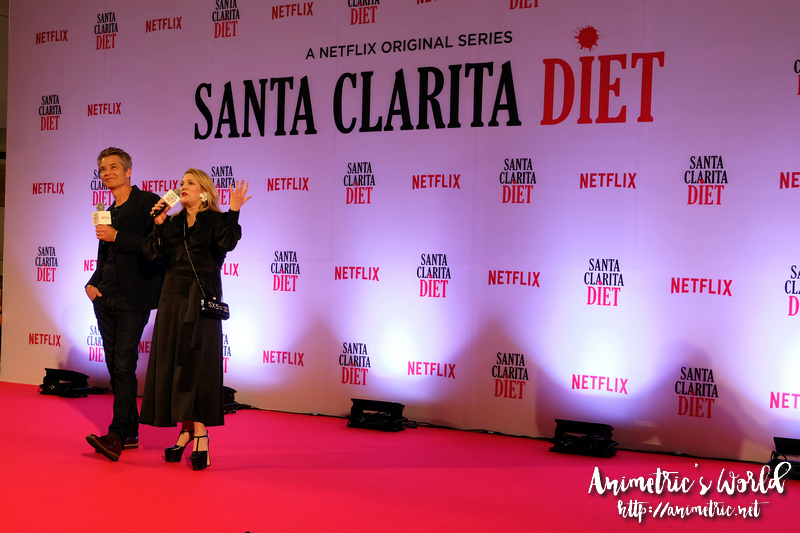 What do you know, they picked MANILA as one of two Asian cities (the other city is Bangkok) to hold the Santa Clarita Diet Season 2 premiere in! As part of Netflix's Stream Team here in the Philippines, I was invited to attend. We got to stay at the front row! Never in my wildest dreams did I ever think that I would see Drew Barrymore and Timothy Olyphant up close. I've watched all of Drew's movies from ET to Blended. Then I recently found out we're the same age whoa!
Here's a bit of trivia: Timothy Olyphant lived in Davao for a while when his dad worked for Del Monte Philippines. Drew Barrymore was visibly overwhelmed by the warm welcome they received at the red carpet event last night. Tim and Drew agreed that working on Santa Clarita Diet has been really fun for them — and we can tell because their chemistry onscreen is just incredible.
As a surprise treat, Netflix brought in a sorbetero (ice cream man) with special Santa Clarita Diet-inspired strawberry ice cream creations for Tim and Drew. Check out his blood-splattered shirt! Netflix really goes all out with the details when it comes to events.
More than a zombie comedy, Santa Clarita Diet is a show that emphasizes living life. If there are things you cannot change, you embrace them and live with them. It's all about being bold, taking chances, and getting creative with how you deal with whatever situation you find yourself in. I love it.
I'm glad I got to share the experience with my awesome friends Ava and Marj.
Santa Clarita Diet Season 2 will be available on Netflix starting March 23, 2018. We watched the first episode at SM Cinema after the red carpet event and it's even funnier and more exciting than before! If you still haven't seen Santa Clarita Diet, now's the perfect time to do so. For more information about the series, log on to Netflix Philippines.
Like this post? Subscribe to this blog by clicking HERE.
Let's stay connected: