Are you ready for the Nescafe Red Mug? This Christmas, the hottest thing to happen to instant coffee is something so revolutionary that it'll have you churning out coffee shop level drinks in 2-3 minutes. The best part is, it won't cost you and arm and a leg!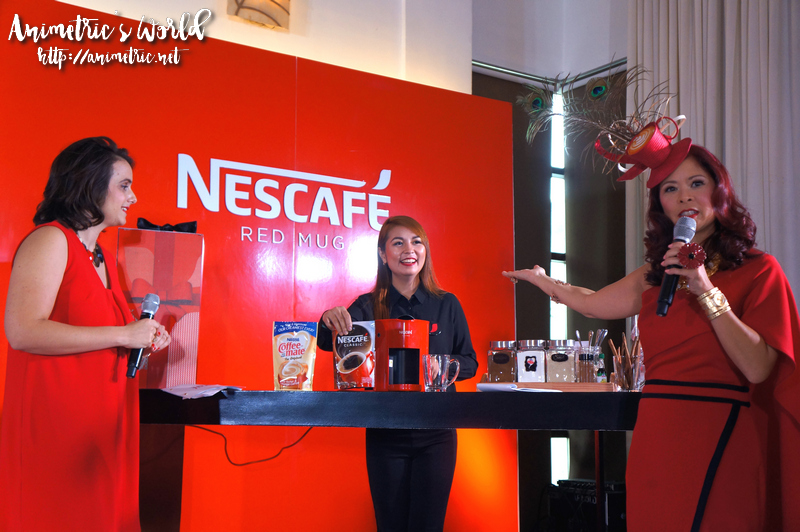 Nescafe Red Mug (P1,999)
Introducing the Nescafe Red Mug coffee machine. It's compact (look at that red contraption in front of the um… barista), incredibly convenient, and super easy to use!
With the Nescafe Red Mug, You don't need pricey capsules, all you need is instant coffee powder and whatever else you want in your coffee — creamer, sugar, honey, milk, cookie butter, Splenda… like, whatever… you can have mushroom soup or chicken broth if that's the way you like it.
Bianca King for Nescafe Red Mug
So anyway for a closer look at this marvelous machine, we went with Nescafe Red Mug ambassador Bianca King (there are actually 3 of them — Denise Laurel and Raymond Gutierrez are the other two) to her station. I picked letter B at the registration when I arrived at the event and it actually stood for Bianca.
Bianca's Double Choco Mocha Recipe
Each Nescafe Red Mug ambassador came up with their own creation and all their teammates were handed the recipe cards so we could try making it ourselves at the machine.
But before I tried my hand at it, Bianca demonstrated how she does it.
Wow, done in what… 5 minutes?
My turn!
And here's what I made… it's my take on Bianca's Double Choco Mocha! Look at those layers! Never did I dream that I would be able to make something like this… it's almost coffee shop level!
I opted to make my drink with no added sugar because Milo was among the ingredient list and I figured it was enough to sweeten it to my liking. I was right! I enjoyed a piping hot cup of Bianca's Double Choco Mocha in less than 5 minutes. I liked the deep rich chocolatey taste and the fact that I was able to make it so quickly!
Why you'd want a Nescafe Red Mug:
For a P2k initial spend, you can pretty much use ANY instant coffee powder with the machine. I got the idea from my friend Ramil of Pinas Muna to try using Nescafe Gold instant coffee for an even richer taste.
It's super easy to use. Easy to operate, easy to clean… and it does the job FAST!
It makes for a great Christmas gift to coffee loving friends and family.
You create just about any kind of coffee drink you can imagine and it will look perfect every single time, lol!
You don't need to sustain it with pricey capsules or coffee beans… ANY instant coffee will do.
The Nescafe Red Mug is currently being introduced to the market at a special introductory price of P1,999 until December 31, 2015. It comes with a transparent mug, 100g of Nescafe Classic, and 250g of Nestle Coffee Mate. The regular price after this promo period will be P2,399. It's available at select SM, Robinsons, Landmark, Puregold, and Merkado Supermarkets.
Nescafe Red Mug is truly the best thing to happen to instant coffee! 😀
Like this post? Subscribe to this blog by clicking HERE.
Let's stay connected: