Today is a memorable Valentine's Day to say the least, not because of anything romantic but because I won in Philippine Star and National Book Store's My Favorite Book contest for the third time. First time was in 2006, second time was in 2008, and now I'm back again in the year 2010.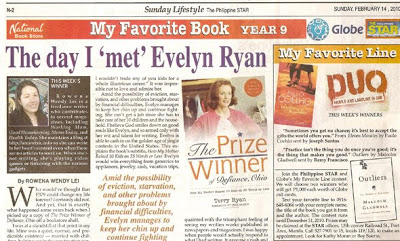 I submitted my entry last Sunday right after I wrote it, it was a little under 900 words and I finished it in about a couple of hours. I used the same book I did when I won back in 2008, The Prize Winner of Defiance, Ohio. I just really love it so much and I've gained a lot of insight from it over the years. I even watched the film version on DVD wherein Julianne Moore played the lead character Evelyn Ryan. The online version of my winning piece can be accessed HERE.
Normally, it takes two weeks for Philippine Star to publish your entry if you win this contest. That was my experience in 2006 and 2008. Since it was a Valentine Sunday as well, I expected them to choose a love story-based entry so I was genuinely surprised when I saw this published today. Weekly winners get P5,000 worth of National Book Store GCs valid for one year. An added plus is this is exactly the type of published material you can use for your portfolio if you have plans of writing professionally.
Would you like to join My Favorite Book Year 9?
Simply submit an unpublished essay about your favorite book — typed, double-spaced and not more than five pages long (1,100 words). Write your name, age, address, contact numbers and two paragraphs of background information. Also include a passport-sized photo in jpeg format (not inserted in the document file). Writers who do not comply with these rules will not have their entries considered. You can email your entries to myfavoritebook2009@yahoo.com. When I submit, I always write the essay in .rtf format and then attach the file and my photo to the email.
You can talk about any book under the sun. I've seen a winning entry stating his favorite book as Webster's Dictionary. :p
This contest is ongoing all year round, so there isn't really a deadline. Just make sure you submit before the last Sunday of 2010. Also, they won't call you or inform you if you win, you have to check The Philippine Star's Lifestyle Section every Sunday to see for yourself.
Like this post? Subscribe to this blog by clicking
HERE
.