We were invited to an intimate dinner at the Nawwty's Kitchen HQ (aka Tricia Panlilio's house) some weeks ago. It was a rainy evening. Traffic was bad. We passed by 3 car accidents on EDSA from Quezon City to Makati.
I remember feeling so elated when we finally got to Tricia's place. I was rather looking forward to dinner after the time spent on the road.
Everything was impeccably set up.
Tricia prepared a very interesting lineup of dishes.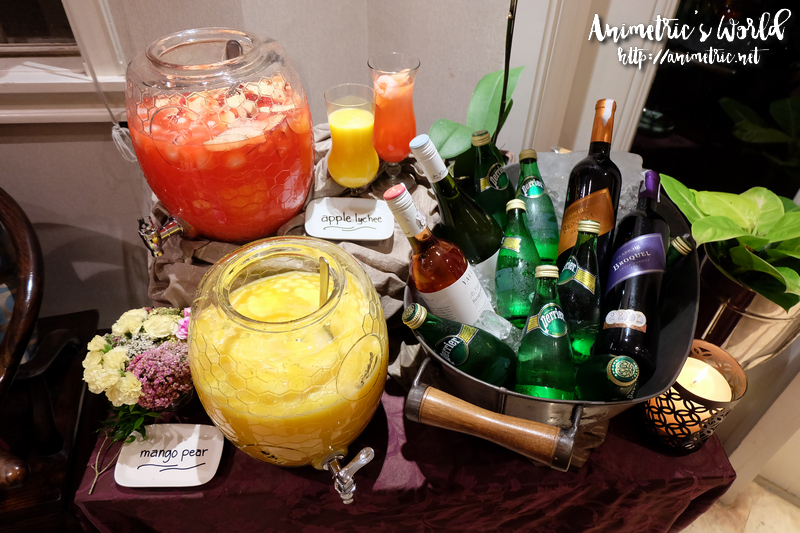 While waiting for the others, we had some fresh juices — Mango Pear and Apple Lychee. My hubby commented that the Mango Pear drink tasted so pure and sweet it's like a whole case of mangoes were used to make it. I agree.
We also had some Grapes and Gorgonzola Crostini. My gosh, these are probably the best crostinis I've ever tasted. Let's not even go into how many pieces I ate. Lol. Tricia doesn't scrimp on ingredients. Each morsel is just overflowing with creamy gorgonzola cheese. The sweet grape wedge infuses just the right amount of sweetness to complement the tart cheese flavor.
The Bacon & Quail Eggs were lovely too.
I found the Mixed Greens with Lemon Vinaigrette and Caramelized Walnuts to be very refreshing. I know I'd love to have some of that vinaigrette at home to pour over all the greens lol.
For the main dishes, we had three starting with Coq Au Vin. Coq Au Vin is a French dish of chicken braised in wine. The Coq Au Vin at Nawwty's Kitchen had really flavorful tender fall-off-the-bone chicken and equally tasty vegetables. Wow, I can munch on those perfectly sweet carrots all day.
My favorite main dish was definitely the Prawn Thermidor Gratin. The prawns were already shelled and sliced into bite-sized pieces. All I had to do was get scoops of this heavenly dish to put on my plate. So yummy! I can only dream of cooking up something like this.
From what I've seen on social media, no dinner at Nawwty's Kitchen is complete without paella! We had Paella Blanca that evening. Cheesy, chewy, and oh-so-yummy! It was hard not to stuff ourselves silly with all the decadent dishes Trish had prepared.
For dessert, my pick was the Lemon Tart. I had it with a piping hot cup of coffee and it was perfect! It's creamy, very tart, and not sweet, which is how I like it. I felt it was the perfect way to cap off a very rich and hearty meal.
Trish describes her food as luxe comfort food. She came up with these recipes because she wanted to prepare food her kids would enjoy. What began as a simple love for cooking has now evolved into Nawwty's Kitchen, a custom catering service whose menu boasts of dishes characterized by rich and comforting flavors. One thing's certain — your guests will definitely be impressed by the food if Nawwty's Kitchen is catering.
We thoroughly enjoyed dinner with our foodie friends! The food is definitely worth braving the rains and the traffic for! Thank you so much Trish for having us.
For inquiries, you may contact Nawwty's Kitchen at 0918-9987474 / 0917-8665849 or nawwtyskitchen(at)gmail.com. You can find Nawwty's Kitchen on Facebook too!
Like this post? Subscribe to this blog by clicking HERE.
Let's stay connected: