Around a couple of weeks ago I received a package from Myra containing their newly released facial washes and a nice Aquazorb face towel.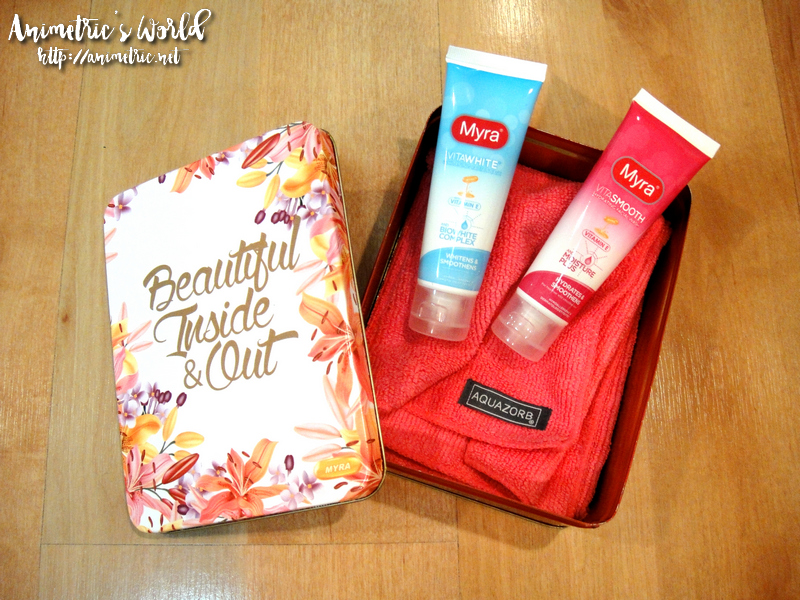 I love washing my face. It never fails to make me feel fresh and ready for whatever's coming next. I do so 2-3 a day. That said, facial wash is one of my most frequently used beauty products. Cleansing marks the beginning of both my daytime and nighttime skin care regimen after all. I was only too happy to try Myra Facial Wash.
Myra VITAWHITE Facial Wash 50ml (P75)
Myra VITASMOOTH Facial Wash 50ml (P70)
Meet Myra VITAWHITE and Myra VITASMOOTH — these facial washes are both infused with Vitamin E beads to keep skin healthy and nourished while eliminating excess oil and dirt. Both are also hypoallergenic and dermatologist-tested so they're safe for all skin types. But that's where the similarity ends.
In just a glance, you can already tell these two Myra Facial Wash variants are very very different from each other. Myra VITAWHITE has a thicker more pasty consistency while Myra VITASMOOTH is more watery.
Myra VITAWHITE – Has BioWhite Complex derived from plants that gently whitens skin. It also has Niacinamide that evens out skin tone by reducing red blotches, making the skin more radiant.
Myra VITASMOOTH – Has MoisturePlus Formula that retains and seals in skin's natural moisture. Contains French Spring Sea Water and Aloe Vera Extract that improves skin elasticity, helping keep skin smooth and young-looking.
I road-tested these 2 Myra Facial Wash variants around the same time, using VITAWHITE during the morning and VITASMOOTH during the evening. My logic for doing so was, since I was going to go to work during the day I would be more exposed to the elements, dirt, and oil so I needed to use the one that had a more mattifying effect (VITAWHITE). Since I was just going to sleep at night, I needed to recharge my skin so I thought the moisturizing VITASMOOTH was perfect for the job.
Here's what I noticed about Myra VITAWHITE:
Your face feels squeaky clean after washing — that said, I'd recommend it for people with more oily complexions.
It has more oil control — your face stays matte for a longer time.
It's more sudsy when you use it to wash (see above photo).
It has a fresh and light scent that I like.
Here's what I noticed about Myra VITASMOOTH:
Your face feels incredibly smooth right after washing. Scratch that — I could already feel the extreme smoothness WHILE washing. It's like your skin is transformed the moment this facial wash and water touches it.
It's not very sudsy or bubbly when you use it, I attribute that to the more watery texture of the product.
My skin felt so incredibly soft and smooth after I dried my face I wanted to keep touching it, lol.
It has a fresh and light scent that I like.
Both Myra VITAWHITE and Myra VITASMOOTH Facial Washes are excellent products, but I'm leaning towards Myra VITASMOOTH for the simple reason that at my age and in this season (-ber months!), dryness is more of a concern I need to address. I'd probably switch to VITAWHITE during the hot and humid summer months though.
Both Myra Facial Wash variants are available at all leading supermarkets, drugstores, and department stores nationwide.
Like this post? Subscribe to this blog by clicking HERE.
Let's stay connected: