I missed the media preview of Magnum Manila, the pop-up Magnum Cafe at SM Aura, because it happened during my dad's wake. That said, I only got to actually try it last Monday night with hubby and friends.
There were still a lot of people in Magnum Manila at around 8pm on a Monday night.
When you go to the door, you get two choices: make your own Magnum or order plated items. You cannot sit inside the cafe if you're not ordering any plated items.
The interiors are really luxurious, all decked out in brown and gold. Even the decors are made of chocolate!
Check out this painting… it's made entirely of chocolate. You can smell it!
Everyone wants a piece of the action it seems.
We were seated in a booth like this one.
Let me take you through making your own Magnum. It all begins here — you pay P100 at the counter and then choose three toppings. You also pick out what flavor of ice cream you want — vanilla or chocolate.
There are so many different toppings to choose from — chocolate chip cookie bits, various nuts, yogurt pieces, dried mangoes, quezo de bola, potato chips, pretzels, candies… I was told there are 250,000 different ways you can make your own Magnum.
The three toppings you picked are placed inside a metal shaker and then you're to choose what coating you want on your Magnum ice cream bar — dark chocolate, milk chocolate, or white chocolate? It's then dipped right in front of you.
After the dipping, the three toppings you picked are heaped on top of your freshly dipped Magnum bar. Then you choose your drizzle. Again it's dark, milk, or white chocolate.
Your chosen drizzle is well, drizzled on top of your Magnum bar.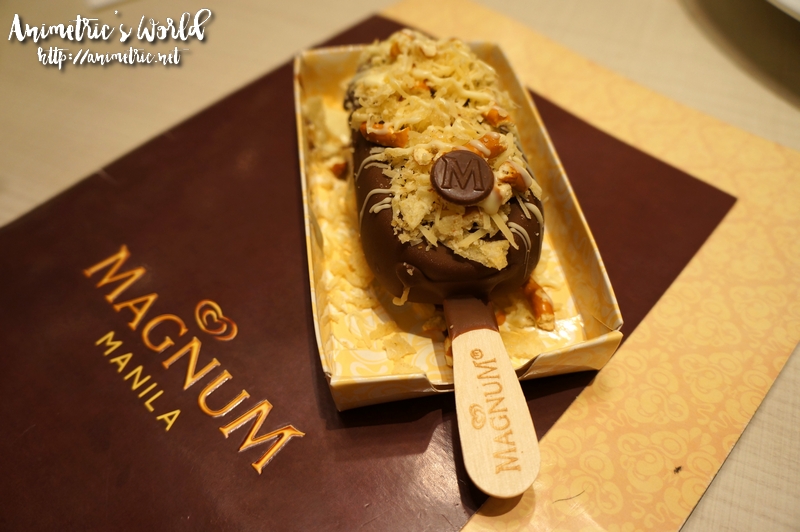 This is mine. I was too overwhelmed to pick out my own toppings so I picked a pre-created combination from the menu called Picnic in the Park (thanks Katrina Bea for correcting me!)…? A vanilla Magnum bar is coated with milk chocolate then topped with potato chips, pretzels, quezo de bola, and sea salt then drizzled with white chocolate. Oh yes, I chose all salty ingredients to go with my Magnum bar because I wanted to counter the sweetness. It was perfect and I probably would order this again next time.
Since there were 5 of us, we all decided to get 4 plated desserts for sharing so that we could still accommodate them after having a DIY Magnum each lol. This is the Rainbow Dream (P250). A white chocolate covered Magnum bar (you choose if you want vanilla or chocolate) sits atop a moist and dense multi-colored pound cake with cream cheese frosting. Yum! Gone in seconds I tell you, we each had a thin strip of pound cake and Magnum lol. Yeah, it's small if 5 people are sharing hahaha.
This is hubby's choice since he loves cheesecake — Pink Friday (P350). Strawberry cheesecake topped with a vanilla Magnum bar is served on a bed of Speculoos cookies, strawberries, and tart Nerds candies. Very popular with the group… again, gone in seconds. I found the cheesecake kind of melty though.
This was my pick, Magnum Apple Pie (P350). There is one problem. They ran out of vanilla Magnum bars and so it was topped with a chocolate one instead of the default vanilla. The apple pie was good, it was generously loaded with apple slices and chopped pistachio nuts. The thing is, chocolate ice cream kind of ruins it. I loved the caramel sauce they covered it with and everything but chocolate ice cream just DOES NOT work with apple pie. I wish they had informed me sooner that they were out of vanilla Magnum because I would have ordered Death By Chocolate or something else. I hope they don't do this to other customers — ask first before making a substitution please.
Last but not least was the Cookie Dough Skilet (P250). This is supposed to be topped by one vanilla and one chocolate Magnum bar but since they were out of vanilla we got both chocolate. This was another hit with our group. The cookie dough underneath the Magnum bars is kind of half-baked so it's cookie-like and dough-like at the same time. It's served warm so the whipped cream starts melting as soon as it lands on your table. It's really really good! Chewy and not overly sweet but again, it would have been better with the original combination of vanilla and chocolate Magnum bars instead of 2 chocolate ones. Of the plated desserts, I'd say this would give the most value for money in terms of size and amount of Magnum bars.
Okay, here are some notes/observations on Magnum Manila:
There's always a line for Make Your Own Magnum but it moves pretty fast. If you're like me and you don't like chocolate ice cream, ask first if vanilla is still available so you don't line up only to find out you have no choice when you finally reach the counter.
I asked the Unilever folks and confirmed that Magnum Manila will be open for one (1) year only. That's the deal so far. They MIGHT extend if there is still a great demand for it come next year.
The priciest item on the menu is Crown Jewel at P560, basically 3 Magnum bars sitting on top of a big fancy bowl of fresh fruits and then topped with nuts. It was actually unavailable the night that we were there.
As I've mentioned earlier, if you're just there for make your own Magnum, you can't sit in the dining area. Seating is reserved for customers ordering plated items.
Savory dishes are NOT available for now. I heard they are revamping the menu plus I was told they would like to focus on promoting Magnum ice cream for now.
The best drink to pair with it all is water, lol.
I love how all the Make Your Own Magnum staff at the counter are all happy smiley people.
Have you tried Magnum Manila? How was your experience? Mine was okay, save for the fact that they ran out of vanilla Magnum bars. Magnum Manila is open again after the Holy Week break starting today!
Magnum Manila
5/F Sky Park, SM Aura Premier
Mckinley Parkway, McKinley Hill, Taguig City
Like this post? Subscribe to this blog by clicking HERE.
Let's stay connected: