I've been wanting to do something like this for a while. I've been continuously learning, experimenting with, and discovering new skin care and makeup techniques. It all started with the professional makeup artistry course I took at HD Makeup Studio and Academy back in 2011. I've also participated in hands-on workshops at Maquillage Professionnel, Center for Aesthetic Studies, and Shu Uemura among others. Then I later realized, it's not really the number of lessons that matter (although it helps a lot), it's more of the experience plus a whole lot of trial and error in finding what works for you. After all those lessons and doing some pro-bono makeup for family members, I decided I didn't want to become a makeup artist. I sold all the materials I bought for what I thought was going to be my career as a MUA and went back to simply trying to look younger than my 40+ years via a good skin care regimen and makeup techniques. If there's something I know I'm good at it's not looking my age, hahaha!
So anyhow without further ado, I'd like to invite you to my first ever joint beauty workshop with my super good friend / twinnie Marj Sia.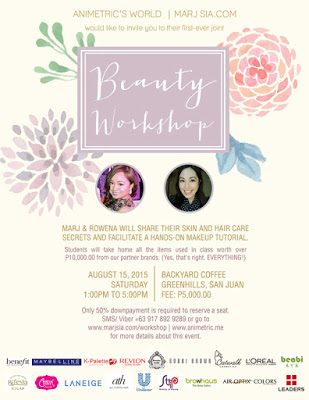 Click on the poster for a closer look.
This will be a totally hands-on workshop. It's kind of like a mix of Animetric's Favorite Things and Makeup by Marj Sia because we handpicked most of the products that our students will receive and learn how to use.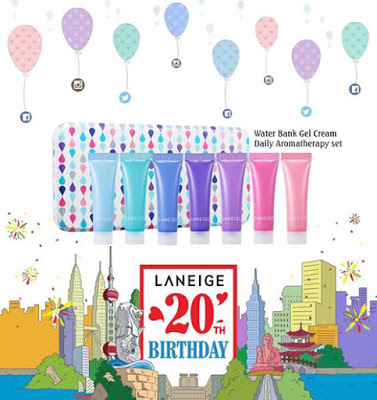 Everyone will get this limited edition LANEIGE Water Bank Gel Cream Set
I know that I probably look like a Laneige ad to most of you by now because I'm always professing my love for this Korean brand so it's only fitting that Laneige is our official skin care sponsor for this workshop! Just to give you a clue as to what's in store, Laneige will provide over P2k worth of skin care products for ALL students — the Laneige Water Bank Gel Cream Set alone retails for P1,750 and that's not all Laneige is giving away (yes, there's more!)! I will reveal additional details as we get closer to the workshop date. The Laneige Water Bank Gel Cream Set is what I refer to as my shortcut skincare regimen but I'll talk about it more on another post.
Yes, you will do your own makeup and we will teach you the easiest way we know to go about it. I used to spend a lot on salons whenever there was an occasion — that's around P2+k per makeup session these days. I don't exaggerate when I say that I save a whole lot of money knowing how to do my own makeup properly.
All workshop attendees will get either full-sized or deluxe travel-sized products or GCs from our brand partners Benefit, Maybelline, K-Palette, Revlon, Heroine Make, Bobbi Brown, L'oreal, Catwalk Cosmetics, Beabi, Bifesta, Charm, All Things Hair, Unilever, Strip, Browhaus, Strip, Leaders, and Air Optix Colors. Refreshments will also be served. We will also have contests and prizes on site.
We will be accepting a maximum of 35 students for this workshop. A 50% downpayment of P2,500 is needed to reserve a seat.
For more information or inquiries, you can e-mail me at animetric(at)gmail.com or message me on Facebook. You can also send a Viber message or SMS to the mobile number indicated on our poster above.
Hope to see you there!
I'd like to thank our brand partners Benefit, Maybelline, K-Palette, Revlon, Heroine Make, Bobbi Brown, Catwalk Cosmetics, L'oreal Paris, Beabi, Bifesta, Charm, Laneige, All Things Hair, Unilever, Strip, Browhaus, Air Optix, Colors, and Leaders for making this workshop extra special. 🙂

Like this post? Subscribe to this blog by clicking HERE.
Let's stay connected: