One of my favorite things in this world is Netflix. I mean, I hardly even watch TV but the moment I sat down and saw Stranger Things, I was hooked. I cut our cable subscription and replaced it with a Netflix subscription. After Stranger Things, I watched Santa Clarita Diet, then Travelers, and so forth… it's an ongoing relationship lol. Eventually I became part of the Netflix Stream Team.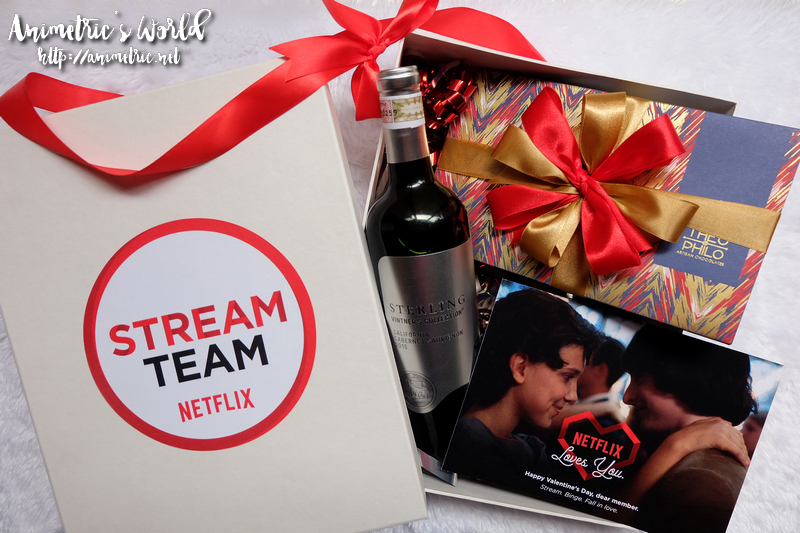 I got this lovely Valentines Day gift from Netflix a couple of days ago. I don't like going out on Feb. 14 because traffic is horrible and food prices are sky high. Really, I'd rather stay home and unwind by playing video games or watching some Netflix Originals… and I'm not even exaggerating.
Since it's a long weekend, I have time to watch yay! I love checking out Netflix Originals because there's always something fresh, new, and exciting. The shows above are some of what I've watched and plan on watching. I love Korean beauty products but I've never watched any Korean show so I plan to start with A Korean Odyssey. Then there's Riverdale, which I catch weekly. I know I've recommended the anime series Erased before, but in case you're not into animation, there's now a Netflix Originals live action version. If you liked The Twilight Zone, you'll love the digital age version Black Mirror. GLOW and The Toys That Made Us remind me a lot of my childhood back in the 80's especially since I played with Barbie and He-Man. Plus I actually watched Gorgeous Ladies of Wrestling back then.
Anyhow, as a continuation of my blog's 9th anniversary series of giveaways, I want to share the Netflix exxperience with one lucky reader!
That's right, I'm giving away a Netflix Surprise Bag which will contain exclusive merchandise that are not easy to come by! Check out that silicone ice tray with The Punisher-shaped ice cubes! There's a Moleskine Netflix notebook too, among several other things inside the bag. Of course the Netflix experience won't be complete without a subscription so there's 3 months of FREE access included in this bag as well! This is the 5th leg of my 9th blogversary giveaways. You will have to go to https://www.instagram.com/p/BfQNktNnxdB/ for the giveaway mechanics since it's easier to monitor entries there.
Like this post? Subscribe to this blog by clicking HERE.
Let's stay connected: