Sorry I haven't posted in a while. I've been here in Japan since Monday for Yakult's Journalist Tour. It has all been too awesome for words. It's kinda surreal getting to know the actual origins of a brand I grew up with. Next thing I knew I was on my way to meet a true blue Japanese Yakult Lady!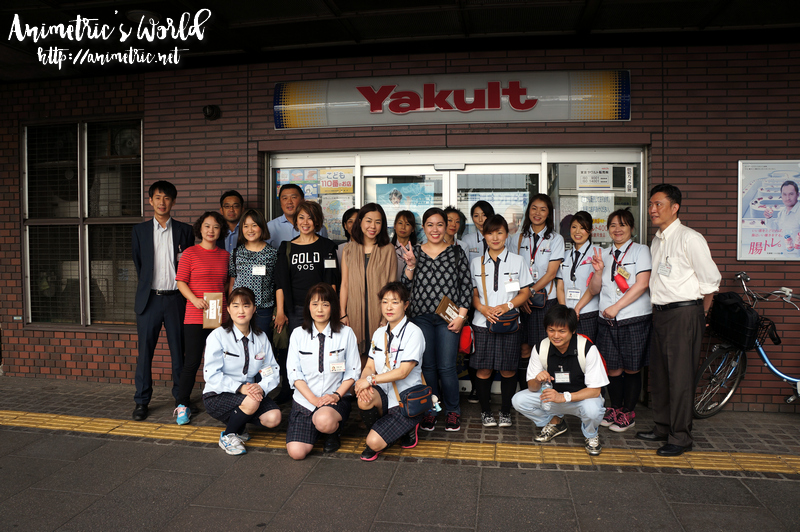 Yakult Ladies Center in Tokyo, Japan
Yes, one of the highlights of this trip was visiting a Yakult Ladies Center and spending an entire morning with a true blue honest-to-goodness Japanese Yakult Lady. The Yakult Lady have always been the face and heart of this brand, tirelessly going door-to-door with their cheerful smiles bringing you good health in those trademark tiny bottles.
There are a lot of Yakult Ladies Centers all over Japan. This is where Yakult Ladies report and stock up. Each of these centers have a small but bustling office inside.
We exchanged gifts with the Yakult Ladies first.
Then we went around the Yakult Ladies Center. We went inside the freezer room where all the Yakult dairy products are stored. It's really cold there and the Yakult Ladies each fill up their own carts with products to sell. There are three ways they deliver — by walking, by motorcycle, and by car.
This is what a Japanese Yakult Lady's cooler looks like inside.
They list what they get from the inventory themselves. Yes, they operate via honesty system and it works because this is Japan.
So anyway, a Yakult Lady delivers to homes and offices. We went to an office building with our Yakult Lady Sugiura and this is her cart. I marvel at how she effortlessly maneuvers it through narrow corridors and elevators. It's heavy!
She announces her arrival and stays on each floor for 5 minutes. Here she is with one of her regular customers. She visits at the same time and the same day.
A Yakult Lady carries a lot of products. Aside from drinks they have toothpaste, dried mangoes, and sweet potatoes — all from Yakult!
Sugiura is just so incredibly pleasant the entire time.
We couldn't resist buying some drinks too!
We had Yakult Soy Alpha, a fermented soy milk drink with lactobacilli. It has been proven to help prevent breast cancer in women plus like the regular Yakult it enhances your digestion and overall health. I found it really yummy! It costs 140 yen per serving (around P54). Both Sophie and I had a pack.
In places where her cart won't fit, Sugiura carries a heavy (as in super heavy) insulated bag so she can still deliver and sell Yakult products. She uses the stairs to go down and she's so fast even when carrying such a load I can't keep up! She leaves her cart on the street while she does this and according to her there have NEVER been any losses. Wow. How I wish our society can be this honest.
Sugiura equips her cart with an umbrella holder to shield her from the sun's rays. She also applies sunblock all over before going out. Rain or shine or even snow, a Yakult Lady will always visit her customers. Wow.
Me, Sophie, Sugiura, and Michael Ong of Yakult Philippines
Being a Yakult Lady is hard work. It's very physical — you need to be strong, fast, and agile. It also requires a good disposition because you need to be really pleasant the entire time. Hats off to Sugiura and all the Yakult Ladies out there. I have no words. I really admire their commitment and dedication to the task at hand. A Yakult Lady earns based on her sales and Sugiura takes home around 200,000 yen (around P76,000) per month. I went around with Sugiura for 2 hours and I thought it was tough!
Thank you Yakult Philippines and Yakult Japan for this once-in-a-lifetime opportunity! More on this fantastic Yakult immersion in my next posts. 🙂
Like this post? Subscribe to this blog by clicking HERE.
Let's stay connected: