I'm not really a drinker… at least before quarantine. I mean, I've had my share of drunken nights with friends when I was in college, but generally I have low tolerance for alcohol. ECQ was implemented and suddenly we found ourselves with a whole lot of time and little else to do aside from house chores and watching Netflix. I remembered a 6-pack Stella Artois we had gotten for Christmas and started drinking. It was surprisingly good! Thus started my newfound appreciation for beer.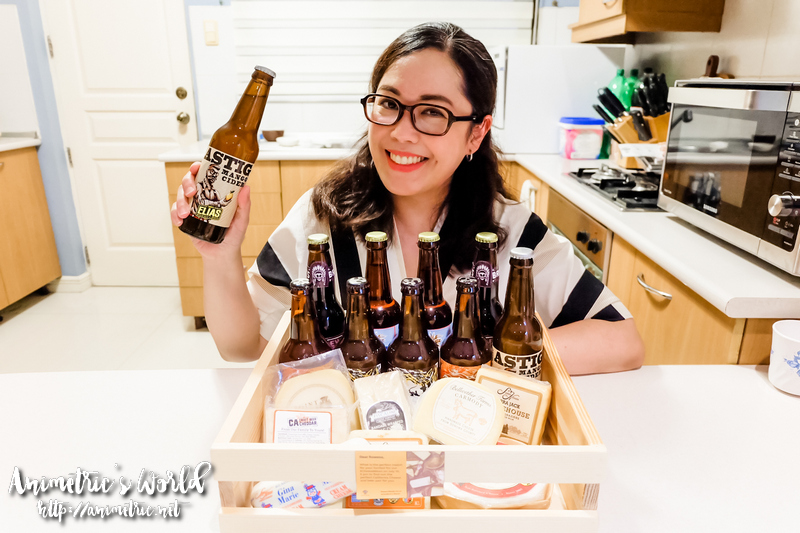 However, I have always loved cheese. We always have cheese at home. We eat cheese as is and make a lot of yummy stuff with it.
I was so happy to receive my California Cheese and Beer Kit for the online California Cheese and Beer Pairing Event with Josiah Baird, a cheese expert from well… California. These are all cheeses I haven't tried yet. At home we usually just have cheddar, mozzarella, cream cheese, and some form of jack cheese (usually Pepper Jack). 😀
The online California Cheese and Beer pairing event was happening on Zoom on a Friday evening. Perfect — since bars are closed and well, it's really not a good idea to go out right now. I work MWF so this was a great activity for winding down after a busy week. I prepared for the event by chilling all the beers and slicing all the cheeses we'd be pairing them with. There were craft beers from Elias, Engkanto, Philippine Ale, and Joe's Brew.
Here's a peek at my California cheeses — there's Gina Marie Cream Cheese, Nicasio Valley Foggy Morning Cheese, Marin French Cheese Brie Triple Creme, CA Craft Beer Cheddar, Sierra Jack Smokehouse Cheese, Sierra Jack Habanero Cheese, Fiscalini Bandage Wrapped Cheddar, Bellwether Farms Carmody Cheese, Point Reyes Toma Cheese, and Point Reyes Original Blue Cheese.
The California Cheese and Beer Pairing event was streamed live on Facebook. It was open to the public and we gave away lots of California Cheese and Beer Kits to viewers at home. 😀
Anyhow, here are my takeaways from our session:
Lighter beers go with softer, milder cheeses. For example, the Elias Mango Cider was the lightest beer in the set. It was paired with the Gina Marie Cream Cheese and the Nicasio Valley Foggy Morning Cheese. Both cheeses are creamy in texture and very spreadable with a milky flavor profile.
Darker, heavier beers go with harder and stronger tasting cheeses like cheddar and blue cheese.
There aren't really any unbreakable rules where cheese and beer pairing is concerned. Don't be afraid to experiment… you do you. 😀
You can actually get together over cheese, beer, and whatever other food you'd like to bond over with friends and relatives online and have an e-numan session. You don't have to give up socializing just because you have to stay home.
Thank you Real California Milk Philippines for this enjoyable experience! It's certainly one of the most interesting and learning-filled activities I've done during quarantine. 😀
Like this post? Subscribe to this blog by clicking HERE.
Let's stay connected: